As a port city, Bellingham has historically centered fishing, lumber, coal, and other industries on its waterfront. Railroads, cityscape, and parks have reflected and redeveloped the landscape's traces of industry—positively and negatively—over decades.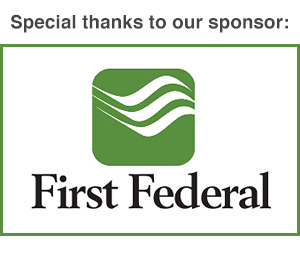 The Waterfront District, a proposed mixed-use neighborhood, is the most publicized development of former industrial property. Its slow, steady progress contends with pollution. The Bellingham Bay Demonstration Pilot Project has identified 12 toxic sites in various stages of cleanup since 1996.
Bellingham's waterfront parks restore natural, historic, and public value to former industrial sites. As nearby cleanup sites and empty spaces demand attention, the parks represent future progress and present pleasure amid a complex past.s
Little Squalicum Park
With a wooded off-leash area and rocky beach, Little Squalicum Park is a popular walking spot. Trails run underneath Marine Drive and a historic railroad trestle.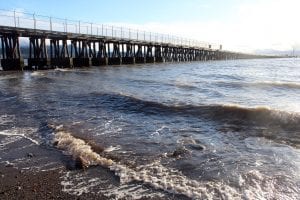 The Olympic Portland Cement Company plant, now Tilbury (Lehigh) Cement, overlooked the beach beginning in 1913. The Great Northern Railroad ran through Cement Plant Road and down the waterfronts. Plant remnants throughout the park include a derelict pump house and gated pier that once received Canadian cement by barge.
The City has toyed with the possibility of publicly opening the pier. Renovation or demolition are difficult due to creosote, one of several pollutants a nearby wood-treatment facility dumped into the creek after 1943. The 2010 cleanup coincided with trail expansion and habitat preservation.
Zuanich Point Park
At Zuanich Point Park, visitors can watch kites soar on the wind and over 1,400 boats on Squalicum Harbor. Paved bike paths zigzag around vibrant waterfront businesses.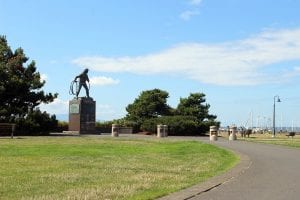 Throughout the twentieth century, Squalicum Harbor supported fishing, boating, and lumber mills. Whatcom Falls Mill began in 1895 and once became the world's largest cedar shingle producer, and Bellingham Shipyards employed 1,500 people during World War II. The I & J Street Waterway became a cleanup site as a result.
Zuanich Point was originally named Harbor Point Park, in 1994, but was renamed for retiring Port Commissioner Peter Zuanich a year later. He gifted $20,000 for its playground. An anchor rededicated in 1995 and the "Safe Return" statue dedicated in 1997 memorialize local fishermen lost at sea.
You'll also find the Marine Life Center nearby, which has touch tanks filled with Squalicum Marina's seawater, populated with hermit crabs, sea stars, small fish and urchins.
Waypoint Park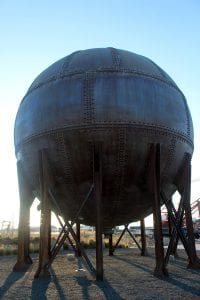 Established in 2019, Waypoint Park is the latest waterfront park and tangible progress toward the Waterfront District. Beside the historic Granary Building, the park features native plants, a waterfront-themed playground, and towering relics of industry. Central sculpture "Waypoint" is the restored "Acid Ball" from Bellingham's first pulp mill, lit up in multiple colors at night.
The original tissue mill operated from 1926 to 2007, and Georgia-Pacific operated a separate pulp mill onsite from 1963 to 2001—employing thousands of locals. Between 1965 and 1999, their chlor-alkali facility released mercury into the nearby waterfront. Ecology divided cleanups between the pulp and chlor-alkali sites, completing the former in 2016.
The Waterfront District may potentially repurpose other industrial structures with historic context after the final cleanup. In the meantime, Waypoint Park's pump track and planned trails allow self-guided tours through the downtown waterfront that was.
Maritime Heritage Park
With art and interpretive displays throughout its salmon hatchery and native plant trails, Marine Heritage Park lives up to its name. Visitors can enjoy waterfalls under a bridge, a walkway over Whatcom Creek, and an amphitheater overlooking Waypoint Park and downtown.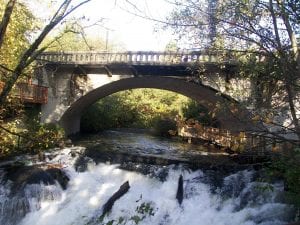 From 1852 to 1885, the creek powered Bellingham's first enterprise: the Roeder-Peabody Mill. The town of Whatcom (Lummi word for "noisy, rumbling water") emerged around it. City construction rechanneled Whatcom Creek. From 1937 to 1953, tideflat owners created Holly Street Landfill on 13 acres of estuary—prompting a 2005 cleanup.
The salmon hatchery began in 1979. The City, Bellingham Technical College, and NSEA have maintained it ever since, and an on-site Environmental Learning Center teaches schoolchildren about salmon lifecycles. The Salmon Art Trail in and around Maritime Heritage Park showcases local artists' homages to fish that transform and renew themselves like the landscape.
Boulevard Park
Established in 1980, Boulevard Park's wooded trails and boardwalks span from downtown to Fairhaven Village Green. A nautical playground, smooth climbing rocks, and performance stage complement views of the bay, waterfront, Canadian Border peaks, and passing boats.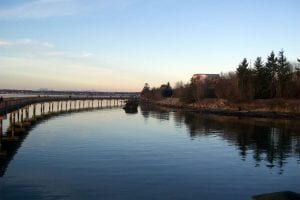 Boulevard Park's area encountered all of Bellingham's major industries. In 1853, William Pattle opened Bellingham's first mine at the spot that would become E.K. Wood Lumber Mill—now Woods Coffee. Pacific Sheet Metal Works (1896-1906) supplied tin to seafood canneries, depositing the "tin rock." South State Street Manufactured Gas Plant, near the present-day park shelter, caused pollution behind an ongoing cleanup.
In 2010, Bellingham Parks & Recreation proposed a walkway connecting to Cornwall Avenue. It never materialized due to high costs and environmental concerns about salmon and nearby cleanup sites. But South Bay Trail already connects downtown, and the 1988-2006 renovation of Taylor Dock created one of Bellingham's most popular spots. As it did for decades before, the waterfront's potential ebbs and flows.