In 1936, a group of Bellingham teachers founded WECU. More than eight decades later, the not-for-profit financial cooperative honors its education-based roots with its Education First grant program. The grant program has added three new awardees who will receive a combined $110,000 in funding. The three 2020 recipients join the four 2019 recipients bringing the program's total funding to $220,000 over the two-year period.
Education First provides critical funding to local non-profits with education-based missions, many of which work to supplement the services of Whatcom County school districts.
Reid Frederick, Director of Community Impact for WECU, says they partnered with Philanthropy Northwest out of Seattle and other local philanthropy and education leaders to develop and launch Education First. The decision to focus on education seemed a natural fit for a larger-sized giving program, he adds, given its roots and number of members working in the educational community.
"Of those organizations with the most need in our community, schools have maybe the best access to all families in Whatcom County," Frederick says.
Financial literacy is also an important tenant in both identifying and selecting grant recipients, as WECU is uniquely equipped to fund financial education projects in the community, Frederick says.
Competition for the grants was quite high, as 24 organizations applied by the March 31 deadline, while a maximum of four recipients can be chosen each grant cycle. An advisory panel of WECU employees and community-at-large volunteers carefully reviewed and deliberated over the applicants using a multi-tiered scoring system, selecting finalists to present their programs to WECU for final consideration.
In the end, Max Higbee Center, Communities in Schools, and the Whatcom Family YMCA Early Learning Program were chosen to receive funding.
The Max Higbee Center provides year-round access to community-based recreation, socialization, education and life skills programs for developmentally disabled teens and adults. The center is unique not only to Whatcom County, but to all of Washington, and will receive $20,000 for both this and next year's general operating budget.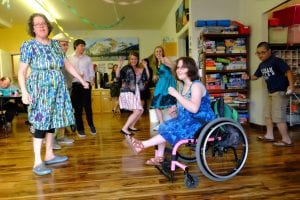 Virginia Gustke, Education First Panel Chair, says Max Higbee's Financial Skills Program, which empowers some of their members to achieve greater understanding of their personal finances, was especially noteworthy to WECU.
"It helped them stand out from other programs," she says. "Programs that help vulnerable members of our community better understand money is something our panel members really like to see."
In addition to a longstanding partnership with Bellingham Public Schools, Max Higbee has 25 regular program volunteers and 458 community volunteers, which include Western Washington University students. As stewards of the cooperative's charitable gifts, panel members looked for a high level of community buy-in to demonstrate strength of programming.
The second recipient, Communities in Schools, is a non-profit that provides network support for primary, elementary and middle school students in Whatcom and Skagit counties. They partner with school districts to encourage both academic and life success for students who don't regularly attend school or who are unprepared to learn due to challenging circumstances.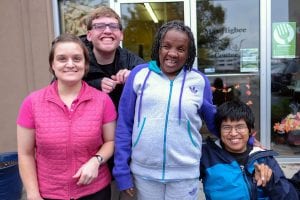 Services include mentoring, trauma-informed case management, and enrichment activities. Communities in Schools has a strong presence in Skagit County, and in the Blaine, Bellingham, and Ferndale school districts.
Finally, the Whatcom Family YMCA Early Learning Program's Teaching Strategies Gold program was chosen. The program helps teachers of pre-Kindergarten learners, ages 3 to 5. The program alerts teachers to student needs outside the normal range of development, allowing them to individualize curriculum and activities.
Teaching Strategies Gold is the same assessment tool used in Washington public schools, which allows seamless communication of education needs as students transition from pre-school to Kindergarten.
In all, each of the Education First recipients will utilize their funding to ensure that local community members and schools reach their fullest potential. To learn more about the Education First Program and its recipients, visit www.wecu.com/educationfirst.