For many, going into business is a tough decision that requires a lot of deliberation and a huge amount of faith. But for Mo Green, owner of Mo's Parlor, the decision to market her talents directly to the public seems to simply be part of her personality. As soon as she left school, it wasn't long before she hit the ground running.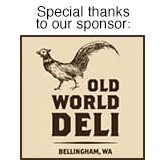 Originally from Peoria, Illinois, Green and her mother traveled a bit to find the right place to build the best life. After short periods in Montana and Wyoming, they landed in Bellingham, where Green attended Sehome High School her sophomore year, followed by a junior year in Running Start full time.
"Then they lost my records in a computer malfunction, and wanted me to stay in high school for two more years," she says. She dropped out, got her GED, and went to school to be a dental assistant. "But then I realized I was doing something to fit into some sort of box, and I didn't know who I was trying to impress."
So Green launched her business in 2016, creating portable arcade machines that could bring the classic video games of her youth to gatherings all over the map. "I started building my arcades last year and bringing those to events, but then the cosplay just blew up—and I didn't expect it to," Green says.
Cosplay is short for "costume play," and involves creating outfits that allow fans of video games, movies and more to dress as their favorite characters. What began as a few people dressing up as a Star Wars villain or a video game hero has turned into a global phenomenon of creating painstakingly accurate—and sometimes highly personalized—costumes, and includes competitions that pay out big money to winners.
Green's love for the craft was personal, and her talent soon had other cosplayers hiring her to build gear for them. "I was going to compete in my first big cosplay competition next year. And I started taking orders from people, making armor and weapons and stuff," Green says. But COVID has shut down the conventions and competitions, so she took stock of what she had on hand and found a new path forward.
"I work with enamel resin in my cosplay, I coat the pieces with it, so I had all this resin around—I guess I'm going to make some jewelry." Her earring and necklaces take inspiration from some of the same worlds as her cosplay, from animated movies to arcade games, as well as more fanciful shapes, like lightning bolts and clouds. She's created an ever-growing array of designs that appeal to everyone from children to fashionistas who want something a little more unique.
She makes all of her products available on social media, and it wasn't long before an Instagram friend got her into another new line of work. "My friend Tai runs Sovereign Comics, and with everything going on in the world I think it's really important to support Black business," Green says. "I don't really know many Black comic artists are out there, and I wanted to support them, so I've been selling Sovereign Comics and Millennial Comics at my booths."
Most recently, her booth has taken the form of a vintage bus owned by Charlie Pasquier, one of the owners of downtown restaurants Black Sheep and Lorikeet. "Charlie said, 'I have this bus outside Black Sheep, and thought you might want to sell your jewelry out of it,'" Green says.
She's located in the Holly Street Plaza, a pedestrian area between Commercial and Bay Streets downtown that allows people to shop and dine outdoors, maintaining a social distance that keeps them safe. "I'm there on Thursdays, Fridays and Saturdays. We're really trying to make the Plaza more of a shopping center, so we can have space for more businesses."
Green's motivation for financial success came from a very practical place, and her creativity for achieving it was evident from the beginning.
When she was eight years old, she heard her mom on the phone with my aunt one night before Halloween, talking about how she didn't have any money. Green trick-or-treated for five hours and came back with three pillow cases full of candy. "I sorted it and priced it, and I held onto it for a month," Green says, "and then I sold all of it at school in November."
She also made custom bookmarks and taught herself how to sew and make bags. "I got a paper airplane kit at some point and made custom airplanes for the boys to fly, and I used to baby sit." The list goes on and on, and continues to grow right up to the present day.
"I feel the most successful business people are the people who diversify," Green says. "So if I stick my toes in every market—clothing, skincare, jewelry, cosplay—there's no way I'm not going to be successful."