What Seán Dwyer expected to be a scenic drive late one Thursday afternoon from Skylark's Hidden Cafe in Fairhaven to a writers meeting in downtown Bellingham ended up drastically changing the WWU professor and writer's life forever—but it didn't stop him from pursuing either passion.

January 29, 2015: The Accident
It was a sunny, clear, and crisp afternoon in the first month of the new year. To his left, the water in Bellingham Bay sparkled just over Boulevard Park. Dwyer, a Spanish professor at Western Washington University, drove north toward the State Street roundabout and stopped for two pedestrians waiting to cross.
The pair stepped out on the crosswalk and one saw something just behind Dwyer that made him jump and pull the other college-aged pedestrian back onto the sidewalk.
"I thought that was a bad omen, but I couldn't do anything about it," Dwyer recalls. "I didn't want to know what was bearing down on me so I just figured he'd see me, I'd get bumped and we'd move on. But he didn't see me. He hit me."
The Toyota Land Cruiser plowed into Dwyer's 2001 Honda Civic at 45 miles per hour with no brakes at 3:42 p.m.
Dwyer's head is hit a total of three different times in the impact.
When Dwyer woke up, the car had just stopped rolling a total of 36 feet. Dwyer says he has a habit of shifting his car to neutral if he knows he's going to be stopped for a while. This habit quite possibly saved his life.
When his wife, Maureen, picked him up, he assured her there was no need to worry, and that he was fine. Rather than go to the emergency room, Dwyer went home to rest.
"That was the first sign that my judgement wasn't as good as it could be," Dwyer says.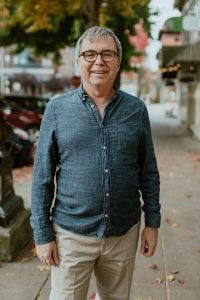 Traumatic brain injury is caused by different kinds of impacts to the head, including a "bump, blow, or jolt to the head or a penetrating head injury that disrupts the normal function of the brain," according to a report from the Centers for Disease Control. Symptoms can be difficult to identify because they're not always readily evident in the structure of the brain.
Brain injuries, including concussions, are often diagnosed after the time of accident, which can result in the possibility of additional injury like second impact syndrome, says Lesley Stephens, the Director of Western's Speech-Language-Hearing Clinic. "Unless you are clearly and seriously injured, you may not get [brain] scans right away."
Initial Brain Scans
Two months after his diagnosis of a mild concussion, Dwyer wasn't improving. He went in for an MRI, which showed his brain tissue was not permanently damaged. This was positive news, but didn't explain why he got sick to his stomach and extreme headaches whenever he tried to read.
For an avid reader and established author, this was a serious problem.
The MRI scan showed that his brain was normal. This is part of the problem with diagnosing certain kinds of traumatic brain injury: the issues won't show up on certain scans.
Originally, he thought he would just take two weeks off to recover from what he thought was a mild concussion with some long-lasting effects. But at the end of those two weeks, he realized he wouldn't be able to teach the rest of the quarter.
After taking six months off of work, Dwyer had his first day back teaching at Western on the first day of the 2015 fall quarter. Besides what Dwyer describes as "a few little glitches here and there," he'd not lost his ability to teach.
Writing in Recovery
Dwyer continued to write with the support of his writing group, The Red Wheelbarrow Writers Group. This time he opted for a more personal, nonfiction story to contrast his previous novels and short stories.
His 300-page memoir took him three and a half years to finish—12 times longer than his other books. He had to choose daily between teaching or writing because he was unable to cognitively do both on the same day.
Rather than sit at a screen and type his words, Dwyer sits back in a chair, closes his eyes, talks his way through his stories, and allows the computer to transcribe it for him. By following this tip from his writing coach and friend, Cami Ostman, he completed the last 20,000 words of his memoir in a week. Before this technique, it had taken him over a year to write the first 60,000.
His memoir, A Quest for Tears, outlines his years of recovery after the accident in a journal-style format. Readers walk day-to-day with Dwyer as he journeys to the biggest milestone in his recovery: finally shedding a tear after not being able to for three years because of his brain injury.
Dwyer didn't receive an official diagnosis of traumatic brain injury until 16 months after the accident, when he went to Denver, Colorado for a detailed brain scan showing what happens inside the brain when certain parts are stimulated. The brain scan revealed that parts of his brain completely shut down the blood flow and oxygen sent to the particular sections that were injured. This was his brain avoiding using those areas. It also explained why he was having trouble processing light, reading, and writing.
"If you have a sprained ankle, you limp because your body doesn't want you to walk on it," Dwyer says. "The brain has to do that on itself and it does it automatically, so I don't get to say, 'I'm gonna walk on this leg regardless.'"
Sharing His Story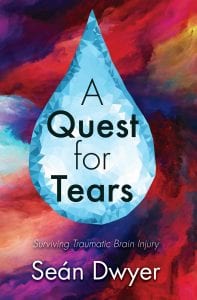 His memoir finally hit the shelves at Village Books in October of 2019. A Quest for Tears is a combination of his experience and all the discoveries he made over the years of healing. The point of his book, Dwyer says, is "to help those without brain injuries understand those who do, those who have brain injuries understand themselves better, and I hope to show the medical community how varied the experiences of those with TBI can be."
He brought his book to his Brain Injury Alliance support group where the room of caregivers and survivors celebrated his accomplishment. Janet Mott, the facilitator of caregiver support, says that Dwyer's book serves as a positive opportunity for survivors to see what others in the community are accomplishing, and motivation to continue to push forward.
Seán Dwyer continues to understand "Seán 2.0" and find joy daily in the colorful parts of his brain.
Featured photo by Christa Yaranon