NOTE: First Federal's Customer Appreciation Day has been postponed. WhatcomTalk will announce a new date once it is scheduled.
Every year, the folks at First Federal Bank look forward to celebrating their customers. All branches offer their regular services, but throw in a few extra bonuses, as well. In addition to some giveaways, treats and drinks are also on hand, as a way to say thank you to the people who value local, boutique and community-focused banking.
"We celebrate Customer Appreciation Day on an annual basis. It was tied to Valentine's Day, starting 20 years ago, and the theme was love and appreciation," says Community Engagement Manager Jen Swanson. "Three years ago, it changed to the end of March, to coincide with our anniversary."
First Federal opened its first branch in Port Angeles, on Washington's Olympic Peninsula, in March of 1923, and has grown throughout the region since. "We have branches in Forks, Port Angeles, Sequim, Port Townsend, Bainbridge Island, and Silverdale," Swanson says. They've also jumped across the Puget Sound, into Bellingham. "Our Barkley branch opened in September of 2015, and then in the Summer of 2016 we opened the Fairhaven branch."
While there's always plenty of foot traffic at the bank, Swanson is excited to see an influx of visitors during their celebrations. "We invite our customers into branches and offer drawings and appetizers to celebrate with them."
One of those enticements is a cash giveaway. The amount was determined by the number of years First Federal has been in business, and their 97 years, so far, makes for a nice surprise addition to the wallet.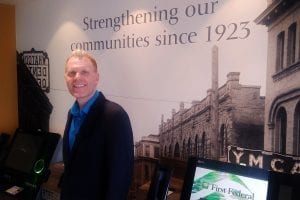 "Customer Appreciation Day allows us to throw a party for our clients, and they don't have to plan anything," says Whatcom County Area Manager Troy Wills. "They pop in for some banking and get a surprise party. Who doesn't like a surprise party? And you don't have to do the cleanup, either!"
Wills and his team make a point of getting into the customer appreciation spirit in a big way, because it helps to augment the friendly human touch they strive to provide every day. "Any given day, clients walk into our branches in Whatcom County and feel the warmth and energy we bring to our clients' banking," he says. "A big 'hello' and a greeting by name is a standard in our offices."
To take part, stop into either branch on Friday, March 27th. First Federal's Fairhaven office is located at 960 Harris Avenue #101, and their Barkley location is 1270 Barkley Boulevard. The Barkley office is open from 9:00 a.m. to 6:00 p.m., Monday through Friday, and the Fairhaven location 9:00 a.m. to 5:00 p.m., Monday through Thursday.
Goodies and beverages will be available, and it will be a great chance to check out the atmosphere that Wills and his team work hard to create. "Clients and prospects regularly say 'Who knew banking could be this fun?'" says Wills. "We also hear from our clients or first time visitors, 'This bank feels like home.'"
Sponsored