When the Olympic Pipeline exploded in Bellingham on June 10 ,1999, it wreaked human and environmental destruction on the community and called into question our relationship to our energy sources. For local artist and ceramicist, Chris Moench, it was a call to take action.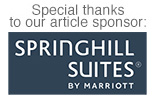 A long-time board member of the Whatcom Land Trust, Moench is no stranger to environmental advocacy. But the disaster prompted him to consider the way his art could respond to the issues that he addressed with the Land Trust.
Moench created a ceramic prayer wheel.
"The general idea was to give the community a tool for remembering that event and thinking of their individual relationship to it," he says. "Hopefully it cultivates a positive response to this event that was a horrible catastrophe for the whole community. That was where it started. [The prayer wheel] hopefully embodies the dilemma that humanity faces with our relationships to fossil fuels and what it's doing to the planet."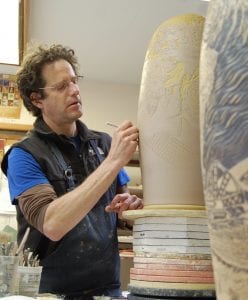 In the years since, Moench has created 1,600-1,700 contemporary prayer wheels. He describes them as ceramic vessels mounted onto a high quality turntable, which spin really easily and include narrative imagery on the outside. The intent is to create a kind of sanctuary that people use for reflections on things that are important to them. Recipients of his art use them in weddings, memorial services for loved ones, and sometimes simply as a personally reflective meditation piece.
And though many associate prayer wheels with Buddhist traditions, Moench asserts that they have no religious affiliation. Rather, his creative inspiration comes from educating himself about the natural cycles of the planet and humanity's relationship to it.
"I come from a basic philosophy that we are connected," he says. "We are all from the same source, all interdependent. And when I say 'all' I don't mean just humans. I mean the plankton living in the ocean, the birds that fly across the landscape, and all the other living entities on the planet."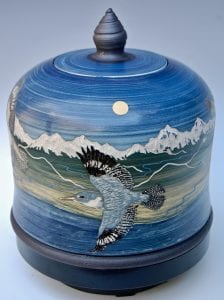 Moench's work inspires awareness and awe of the interconnectedness of our planet. Whether it's a commissioned piece or one of his own designs, at the heart of his prayer wheels is the intention that they will bring about positive change in the systems we inhabit.
About half of his wheels are commissioned, which invites a different kind of dialogue between artist, subject matter, and client. "They may provide images to be incorporated into the piece, so that's where I put my personal agenda aside and it becomes about creating a piece that really resonates for them," he says. "I use whatever technical skills and experience I have with the pottery process to create a set of images that flow around the revolving vessel. And then they bring the spirit or idea they're trying to communicate."
Moench's wheels have found homes all over the world. Many spin in the sculpture garden on San Juan Island. "I go every year and they're just packed with messages," Moench says.
Another lives in the graduate library at the University of Washington, a depiction of children planting maple trees, which was created in response to the Seeds of Compassion event held in Seattle in 2008. Seeds of Compassion gathered teachers, the Dalai Lama, brain scientists, and others to discuss how people, especially children, develop compassionate behavior.
For his personal designs, Moench's inspiration often arrives as a function of an experience he's had. A recent trip to the Gulf of California found Moench observing pelicans, frigate birds, and dolphins. "I spent a lot of time kayaking on the water and hiking in the desert, immersing myself in an environment that isn't so familiar to me and trying to open myself to what it's about," he says. So on one of his more recent creations, pelicans fly above a blue sea as they swoop and fish for anchovies.
On other wheels, bar-tailed godwits embark on their single flight migration from the Bering Sea to New Zealand. They are one of Moench's favorite birds, and feature on several of his vessels. "They have the longest single flight migration of any bird," he says. "Their story speaks of an incredibly strong animal that lives to be 25 years old." They migrate every year, both ways, throughout their lives and depend on food sources in the Bering Sea and New Zealand. "They don't live with boundaries, they don't know nations. It's astounding, but it's also a wonderful metaphor for how the whole planet is connected."
Moench's prayer wheels bring hope and joy to a world that is often bereft of both. It is this which brings him the most satisfaction: "Hearing later how people use the pieces and the peace it brings to someone who is in the last stages of their life, dying from cancer, or a family that is remembering a loved one that passed, or a couple that is celebrating their wedding—it's very gratifying. I make the vessel, but it's empty; they're not really living until people take them into their lives and fill them."
As the world spins into an uncertain future, Moench's art is a reminder of the beauty that keeps us connected and keeps us turning on an axis of hope.