Elton John, Mumford and Sons, Ani DiFranco, The Eagles, Bob Dylan, Indigo Girls, Simon and Garfunkel, Dave Matthews Band, Bill Graham. Imaging traveling the country with these artists and bands, grooving on great music while providing excellent organic meals for them, their crews and their guests. Rex Hall has created exactly this exciting gig for himself.
Hall loves to "chase good music"—usually from bands who are still traveling to shows in vans, not tour buses stopping at huge venues. He discovered the White Stripes in a record store before they blew up and recently traveled to see Show Me the Body in Vancouver and Car Seat Headrest in Seattle. His favorite local (and regional) radio stations include KUGS, KZAK and KEXP.
Rex learned long ago how to combine his passion for music and travel into a career. A chef at the acclaimed vegan San Francisco restaurant Herbivore in the 1990s, Hall hired a cook who had been providing meals to musicians on the road. That sort of gig was right up Hall's alley, as he had once traveled with the first bands selling merchandise for the legendary music promoter Bill Graham.
In 1973, Hall lived at the Winterland, Graham's iconic music venue. Graham was the first music promoter to offer merchandise at concert venues and Hall grabbed a job selling t-shirts. In those days, merchandise was a Wild West operation. "I would show up, give the local venue cases of t-shirts and they would pay me in cash which I just stuck in my pockets," he says with a laugh. "Then I just bought the new boxes from the cash I had on hand. Not much accountability." Merchandise has become a much bigger part of a band's revenue stream these days.
Hall and his wife, Colette McNabb, met in San Francisco and moved to Bellingham about 16 years ago. They're now both volunteer race directors with the Greater Bellingham Runners Club. Longtime vegans, they love good food prepared simply, usually at home, but Hall admits to loving Pepper Sisters when he does go out for dinner.
Beginning with the Indigo Girls in 1998, Hall has traveled the United States, Mexico and Canada with top names in rock and roll, country and blues music. Each member of the tour gets a tour book, which lays out the venues and who's in charge of every detail in every location. The crews call it the 'book of lies' because so many changes occur.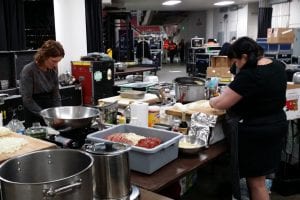 Preparing food for the musicians, the crews and all of their guests is an exercise in flexibility. "You just never know how many people you might need to feed," Hall says. "The drummer may go get his or her hair cut and come back with 75 guests! You have to be ready to feed them all." Depending on the size of the tour, each crew (lighting, equipment, food, etc.) may have its own tour bus or everyone may jam into one or two buses.
At each location, a breakfast caterers manage the first meal of the day, while a local runner takes the head chef out on a three-hour food buying spree at about 8:00 a.m. They bring the food back to prepare an immediate lunch. The caterers have about one hour to lay out lunch for up to 200 people. They then begin to prepare the dinner meal for the performers to eat before they play. After the show, usually, a local restaurant caters late-night eats for both performers and crew. Then it's on the bus and off to the next location.
Hall has a few favorite bands to travel with, but says the Dave Matthews Band rises to the top. He says their tour is like a family affair.
These days, more and more bands eat a healthier diet. According to Hall, younger bands just eat better as a rule, but older rock-and-rollers are eating vegan or vegetarian for health reasons. Hall and company prepare vegan meals and let each person add dairy or meat products as they wish. Some bands are committed to just eating raw meals while others have serious food allergies that limit the available food sources even more.
Hall mentions one famous band member whose nut allergy was so severe the staff couldn't eat nuts themselves, for fear of triggering a reaction. Hall believes it's a challenge to provide satisfying meals for large numbers of people without using nuts and animal products, but it's absolutely possible.
"A few ingredients can add depth of flavor, like marmalade or honey," Hall says. In many cases, the leftover meals and ingredients are sent to homeless shelters or other non-profits. Some tours hire a green tour manager who sees to it that the tour leaves as small a carbon footprint as possible.
One of Hall's favorite venues is Eastern Washington's The Gorge Amphithatre, but it's not the scenery or even the proximity to home that makes it so special for him. It's the fruits and vegetables he's able to procure there. "Wow, that fruit over there! There's nothing like it," he says, his face lighting up.
We asked Hall for one of his favorite vegan recipes and he kindly obliged. You'll notice there aren't hard and fast measurements; it's a testament to the kind of flexible chef Hall needs to be.
Vegan Cauliflower Mac and Cheese
Cook:
Elbow macaroni and keep separate
Prepare:
Cauliflower (cook in water and drain)
Carrots (peel and chop)
Puree:
Cooked cauliflower
Chopped carrots
Olive Oil
Lemon Juice
Onion powder
Garlic Powder
Salt/Pepper
Puree:
Vegan parmesan
Nutritional yeast
Raw unsalted cashews
Salt
Add both mixtures to reserved macaroni, combine, garnish with paprika and serve.