Have you ever had a really good idea, the one you're sure will change your life forever? There's nothing like that feeling of a lightbulb switching on, the eureka moment that could catapult you into the next chapter of your life. But what happens next? How do you turn that idea into meaningful, feasible action? That's where SCORE comes in.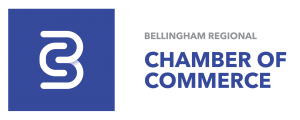 In their own words, SCORE, Counselors to America's Small Businesses, "is a uniquely American organization that synthesizes two historic national ideals: entrepreneurial spirit and volunteerism. Bellingham SCORE is one of 300 offices across the country committed to helping any person succeed in their small business endeavors. Nationwide, SCORE helped over 32,00 new businesses get started in 2018."
SCORE is comprised of leaders in business, academia, and many spheres of global influence who offer one-on-one mentorship and counsel to any who seek it. Whether you're an established entrepreneur looking for guidance through a rough patch or just starting a small business, SCORE has someone who can coach you during the process. In the Bellingham chapter, which is in its 28th year of service, 20 mentors are dedicated to supporting entrepreneurs in Whatcom and Skagit Counties.
I spoke with one such mentor: Graham Burke, former CEO of telecommunications companies with a focus on third world markets. He came to SCORE when he retired to Bellingham from Washington D.C. and was looking for something to do and a way to give back to his new community.
"We encourage the dream and provide advice based on our experience," he says. "A lot of people have a good idea but the question is—and I confronted this problem all the time in businesses I ran—how to take that idea and implement it. There are a lot of people out there that have ideas, and then there's another group that are implementers. You've got to combine the two. It takes a lot of discipline to take that idea from the penthouse down to the ground floor."
SCORE mentors can help with just these sorts of issues, assisting entrepreneurs in building strong foundations that allows their businesses to be successful and also sustainable. Burke stresses the importance of a solid business plan that forecasts the year ahead; he did one every year for the businesses he ran.
"It disciplines you and forces you to really think through what you want to do," he says. "A lot of people want to skip that step. They let their enthusiasm for getting into business get in the way of this good, solid legwork." Burke finds satisfaction in steering folks in the right direction and getting them to think at ground level. "I try to bring my own experience to the table, and all the folks that work at SCORE do the same thing."
SCORE mentors are unpaid volunteers who offer their services as an effort to support healthy local economies. "Although there are very few free lunches in the world, this is one that is truly a free lunch," he says.
In 2018 alone, the SCORE Bellingham chapter helped 105 new businesses get started, created 131 non-owner jobs, and provided 974 chapter services. SCORE is partially funded by the federal government with a grant from the Small Business Administration, but its success is due primarily to the dedication and passion of its volunteers.
SCORE is offering upcoming workshops through Whatcom Community College: "Starting Your Own Business" on February 22, 2020, and "Writing a Business Plan" on March 7, 2020. Details and registration can be found at SCORE Bellingham's website or at Whatcom Community College's website. This is a perfect time to take that lightbulb moment and turn it into something bigger.