Hyunjoo Jung and Sunny Park are celebrating five years of serving delicious, fresh meals to customers of their Barkley Village restaurant, Little Tokyo, in Bellingham. The restaurant was one of the first businesses to open in Barkley Village, and was then purchased by the couple in 2015. Hyunjoo and Sunny are the sole chefs of the restaurant and, as such, at least one of them has had a hand in carefully crafting the meals of every customer.
"If the business is open, we are here," Hyunjoo says. As a small, family-run business, Little Tokyo provides more than a meal. In fact, Hyunjoo and Sunny, as well as their staff, greet regular customers by name.
Hyunjoo and Sunny are proud to be a part of the greater small-business community of Barkley Village, stressing that each business owner provides essential support to the rest and cheers each other on toward success.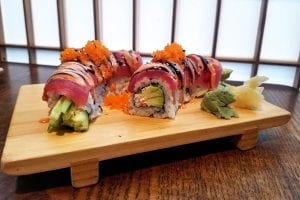 More than 70 percent of Little Tokyo's customers are regulars. While the Little Tokyo restaurant has been a staple in the Barkely community for decades now, Hyunjoo and Sunny have made it their own with familial warmth. "This is not just our work, it is our life. We put everything into this," Hyunjoo says, "all of our effort."
It's no surprise that the couple's business ethic revolves around family. When they were ready to make the plunge they had just the right teachers—their parents. Sunny's parents own a restaurant in the Tri-Cities and welcomed extra help around their own business. Hyunjoo and Sunny spent three years working with Sunny's parents to learn the ins and outs of the family business.
Previously, Hyunjoo and Sunny worked in very different industries. Sunny's prior position was in sports as a professional PGA coach and Hyunjoo had a career in finance. Their experience with Sunny's parents gave them confidence to start searching for a restaurant of their own.
While not Pacific Northwest natives, Hyunjoo had lived in Mount Vernon for a few years and was aware of Bellingham."Bellingham is so clean and friendly. We absolutely love it here, " Hyunjoo says. In January of 2015, Little Tokyo was for sale at just the right time for the couple to take the plunge. The restaurant serves Japanese cuisine including yakisoba, udon, chicken katsu, bento boxes and sushi rolls.
Sushi-novices can breathe easy at Little Tokyo with a number of raw-seafood-free rolls like the shrimp tempura roll. This cooked roll includes crunchy, easy-to-love shrimp tempura with crab mix, avocado and cucumber finished with sweet eel sauce for $7.95. Other beginner options include the Yummy Crunch roll, which features crab mix, cucumber, crunchy flakes, eel sauce and spicy mango for $7.95, as well.
For those who prefer more traditional, raw seafood in their sushi rolls, the well-loved spicy tuna roll falls within the same $7.95 price point. For something a bit more decadent, consider the Big Bham or the Little Tokyo roll. Salmon, shrimp tempura, eel, avocado and crab mix are topped with wasabi mayo and eel sauce in the Big Bham for $13.95. And in the namesake Little Tokyo roll, customers will find spicy tuna, shrimp tempura, cheese, avocado and crab mix finished with spicy mayo and eel sauce.
The couple also prides themselves on their quick wait times, making Little Tokyo an especially apt choice during the lunch hour.
The bento box entrees are one of their best-selling hot dishes, Hyunjoo says, and it's easy to see why. Depending on the choice of protein (pork, chicken, beef, salmon, assorted or prawn tempura) the bento box is just $12.95-$14.95 and comes with a protein, rice, salad and California roll. And for folks looking to stretch their dollar, Little Tokyo often offers a small bento box lunch special for just $10-$11.
Whether you stop in occasionally or become a new regular, you'll be getting more than a fresh Japanese-inspired meal at Little Tokyo. And for folks looking to spend the night in, Little Tokyo is also available for delivery from Viking Food.