There aren't many stores left where you can count on a friendly greeting the moment you walk in, but the morale officer at My Garden Nursery is old-school. Mr. Dilly Pickles rules with a velvet paw, keeping staff members' and customers' hearts light.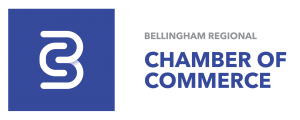 Before you even pass through the gate at 929 East Bakerview Road, you know you're entering a special place. A 16-foot-high purple flamingo presides over a flock of purple lawn flamingos; a few smaller pink ones scattered here and there. Bright-colored garden flags and whirligigs of all kinds create a frenzy of motion on windy days. A pond with a waterfall bubbles merrily outside the front door. Inside, you find the source of all this joy, usually manning his cat tower next to the checkout.
Dilly's story actually begins with a lovely calico cat named Millie. Millie lived next door when the business was then called Bakerview Nursery. Millie reported for work every day as a greeter. When Jenny Gunderson and Bill Raynolds bought the building and opened My Garden, customers who had long shopped at Bakerview Nursery missed Millie. Jenny had a shop cat at their former Mill Creek location, and decided to get one for My Garden, as well.
One of the nursery staff, Morgan, had a spouse who volunteered at NOAH, and she knew of a young cat who might be suitable to raise as a nursery cat. When Morgan and Siri brought the cat in, he was named Dilly to rhyme with Millie, with the full name of Mr. Dilly Pickles. To acclimate him to the activity and the flow of people in and out of the nursery, a regular customer, Sylvia, brought in a very large dog run, which gave Dilly some freedom to move around while sheltering him from direct contact with people. (Sylvia continues to dote on Dilly to this day.)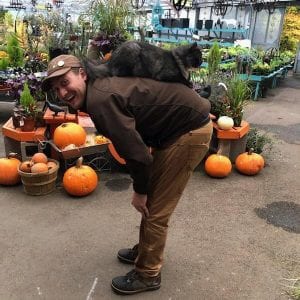 Dilly took to the shop cat life very quickly and became the soul of the store, overshadowing even the flamingos. Human employee Preston remarked, "Dilly's more famous than any of us will ever be."
Because he was raised in the shop, Dilly has learned to tolerate the many dogs who come in with their people. He's usually on duty at his cat tower when people enter, or riding on his special friend Edwina's shoulder. He's used to lots of attention and all styles of petting. Sometimes he has enough and goes out into the plant rooms, or farther afoot behind the store. He rarely goes out the front door and he knows to avoid busy East Bakerview Road.
Customers stop in when visiting from Canada to see Dilly, and he has fans all over the United States following him online. The store has a large gift section, so Canadians, who can't bring plants home, can still enjoy shopping. There's even a line of Mr. Dilly Pickles merchandise: t-shirts, stickers, and photo magnets. This reporter's own car sports a Mr. Dilly Pickles bumper sticker!
Dilly works as a front man for the shop, appearing in every social media post and boosting their "likes" into "loves." A favorite feature for customers is "Where's Dilly?" Photos of various displays are posted and customers have to find where Dilly is hiding. With his coloring, he blends into his surroundings and it can take a while to spot his perch.
Dilly inspires his human coworkers to new heights of joyful silliness. Something about having an animal around lowers their inhibitions, and you can see them on Facebook posing with the life-sized metal Sasquatch, lying trussed up next to a bound Christmas tree, gesturing dramatically to new plants, even experimenting with a leaf blower in the snow. "Dilly makes the day fly by," says his human colleague, Tristan.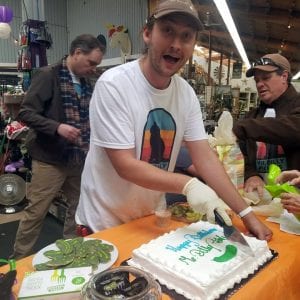 Inspired by his popularity, the staff threw a party in October for Dilly's third birthday. The sheet cake was decorated with a big pickle, and frosted pickle cookies were served. A glass dish with three kinds of pickles completed the buffet. All the staff dressed in Mr. Dilly Pickles t-shirts. One customer even brought her own cat, Azreal, to meet Dilly. Dilly seemed to understand that the day was about him and stayed out front for the whole party.
On holidays, Dilly goes home with a staff person. The employees vie for the honor of hosting Dilly; last Christmas he went home with Antoni. At night he stays in the upstairs office suite, which is comfortably furnished for him. That way he stays indoors, safe from the nocturnal critters that abound in the surrounding woods.
The power of Mr. Dilly Pickles transcends the shop-cat vibe because of his human coworkers. Dilly sets the tone for a workplace where people bring their hearts to work. The staff freely engages in fun and silliness in everything they do. Dilly breaks down the social barriers between humans and allows them to connect on a genuine level. Once people discover this happy place, they never want to leave it.
The flock of flamingos outside My Garden is purple for Alzheimer's awareness, as the staff members' lives have been touched by the disease; various events held over the years have raised over $100,000 to benefit Alzheimer's support organizations including Dementia Support Northwest. When you buy a purple lawn flamingo, 10% of the profits go to the Alzheimer's Association.