Banks are about numbers…right? Not according to the super-friendly team at Bellingham's First Federal branches. "You want to be a name at your bank, never a number," says Market Area Manager & Vice President Troy Wills.
When we sat down to discuss tips for saving—joined by Customer Sales & Service Manager Tina Ruff—it was not only fun, but we were periodically interrupted by Troy shouting greetings to each customer who walked in the front door…by name. For stressful topics like post-holiday debt or how to build credit, consider the folks at First Federal your personal pep squad.
The Doctor Is In!
"We want you to walk out and say 'I did it!' when it comes to getting that house, that car, or being debt-free," says Wills. "You would go to a doctor if you were worried about your health. In this area, we are the experts—we are 'financial doctors'—and we want to help you."
Debt Check-Up
"If you've used credit, you need to hit it head-on," says Wills. "Make a plan, and then make sure you don't have late payments. Ignoring the problem or missing due dates can really hurt you."
Ruff adds, "It's really important to check in. Financial goals are the hardest thing to talk about; you might have grown up in a house where they were never discussed. Just having the conversation and making a simple plan can take away the stress."
Quick Rx:
Financial Health Chart
A credit rating below a certain threshold can damage your ability to enjoy low interest rates for future big purchases like houses or cars. That's why avoiding late payments is so important. Using too much credit can also affect your credit rating. "You'll increase your credit score faster by lowering your credit utilization ratio to less than 10%," says Wills, "But what I take away from that is: 'just don't make big purchases on your credit card that you can't pay off right away.' It works against you."
Quick Rx:
Prescription for Savings
Now for the fun part: you have an unexpected expense or it's once again time for holiday shopping. "It's a liberating feeling to pay cash and be done with it!" says Ruff. Sound good?
Quick Rx:
Budget-Friendly Winter Fun—Doctor's Orders!
Living your best life may not actually cost much at all—or at least living a great life while working on your financial plan. Here are some frugal favorite activities from the First Federal finance team: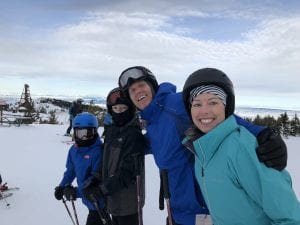 Troy:
Tina:
Sponsored