David Whittaker was raised just northeast of Ferndale, and still lives in the house his father built, on the acreage his family has owned for years. He started Oak Meadows Farm there more than a decade ago, and now, at the ripe old age of 25, is a veteran in the livestock industry. From these homespun beginnings, Whittaker has worked to grow his brand throughout the area, and won plenty of fans and accolades along the way.
"I started when I was 13, and I got some ducks to sell their eggs," Whittaker says. "Then I got some chickens, and then I tried just about everything to see what I liked—lamb, beef, pork, goat, turkey, guinea fowl, geese and rabbit." But his family's property just wasn't large enough to sustain those larger animals, and he eventually settled on raising fowl, mostly chicken and quail.
One secret to his success has been his decision to keep his operation as natural as possible. He buys the cleanest feeds he can find, making sure they don't contain any genetically modified ingredients or fillers like soy, and that the least amount of sprays have been used to grow them.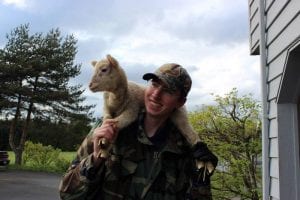 Beyond the feed he gives them, there's also the matter of how they're housed. "I did raise the quail in cages at first, but I don't like what it does to their health," Whittaker says. "I'd like to do the quail outside, but they're too flighty." Since they're able to fly over whatever fencing he might use to contain them, the quail live inside a shed, but share a common open area.
Rather than following any prescriptions or trends, as Whittaker gained more and more experience, he continued to refine his approach. "It just kind of came along as I started to learn about it," he says, but it has led to business dealings with local proponents of responsible farming, such as Bellingham butcher shop Carne, and downtown coffee shop and dining destination Camber.
Nowadays, chicks start their life on the farm in the shed for about three weeks, then are moved to pasture, where they can forage. Once outside, chicken, ducks and turkeys are sheltered in poultry tractors, which are basically fenced enclosures on wheels with a canopy overhead. "A big part of that is to protect them. Bald eagles are the main predators we have here, and coyotes, raccoon, possums and skunks," Whittaker says.
The tractors are moved every day, giving the birds access to sunlight and fresh grass, and allows them to feed according to their own, all-natural diet. Not only does this lead to healthier and more nutritious meats than conventional commercial farms provide, but it also allows the land to flourish, free of the chemicals that must be used to simulate healthy growing environments. "I want to be able to farm, but also to be able to regenerate and rebuild the soil," he says.
As his operation grew, Whittaker decided to build his own poultry processing plant on the property to streamline his business. It's now a state-inspected facility that sees traffic from other area farmers, as well. "Whatcom County has the two major processing plants for poultry for Western Washington," Whittaker says, and his sees people come from as far away as Carnation and Bainbridge Island.
When they enter the processing system, chickens are placed into a holder that cradles them, allowing them to remain calm. "We use a knife so sharp they can't really feel it, and they just go to sleep," he explains. From there, they are plucked, then cleaned and packaged by Whittaker's crew of workers. He bags them immediately, or vacuum seals them for long-lasting freshness. Using this system, he's able to get them to market in just a day or two.
"A good amount of what I sell is through the Puget Sound Food Hub Farmer's Cooperative," he says. From its beginnings as a weekly farmer's market in the parking lot of the Skagit Valley Food Co-op, it has grown into a service that aggregates the products offered by a range of sustainable family farms. "Fifty-two farmers cooperatively own a warehouse and three or four trucks," Whittaker explains. "Chefs can go on the website and order from all the different farmers, from the Canadian border down to Olympia."
Besides supplying restaurants, butcher shops and the cooperative, Whittaker also operates a farm store. Every Saturday from 10:00 a.m. to 2:00 p.m., customers can visit the farm at 6285 Noble Oak Lane and choose from cuts and whole birds, eggs and giblets—even live chicks. And they can rest assured that all have been responsibly raised under the cleanest and most natural circumstances.