City life, even in the City of Subdued Excitement, can make us doubt there's such a thing as uncharted territory. But if you've looked at standard Bellingham maps, you may have noticed unlabeled greenspaces. Perhaps you've even visited some and found wooded expanses with trails. These are called open spaces, and they're the closest Bellingham comes to true wilderness.
Nicole Oliver, Bellingham Parks and Recreation's parks development manager, defines open space as: "parcels we've acquired that may have undeveloped trails through them that people who live around them use, but they're mainly to preserve habitat corridors, critical areas, sensitive areas, lookouts, ridges, things like that." Since Bellingham's Greenway Program began in 1990, the city has acquired many such parcels.
Bellingham's Parks, Trails, and Natural Areas Map displays land that can only be described as open space. But, "our community parks have large tracts of open space, when you think about Whatcom Falls Park or Cornwall or Padden," says Oliver. "The upper trails of Lake Padden are really beautiful, and there's a lot of good wayfinding so you're not going to get lost in there. Fairhaven Park, the Chuckanut forest, has an amazing array of trails."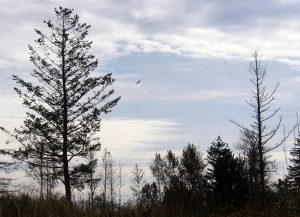 The definition of open space is in flux—much like open spaces, liminal "buffers" between neighborhoods and nature, themselves. Undeveloped parklands such as Northridge Park complicate distinctions further.
"We had a whole master plan to do a playground, and parking, and restrooms…and the public process says, 'No, leave it trees with just a loop trail; that's all we really want here,'" Oliver says. "And that's what we did. So that park planning never really materialized and we preserved it as open space."
Nevertheless, wandering Bellingham's biggest open spaces feels uniquely ethereal. "Our open space is very much a larger amount of acreage than the built parks," Oliver says—so there's plenty to explore.
Galbraith Mountain
Famous mountain bike destination Galbraith Mountain is the most notable and misleading item on Bellingham's open space map. The City of Bellingham doesn't truly own it, but they and Whatcom Land Trust can use the trails following a 2018 recreational easement with Galbraith Tree Farm LLC.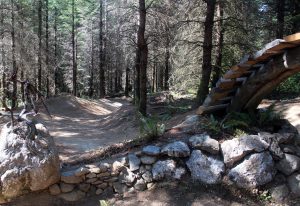 "They've promised not to ever develop the property and allow public use in perpetuity, but they also are allowed to continue to harvest the timber on the mountain," says Oliver.
2,800-acre Galbraith Mountain is nicknamed "Galby" and officially North Lookout Mountain. Whatcom Mountain Bike Coalition maintains a 65-mile dirt trail labyrinth displayed on their interactive map.
Galbraith's scenery ranges from woods to wide-open meadows. Ridge Trail and Tower Road offer spectacular views of Bellingham Bay and Mount Baker, respectively.
Parking is available on Samish Way near Galbraith Lane and Birch Street off Lakeway Drive, among other access points.
Samish Crest
West of Galbraith Mountain, Samish Crest provides a similar vista onto Bellingham Bay. It's technically multiple parcels connected by trails "with the overall intention of someday having a trail system that goes through Whatcom Falls all the way to Lake Padden," says Oliver.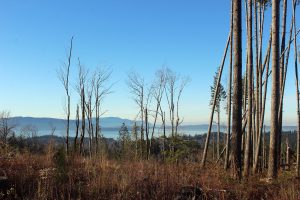 As Samish Crest climbs two miles through tranquil woods, gravel paths become dirt trails branching every which way. Samish Crest awaits park developments compatible with natural preservation.
Racine Street and Palmer Road off Yew Street provide parking.
Lockwood
Named for the family whose estate donated it to the City of Bellingham in 2007, Lockwood Open Space lies beyond a yellow gate along Marine Drive. Its driveway winds past a towering maple to the vacant former house site.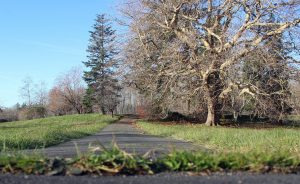 "They run the Ski-to-Sea race through there" for the mountain bike leg, Oliver says, "and it's a beautiful rolling pasture. We have a beekeeper keeping bees out there and there's a bunch of fruit trees."
Lockwood's field has a loop trail outline that could one day go all the way up and around the airport, according to Oliver. You can observe planes and trains near the bay ahead.
To visit, park at Marine Drive Trail and follow the road northwest to a duck pond.
Open Spaces in Your Backyard
Most open spaces border residential streets. These include Parkhurst and Lake Padden Open Space in the Samish neighborhood, Cottonwood in Birchwood, Hawley and Pacific View in Puget, and Lowell Park in South Hill.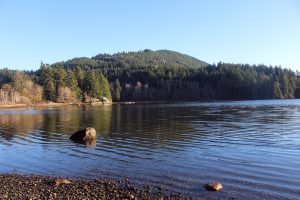 The DNR protects wetlands such as the Chuckanut Bay and Silver Beach Open Spaces. Some large parcels, such as Bear Creek Open Space on Northwest Avenue and King and Queen Mountain near Cordata, lack easy access and parking; visit at your own risk.
Ultimately, open spaces' ecological role matters most.
"By buying open space and preserving it, we're just creating all this additional acreage within the city where the animals aren't disturbed by development and they can live peacefully and flourish," says Oliver. Volunteer work parties can keep open spaces special by removing invasive species and replanting native ones.
Bellingham Parks asks visitors to leash and clean up after their dogs and report environmental hazards. As the saying goes: take nothing but pictures, leave nothing but footprints, kill nothing but time.