Overpopulation can be a major problem in animal shelters, and Hawaii is no exception. That's where places like Poi Dog Rescue come in.

Bellingham's Poi Dog Rescue is a nonprofit that partners with the Hawaii Island Humane Society (HIHS), taking in dogs from Hawaii's "Big Island." The rescue is dedicated to finding loving, permanent homes for dogs while alleviating overcrowded Hawaiian shelters.
A "poi dog" is Hawaiian slang for "mixed breed." Founders Alisha Holland and Travis Holland found the term fitting for their cause.
"Most dogs we've adopted out that have had their DNA tested have been [mixed]," Alisha Holland says. "At least five or so breeds mixed together. So it just made sense!"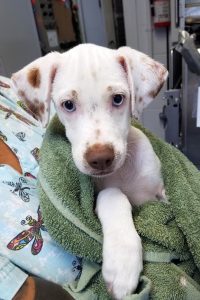 The process comes together through Poi volunteers and HIHS's Mainland Transfer Program. HIHS quarantines each animal and helps with spaying/neutering, microchipping, a first set of vaccinations, flea treatments and more. The dogs are then flown to Washington.
Poi and other volunteers take the dogs and help them adapt to life outside the shelter until a "forever home" is found. Adopting families get a starter kit with food, medications, and other items.
Families interested in opening their hearts and homes to a rescue can apply on Poi's website, where they're screened for the best fit possible.
"It's very important to me [that] we do the very best at matching families with dogs, as it's a sad day for everyone when it doesn't work out," Holland says. "Once an application is screened, we do phone interviews with families, and then set up a time for everyone to meet."
Holland has a soft spot for larger and shyer dogs, who are often overlooked at shelters.
"Larger dogs tend to have a tougher time finding homes for various reasons," she says. "Both of our fur babies are large breed pups, and it's what I have always grown up with, so it's natural to us to want to help others. Just a few weeks here makes such a huge difference!"
Her own dogs, Tex and Missy B. Haven, are rescues from Texas. Tex was found wandering the streets, "as feral as they come," Holland says. Helping Tex adjust to house dog life was challenging, but after successfully doing that, Holland felt confident they could handle anything.
Adopting Tex and Missy also brought the issue of overcrowding and high-kill shelters to the Hollands' attention.
"Through adopting them, it raised our awareness of the desperate need for dogs to be transported out of high-kill shelters to areas where there seems to be a shortage of dogs available for adoption," Holland says. "Three Little Pitties, based out of Houston, allowed us to begin this journey. It's been an amazing journey thus far, and we learn so much from each dog we care for."
The Hollands vacation to Hawaii's "Big Island" a few times a year. In February of 2019, Holland emailed HIHS and asked if she could help with dog and cat overpopulation on the island. Their first rescue, Abigail, came back to Bellingham with her on the plane.
Since early 2019, Poi has helped over 100 dogs find homes in the Pacific Northwest.
"Prior to adopting, we had no idea how much certain areas struggle with the terrible decision of who lives and who dies," Holland says. "Especially for something as silly as lack of space. That's not how things work here in Washington."
The Hollands love Hawaii, and Poi Dog Rescue is their way of giving back to the island that brings them joy during Bellingham's cold winters. While Holland knows she can't save all of them, they do their part to save as many as they can. "The only way shelters can stay no-kill is to continue to move dogs out to free up space for others in need."
Poi Dog Rescue has kept multiple dogs in the Holland's 3.5-acre of home in Bellingham. Nowadays, they only take one dog at a time, but in the past they've had over eight (six being a litter of puppies).
"It can get pretty crazy, but it never lasts long," Holland says. "Some pups have families waiting to meet them upon arrival, and others are gone within a week or two."
Holland loves when families send updates and pictures. One of the most rewarding parts of running the rescue is the joy they bring to families that have lost pets, as well as first-time pet owners. "It reminds us why we do this, and what is most important," Holland says.
Poi Dog Rescue is a labor of love. HIHS pays for a lot of doggy airfare, among other things. Poi is also funded by grants from the Holland Family Foundation, donations from families adopting animals, countless hours of volunteer time, and individual donations. Between travel and care, though, running the rescue is not inexpensive. Adoption fees can't cover the entire cost.
"We will continue to help our poi dog friends until the need is no longer there," Holland says. "We've also been looking into what it takes to help dogs in other areas where the shelters are high-kill, like California."
How to Help
If you'd like to adopt a dog, please check out Poi Dog Rescue! See available dogs on their adoption page, and fill out an application form here.
You can donate money or toys, as well. HIHS has a fund for their Mainland Transfer Program, though it's limited. You can also donate directly to the transfer fund.
You can also volunteer. Volunteers help with everything for Poi Dog Rescue, from transport, fostering, social media, marketing, meet and greets, and communications.
Fostering is important, too. Poi would not function without foster families, which can help socialize dogs in new situations. Apply to foster on their website.