There's a pretty new trailer in town—you may have seen it. It belongs to beloved local veterinarian Christine Monroe, who embarked on her "retirement" adventure this past summer: a mobile vet clinic. Rescue Pet Vet is the result of Dr. Monroe's dream to bring high-quality veterinary services to shelter facilities and rescue organizations who might not have access—and she's already helped more than 500 animals.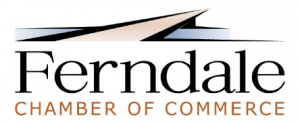 The trailer's paint job is especially meaningful to Dr. Monroe. The paw print in her logo is an actual reproduction of the paw print from her "heart dog," Coconut. Coconut had some genetic challenges and was born with serious leg problems. He was going to be euthanized, but Dr. Monroe gave him a home and the care he needed to enjoy a happy, healthy life.
Later, he developed a heart problem and had to have a pacemaker to regulate his heartbeat, earning him the nickname "The Pacemaker Poodle." Coconut only lived to be seven, but he left an indelible pawprint on his human mom's heart.
The EKG line on the bottom of the van represents Coconut's heart condition. Rescue Pet Vet is dedicated to Coconut, its mission to give second chances to more animals like him.
Dr. Monroe retired from 26 years of private practice to realize her dream of filling a void in the world of animal care services. How did she form this vision? Her career has been steeped in community service from the beginning.
She graduated from Michigan State University College of Veterinary Medicine in 1993 and came to Bellingham in 1998 to work at Bellingham Animal Hospital on James Street. The hospital closed in 1999 (it's now Bellingham Veterinary/Northwest Veterinary Blood Bank), and she was recruited by the Whatcom Humane Society to be their staff vet.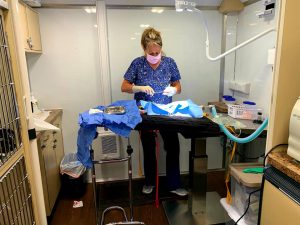 She spent six years in the old Williamson Way facility near the airport, working in conditions that bring to mind a military field hospital. The vet office was in the breezeway between buildings. "We used what we had," Dr. Monroe says. "It wasn't always ideal, but we got it done."
While working at the Whatcom Humane Society clinic, Dr. Monroe moonlighted as a relief vet one day a week for Dr. David Rabkin at Maplewood Animal Hospital. Eventually, with two young children at home, she had to make a hard financial decision, and she accepted Dr. Rabkin's offer of a full-time position at Maplewood; they eventually made it a partnership.
Her shelter vet history followed her, and Maplewood Animal Hospital often provided supplemental services to the Whatcom Humane Society. They fostered cats available for adoption at the clinic and placed over a hundred felines in permanent homes.
Located in the diverse Birchwood neighborhood, the clinic, Dr. Monroe says, serves "the entire socioeconomic spectrum of this town." Drs. Monroe and Rabkin became experts in providing high quality medicine at an affordable price. In 2015, Maplewood Animal Hospital received the Whatcom Humane Society's Woof and Whiskers Award for outstanding service to the animals in our community.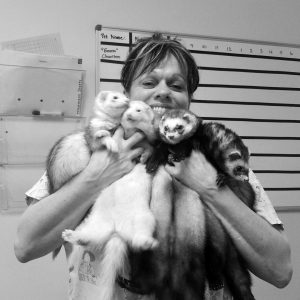 Dr. Monroe is ready for a change, but wants to stay in the area. She's deeply rooted in the Ferndale and Whatcom County communities. While most of her work has been in Bellingham, she says, "I'm a country girl. I could live my life without ever going into town." The love of horses runs in her family and she has a particular affection for ferrets.
By reducing overhead with her mobile clinic, Dr. Monroe can set a price structure that meets the needs of nonprofits without devaluing her own work. "Some people think shelter vets are a lower class of doctor, and that's absolutely not true," she says. "Every vet should have to spend at least six months in shelter service; it makes you a far better doctor." She mentions the exciting possibility of responding to large emergencies as well; the mobile clinic is well-suited for disaster relief.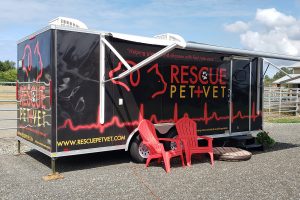 Rescue Pet Vet's services have saved local nonprofits enough money that they often have a slush fund available for lifesaving care they wouldn't have been able to provide otherwise—cases beyond the scope of a mobile hospital.
"I'm deeply grateful to be in a position to give back to the community where my family thrives," she says. And Dr. Monroe hasn't stopped at Rescue Pet Vet, she's even set up a scholarship at Ferndale High School to help promising athletes as they go on to college. It's a mutual admiration society; Dr. Monroe loves her community as much as it loves her.