Submitted by: Barron Heating
Imagine your perfect fall night: You're snuggled under a blanket with a mug of warm cider in front of a crackling fire. Maybe you're getting your Netflix fix, as well. Now fast forward a little, to the holidays. The snow quietly falls outside (or rain, let's be real) as family and friends gather. Goodies and gifts are exchanged in front of the fireplace. It's a little idyllic, but it's a dream we all have about how the chilly seasons should feel and be spent here in the Northwest.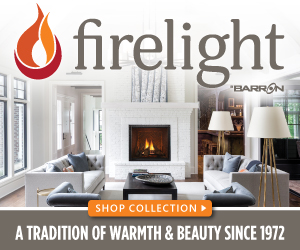 Brad Barron, Engineer and fourth generation Barron at Barron Heating & Air Conditioning is filled with the same warm memories as he reflects on his childhood here in Bellingham. When thinking about time spent with his grandparents, he says, he's immediately taken back to "meals shared around their dining room table and laughter exchanged around their fireplace."
And that sort of warmth and quality family time is something the Barrons have always felt is meant to be shared. Over 45 years ago, Brad's grandfather installed Barron Heating's first fireplace in one of Whatcom County's newest developments: Sudden Valley. Building his business from the ground up, Grandpa Dan took great pride in his craftsmanship, ensuring that every fireplace or stove he installed was truly the heart of his customer's home.
That tradition of quality, attention to detail and true customer care is still being carried on today through Barron's Firelight by Barron division. Providing beautifully crafted stoves, fireplaces, and inserts using wood, pellet or gas, Firelight is a go-to for expert design ideas and an experienced installation team.
Whether you're building a new home, remodeling your current one, or adding on, your needs and wants for your space are uniquely you. With nearly a half century of homes in Barron's portfolio, their expertise has run the gamut of styles and solutions. Your Craftsman home may be longing for a traditional wood stove to cozy up your kitchen. Or your modern living room may be the perfect backdrop for a sleek glass media fireplace. From inserts for existing hearth spaces to built-in units and free-standing stoves, you can be sure that Barron's Firelight Team will make your dreams of a beautiful hearth a reality.
Visit one of Barron's three showrooms in Ferndale, Marysville or Burlington to explore endless fireplace options from America's best-known brands. Their Firelight Experts will help you find an ideal fireplace that's tailored to your needs and style of home. And from those cozy fall nights to holidays spent around the fire, they'll set the stage for you to create memories that last for generations.