Submitted by: Western Washington University Children's Literature Conference
Registration is now open for the 17th annual Western Washington University Children's Literature Conference. This event has become an annual tradition for many, where teachers and librarians, readers and writers gather to celebrate and learn about literature for young people. It takes place at the WWU Performing Arts Center on Saturday, February 29, 2020.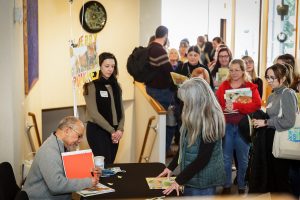 Founded in 2004 by Nancy Johnson, the WWU Children's Literature Conference strives to connect advocates for young readers and writers by informing, educating, and inspiring our attendees through exposure to the expansive world of literature for children and young adults. By welcoming creators that represent the breadth and diversity of young people's literature today, the conference aims open attendees' eyes, focus their attention, and positively impact their work with young readers, writers, and artists.
This years' lineup features author and illustrator LeUyen Pham (Princess in Black, Real Friends, The Bear Who Wasn't There), author Mac Barnett (Sam and Dave Dig a Hole, The Terrible Two, Extra Yarn), author and illustrator Jason Chin (Grand Canyon, Island: A Story of the Galápagos), and author Ruta Sepetys (Between Shades of Grey, The Fountains of Silence, Salt to the Sea).
Previous speakers include John Green, Kevin Henkes, Kate DiCamillo, Jerry Pinkney, Sophie Blackall, Pat Mora, and many more.
The conference has sold out for each of the last five years. Early bird registration is open until January 17, 2020. The Early Bird rates are $125.00 for Full Registration; $60.00 for Para-Educators, Retired Teachers, or WWU Employees, and $40 for Full-Time College Students.
A free companion event for authors, educators, librarians, and any involved or interested in literacy education, nErDcamp Bellingham, takes place the day after the Children's Literature Conference, March 1, 2020.
For more information, visit http://wwuclc.com.