If you're an animal lover with room in your home, consider becoming a foster family. The goal of fostering is to keep adoptable animals alive and thriving until they find a forever home, with the intention of doing what's best for the animal while they're in your care.
While the hope for all foster situations is the successful nurturing of an animal while it awaits a new family, there is room for failure—that is, when the foster family cannot fathom the idea of giving up the dog, cat, or other animal, and keeps them as their own. Following are a few fortuitous foster fails.
Missy
When Deb Slater and Robert Teirney purchased their first home together in 2017, Deb knew her husband wanted to be an urban farmer; to own ducks and construct a Koi pond on the property. Deb and Robert had also talked about adding a dog to their household menagerie. Their fenced-in yard allowed them to consider fostering a small dog, and "test the waters" with their three cats. They learned of Rescued Hearts Northwest (RHNW) a local 501(c)3 organization with an excellent reputation, and contacted them.
Missy was Deb and Robert's first foster pet. Missy fit easily in the family dynamic. When Deb and Robert struggled through the first meet and greet with a potential adopter, they realized Missy was meant to be with them. Failure never felt so good.
Judy Cobb and Bekki Dodd are the founders of RHNW. The organization's objective is to keep animals fostered until they get to find their forever homes. "We wanted to create a small group where we knew every foster on a personal level and were in contact with them almost daily," says Dodd. About fostering, she says, "you have to be willing to let go." Since March 2013, RHNW has rescued and placed more than 550 animals.
Lennie, Laverne, Shirley and Noodle
Shelly Lyon's first contact with Saving Pets One at a Time (SPOT) was when she adopted a cat from PetCo. She was so impressed by the organization that she volunteered to take care of the pets being fostered at her local store. Her first foster was a litter of sibling kittens, Lennie, Laverne and Shirley, who came into her home in 2015.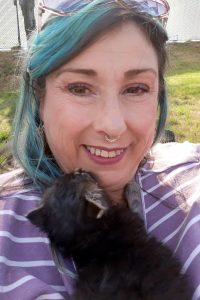 Lennie, Laverne and Shirley needed special care because their cerebellums were not fully developed and they 'wobbled' more than walked. Since then, she has fostered 15 other cats and kittens, and has become a specialist with neonatal kittens who are orphaned, sick, have special needs, or are bottle-fed. Shelly is, by her own admission, currently addicted to fostering.
Of the 15 cats and kittens Shelly and Dave have fostered, four have (happily) been foster fails. Shelly admits that she has a legitimate reason for every failure. Lennie, Laverne and Shirley had to stay together, as the sisters were their brother's physical therapists—and Dave became too bonded to Noodle and wouldn't give her up.
SPOT is headquartered in Burlington and holds adoption events in Skagit County. Their fostered animals can be found through their website and are adopted through the PefFinder portal. Their specialty is serving and saving orphaned and special-needs kittens, but they work to place all kinds of cats and dogs.
Chloe
Lyndie works from home a few days a week and felt she could handle very young and special needs felines (not medically fragile) who could be left alone for short periods. She explained to her kids Carter and Delaney, who were 13 and 11 at the time, they would learn life lessons while fostering.
Understanding that they weren't going to keep the fosters, they hoped to give each animal the best start possible. The first litter from the Whatcom Humane Society (WHS) consisted of five kittens and their mom. Lyndie was worried the older cat wouldn't get adopted, but she did. Lyndie said "The best thing about cats is when they're kittens. How could you not love being jumped on by kittens every day? I love it because they go from hissy/scared to climbing up your legs. WHS make it super easy. We just had to feed them, love them and socialize them."
Lyndie, Carter and Delaney have now fostered eight litters—35 cats and kittens. Delaney took a special liking to foster kitten Chloe. When Chloe started to act like she was the family dog Charlie's puppy, it was clear that Chloe would be their foster fail.
Korky
Santina has fostered 140 cats and kittens. I was surprised to learn her foster fail was Korky, a bearded dragon. When he arrived at the shelter, he wasn't expected to survive, but soon he was well enough to participate in WHS's Critter Camp.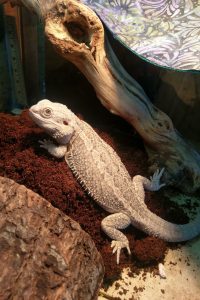 Santina has fostered kittens, one dog, and exotic animals like snakes and bearded dragons. Her daughter currently works for WHS. Santina says it is rewarding to save the kittens when they are cute, and by the time they get annoying, they're ready to be adopted.
If you're reluctant to foster an animal because you worry you might become bonded to it, or you would find it too difficult to let the animal be adopted by another family, realize that your willingness to foster can literally save the life of an animal. Your fostering makes room in a shelter so another animal may live. If you love kittens, cats, puppies or dogs, or other exotic animals, you may not be able to save every abandoned animal, but you can save every one that you foster.
Foster Animal Resources
Different organizations have different policies and guidelines. The above-mentioned agencies (and those listed below) are always looking for qualified families to help them with their rescue efforts.