If you've ever been in the middle of a busy day, wishing your quick lunch options were a little healthier, Barkley Village has a place for you.
MiX, a local restaurant that opened in January, offers quick, healthy, locally sourced foods for breakfast, lunch and dinner. The eatery is owned by Michael Taylor and Helen Neville, who are also renovating two other restaurant locations in downtown Bellingham.
Taylor, a Bellingham local for over 25 years, is a radiation oncologist for PeaceHealth with a passion for staying fit. Neville has been in the grocery industry for several decades, and is former vice president of marketing for Haggen Food Stores.
"We thought Bellingham could really benefit from having a place where you could get the kind of quality meal [found] at a sit-down restaurant, but in just a few minutes—for people who are busy," Neville says. She adds that while Seattle has many healthy 'fast-casual' options, Bellingham seemed to be lacking these kinds of establishments, especially in certain areas.
MiX offers fresh sandwiches, soups, and salad bowls, and any salad can be wrapped in warm flatbread to create a "MiXwich." There are also delicious soup and salad combinations, perfect for a lighter but still-satisfying lunch. They also have a $4 grilled cheese!
Not just a place for health-conscious adults, MiX has a kids' menu featuring grilled cheeses, rice bowls, and the classic peanut butter and jelly sandwich. The restaurant also serves breakfast, with items like scrambles, avocado toasts and breakfast baguettes. Each breakfast item comes with a cup of coffee.
If you're not in a big hurry, MiX is a great place to kick back and have a drink. Their twist on happy hour, dubbed "MiXing Hour," happens each day from 3:00 p.m. to 7:00 p.m., and features a dollar off beers, wines and ciders—many of which are local. MiX also serves several non-alcoholic botanical beverages for those who don't imbibe.
MiX has numerous vegetarian options, and most items can also be prepared vegan or gluten-free, upon request. Of course, healthy eating is best when balanced with the occasional indulgence, and MiX doesn't fall short here, either. Their desserts include soft-serve vanilla ice cream, assorted cookies, brownies and pastries, and by-the-slice pie and cheesecake.
What truly makes MiX unique and innovative, though, is their usage of local and regional food vendors. The eatery's pastries come from downtown Bellingham's Icing on the Cake bakery; soups hail from Superior Soups, a staple at the Bellingham Farmers Market. Sandwiches are made with Avenue Bread products.
Perhaps most interestingly, their salad dressings, pickled vegetables and falafel balls are made by Dreamland Foods, a Seattle-based company specializing in wholesale Mediterranean cuisine. The owner, a native of Kuwait, uses all his grandmother's old recipes and makes his falafel with fresh chickpeas. Neville says they're commonly told by customers of Middle Eastern descent that they have the best falafel in Bellingham.
"It's about trying to find those quality niche products that are harder to bring in as opposed to ordering from just one vendor," Neville says of how MiX operates. "We're proud of those types of relationships."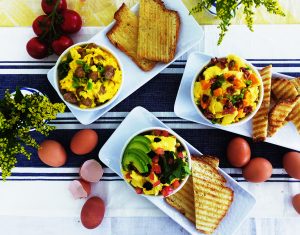 Neal Swanson, Barkley Village's vice president of leasing and marketing, says they were ecstatic to welcome a unique, healthy food option to the neighborhood. The addition of breakfast, he says, is something Barkley Village has lacked for many years.
The restaurant's interior is bright and vibrant, with friendly staff and large paintings of vegetables by local artist Shawn "Pickles" Cass. If visiting MiX isn't your thing, know that Viking Foods can also deliver their delicious eats.
With all this in mind, there's no reason not to take your before-work breakfast stop, lunch break, or after-work dinner dash at MiX in Barkley Village.
MiX, located at 2925 Newmarket Street, is open Monday through Saturday from 8:00 a.m. to 7:00 p.m. Check out their full menu at www.mixrestaurants.com.