The Whatcom Education, Spay & Neuter Impact Program (WeSNiP) recently turned 10 years old. In that time they've performed over 22,000 spay and neuter surgeries in Whatcom County. Think about that. The county's human population is around 221,400; that's roughly one surgery for every 10 people in the county. Consider that the majority of pet owners use private veterinarians or adopt from shelters that provide the service, and that's a lot of influence for a small non-profit outreach organization.

Programs like WeSNiP are rare in the U.S. Most communities focus on no-kill shelters, which increase available shelter space but do not address the underlying problem of overpopulation. WeSNiP began with the shared vision of local veterinarian Karen Mueller and animal rescue volunteers Patricia Maass and Chris Haulgren. They learned of a dedicated spay/neuter outreach in Tennessee that effectively eliminated pet overpopulation in the region and were determined to bring that to Whatcom County.
They obtained the Spay Station RV, a mobile surgical unit on loan from Pasado's Safe Haven. Dr. Mueller was able to perform up to 30 surgeries in a day, as people gathered at the designated location in the morning and came back for their pets in the afternoon. Vet technicians and volunteers supervised the preparation and recovery care.
When the Spay Station was no longer available, WeSNiP shared space with Animal Emergency Care at their old location, using it during the daylight hours when AEC was closed. When AEC moved to their new hospital facility, WeSNiP worked out an agreement with Maplewood Veterinary Clinic for dog surgeries and NOAH (Northwest Organization for Animal Help) of Stanwood for cat surgeries. They gather the animals at the Salvation Army on designated days.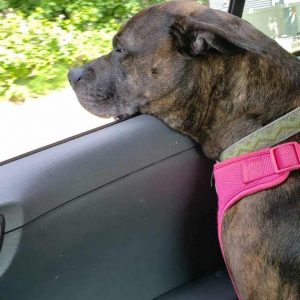 The impact of this spay/neuter outreach was felt by local shelters within two years. Since 2008, the Whatcom Humane Society has seen their euthanasia for overcrowding drop to zero, and their intake of stray animals has dropped by half. In some years, there has actually been a shortage of adoptable kittens! Admissions of feral cats have also dropped drastically because of their Trap-Neuter-Return program.
When WeSNiP reached a stable demand from regular clients, they started working on feral cat colonies with the Trap-Neuter-Return program. If a person with a feral cat on their property has been feeding the cat(s) and plans to continue doing so, WeSNiP will help them trap the cats, get them in for surgery and vaccinations, and return them to the same location where they are living. The tip of one ear is cut flat for a visual indication that the cat has been spayed or neutered. The cats can live out their lives in better health, and the colony eventually stabilizes.
Three years ago WeSNiP was able to get an office space in the Birchwood neighborhood, and I recently visited Executive Director Audrey Seaholm there. She showed me around the small space—about the size of a one-bedroom apartment. The office is headquarters for four employees and a steady stream of volunteers. Every spare inch of space is used, with neat stacks of animal crates, feral cat traps, blankets, towels, and supplies. A stack of crates waits in the reception area, each labeled with a client's name, for the next pickup day. Animals are transferred to WeSNiP's own crates because owners don't always have suitable crates for the van transport.
Audrey explained how the program works. It's not free; clients are asked to donate $50 to $65 toward the cost of surgery. The average donation is actually around $35. Dog clients are selected on the basis of "litter risk," how likely an animal is to produce an unwanted litter.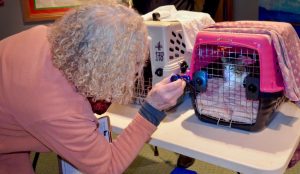 Underserved communities are sought out—people with transportation issues, disabilities, and other barriers to service. "Some people are really struggling out there," Audrey says, "and we try to reach people who want to do the right thing but need our help. Our clients are part of the solution to pet overpopulation, and we appreciate their efforts to do right by their animals."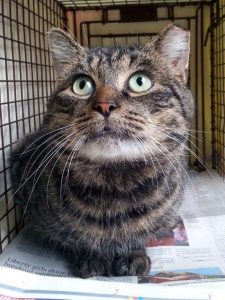 I was surprised to learn that spaying a dog costs 10 to 15 times more than spaying a cat. WeSNiP never recovers the full cost of a surgery from the client. That's where their sale venue comes in—their permanent ReSale in Cordata Place, managed by Chris Haulgren, raises money to close the gap between the donation and actual cost of surgery. The ReSale accepts item donations on Saturdays between 10:00 a.m. and 2:00 p.m., and then holds a sale one weekend a month. They always welcome gently used household items and clothing. For more information, please visit www.WeSNiP.org.
People can also join the Monthly Donor Club and set up an automatic donation each month, or they can volunteer with feral cat trapping and return, or at the ReSale venue. Audrey urges people to "donate where your heart is." WeSNiP wants to help bring about a world where every pet has a home. If you'd like to support an organization that's making a huge difference, you couldn't choose a better one.