Whatcom County recreationists may have two associations with the name "Coast Millennium Trail": Semiahmoo Spit Trail, and a proposed 50-mile trail spanning Whatcom County's entire coastline. The first trail is actually a well-known segment of the second, a reminder of a decades-old effort still underway.

As the name suggests, Coast Millennium Trail began in 2000 after planning stages in 1999. The Coast Millennium Trail Campaign Committee had representatives from Whatcom Council of Governments, Whatcom County Parks and Recreation, Bellingham Parks and Recreation, Port of Bellingham, and Trillium Corporation. They initially secured a $1.2 million grant and divided four planning areas: Skagit County to Nooksack River, Nooksack River to Aldergrove Road, Aldergrove Road to White Rock, B.C., and Marine Drive to Ferndale and Lummi River. Coast Millennium Trail would link existing trails through bike lanes and off-road trails—if completed. Progress has been slow in the following decades.
Hugh Conroy, Whatcom County Council of Governments' Director of Planning, says Coast Millennium Trail has lacked major sources of funding for years. Committee representatives have long since left. But "it's still a concept that has a lot of support," Conroy says. The proposed Coast Millennium Trail not only presents valuable opportunities for recreation and transportation, but also represents a scenic vantage point into regional heritage.
Ambitious Transportation Plans Trailblaze the New Millennium
Coast Millennium Trail draws inspiration from a grander border-to-border trail project. Bicycling advocates proposed a Pacific Coast bicycle route in the early 1970s, mapping California-to-Canada routes that included Whatcom County. The idea gained public support throughout the 1980s, and Whatcom County Parks and Recreation acknowledged the support for a "Coastal Bike Route" in 1989.
Hiking Whatcom County by former Coast Millennium Trail planner Ken Wilcox calls it "Salish Coast Trail." Whereas "millennium" reflects a naming fad from the year 2000, Wilcox writes, the alternative name reflects the Coast Salish tribes' millennia-old relationship with the coastline. A similar continuity of regional identity inspired the name "Salish Sea."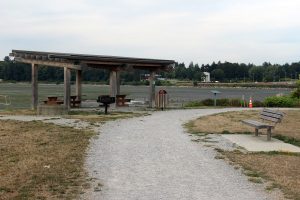 Public awareness of Coast Millennium Trail, Conroy says, seemingly extends no further than the fact that "they have a logo, and it gets talked about in transportation planning circles." But planned interpretative signs along the route would educate visitors on cultural and natural history, putting Coast Millennium Trail on the map.
"I think that was kind of a vision and still a hope for it, is that it would become kind of a known route or facility that the larger community is aware of and uses, and something that Whatcom County has to offer," says Conroy. "But I don't think it's probably reached that status yet."
A Recreationist Superhighway
Whatcom County Parks and Recreation provides an early Coast Millennium Trail map spanning from Larrabee State Park to Peace Arch Park. While this map mostly follows existing roads, Conroy says the final trail could potentially be "more coastally oriented." Still, the map already links to several culturally, historically, and naturally significant areas.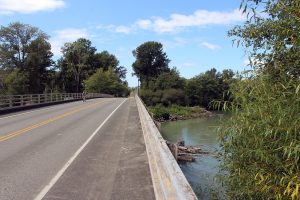 Starting at Larrabee State Park, Coast Millennium Trail enters Historic Fairhaven through the Interurban Trail, Arroyo Park, and Fairhaven Park. It continues through Boulevard Park, downtown Bellingham, Maritime Heritage Park, Zuanich Point, Little Squalicum Beach, and Marine Drive.
North of Marine Drive, the route parallels a railroad before entering Slater Road near Ferndale. Visitors could optionally loop around Hovander Homestead Park and Tennant Lake before crossing the Nooksack River. The route zigzags northwest along country roads, linking to Lake Terrell before Birch Bay.
Coast Millennium Trail continues from Birch Bay State Park to Birch Bay Drive and Birch Bay Point Road, meeting its smaller namesake trail along Semiahmoo Parkway. Visitors could reach Blaine either from the Historic Plover ferry at Semiahmoo Dock or Drayton Harbor Road along the "Northwest Necklace" route.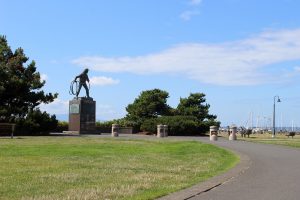 Coast Millennium Trail ends at Peace Arch Park. However, the City of White Rock, B.C. has supported international extensions.
Overall, the route provides convenient portals to the forests, mountains, waterfronts, cityscapes, and historic sites that distinguish Whatcom County. Conroy says Coast Millennium Trail would ideally provide "opportunities for recreation and improved safety for recreation. Hopefully, components of it would provide more comfortable opportunities for biking and hiking."
Proof of Concept
Coast Millennium Trail has gained over 15 miles since 2000. For instance, Blaine significantly developed its Peace Portal Trail in 2019.
Conroy says interested Whatcom County residents can "talk to their elected officials and emphasize the value they place in this and other non-motorized facilities for transportation and healthy recreation." Funding for such projects depends mainly on public interest.
In the meantime, the 80-mile trail plan that created the Chuckanuts' Raptor Ridge, Hemlock, and Rock Trails in 1996 shows that ambitious plans can succeed. Also in the mid-1990s, the coastal trail idea inspired the South Bay Trail-Interurban Trail connection that Bellingham locals hike and bike today. From that evergreen expanse to Semiahmoo Parkway in its autumnal brilliance, Whatcom County's seasoned trails await connection into the Coast Millennium Trail's wandering sway.