The Bellingham Farmers Market brings together a bounty of fresh produce—and so much more—to Depot Market Square every Saturday, April through December, and at Barkley Village's Wednesday Market, June through September. On August 24th, it turns the spotlight on our region's rich, floral, abundance with its Flower Festival.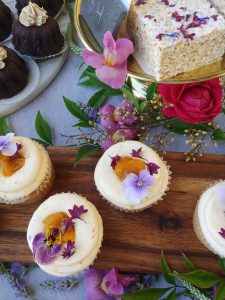 From 10:00 a.m. to 3:00 p.m., the Flower Festival will show that our local flower season extends far beyond spring. This event's activities and vendors highlight Whatcom- and Skagit-grown flowers, which peak between midsummer and fall harvest. From featured vendors, to bouquet and photography contests, the Flower Festival invites visitors to celebrate Bellingham's lively, lovely floral abundance.
Whatcom and Skagit Counties' late-blooming flowers include dahlias, sunflowers, goldenrods, daisies, lilies, rudbeckias, asters, beebalms, and hyssops. The Flower Festival will feature their brilliant colors at every corner of the Farmers Market.
"There are also many edible flowers that people might not be as familiar with that can be used in cooking, as long as they're not sprayed and are grown with sustainable practices," says Bellingham Farmers Market Director Lora Liegel. "Flowers like pansies and roses…if customers come down to the Market, they might notice those being used at various vendors."
The Flower Festival's featured vendors range from farmers to prepared food vendors to crafters. The same flowers you'll see in bouquets will also be featured in baked goods, teas and other beverages, ceramic pottery, hats, stationery, paintings, and more.
Among other prominent local farmers, Wanderwood Farm, Rabbit Fields Farm, and Terra Verde Farm LLC will offer beautiful flower bouquets. Visitors can enjoy edible flowers in Gathered Confections' cakes and cupcakes and Bright & Sunny Ginger Beer's rose-infused ginger beer, to name a few.
Liegel says the Flower Festival's activities will excite "kids to seasoned customers, and everyone in between." After all, this is the Bellingham Farmers Market's answer to similar festivals that have engaged customers with local horticulture. "Flowers can bring us joy, bring us creativity, can be inspiration for art, and even on a plate when we eat them, or when we hold them in a bouquet, or when we're drinking them in a tea," Liegel says.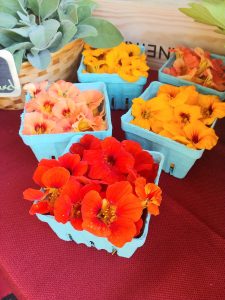 Children will enjoy a kids' activity table where they can draw and identify flowers. Adults can learn at the Master Gardeners' table, a bouquet crafting demonstration from Olio Flowers, and two of the event's biggest highlights: the bouquet contest and Instagram photo contest.
The bouquet contest will showcase beautiful Whatcom or Skagit-grown flowers. To participate, simply make a bouquet in a sturdy vase and submit it to Market staff between 10:00 a.m. and 10:30 a.m. All visitors can vote on their favorite bouquet between 11:00 a.m. and 2:00 p.m., and the Bellingham Farmers' Market will announce winners the following Monday.
Prizes include Bellingham Farmers Market t-shirts, gift certificates, reusable water bottles, and shopping bags. Participants have until 2:00 p.m. to pick up their submissions, after which point the Bellingham Farmers Market will kindly donate the rest.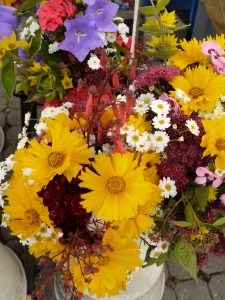 The Instagram photo contest invites visitors to commemorate the Flower Festival's picturesque scenes. Anyone can participate—just post images, include the hashtag "#BFMFlowerFest2019" and tag @bhamfarmersmarket. The Bellingham Farmers Market will promote the event on Instagram days in advance and announce photo contest winners the following week.
Ultimately, the Flower Festival promises to foster visitors' connection with local farmers.
"I hope they get excited about continuing to come to the Farmers Market well into summer, into fall, and even into winter," says Liegel. "And that they learn a little bit more about the flowers that are growing here locally. We also want them to get excited about returning to the Farmers Market and helping support this awesome vibrant community we have here in Bellingham."
You can prepare for the Flower Festival by crafting your own bouquet and visiting the Farmers Market's website, Instagram, main Facebook page, and event Facebook page. Simply come to the Market on August 24th and enjoy the vivid colors of late summer.
Bellingham Farmers Market
Depot Market Square
1100 Railroad Avenue in Bellingham
360-647-2060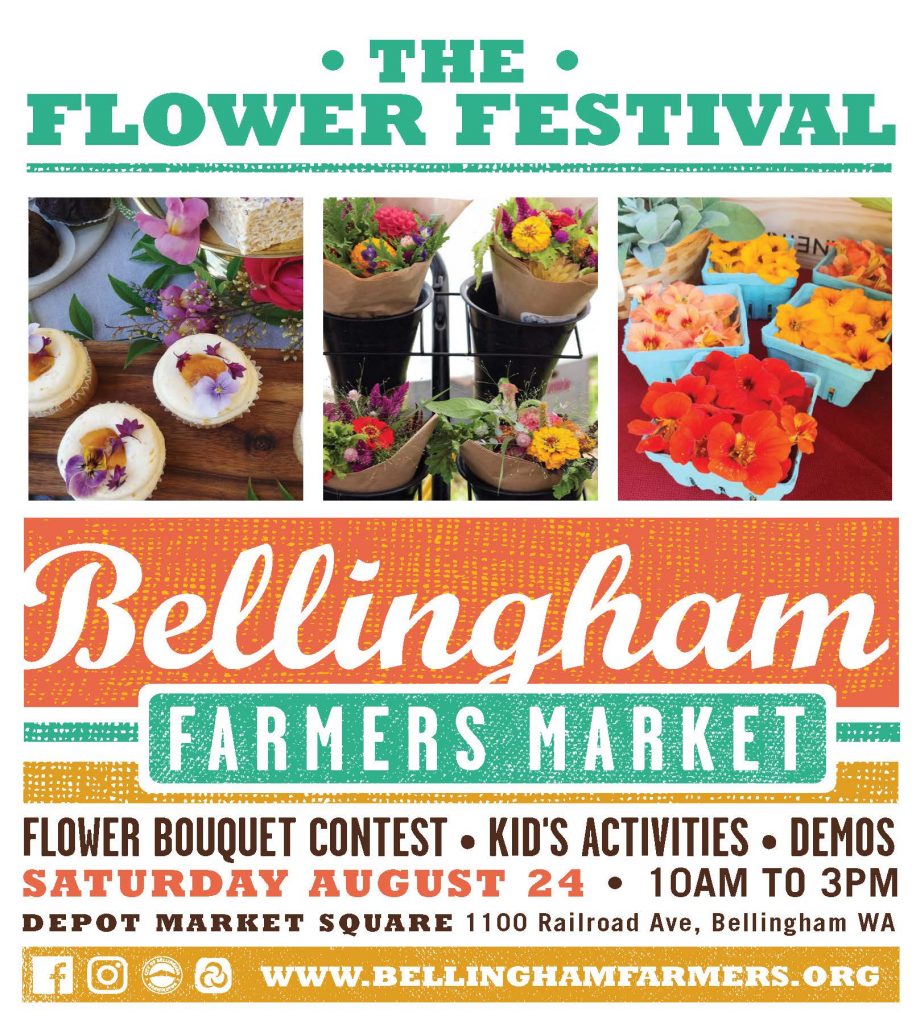 Sponsored