Nutrition is essential to life. Without access to healthy food, it's hard to have a healthy body. Without healthy bodies, happiness and well-being quickly deteriorate. For some, healthy food is a way of life taken for granted. For others, it isn't so easy, and PeaceHealth is on a mission to make a change. As an organization, they strive to bring health and nutrition to all areas of Whatcom County to close the gaps.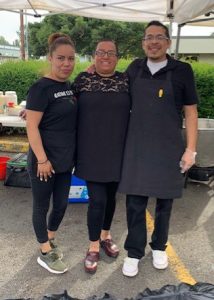 Every three years, PeaceHealth teams up with community partners to conduct a Whatcom County Community Health Needs Assessment. Findings from the most recent assessment gave partners pause.
"In 2012, almost 30 percent [of tenth graders] were consuming five fruits and veggies a day," says Rachel Lucy, Director of Community Health at PeaceHealth. "Now, fewer than one in five are getting what they need."
On the surface, Whatcom County residents appear to be generally healthy compared with other areas of the United States. In reality, many families struggle to access fresh produce and healthy food.
"One in three adults in our county is experiencing obesity," Lucy says. "And in some areas of the community, people are concerned about not being able to provide food and nutrients to their families."
A common misconception is that malnutrition comes from not eating enough food; however, obesity is also a form of malnutrition. Large amounts of processed foods don't contain enough nutrients, leaving your body lacking for nutrients found in whole fruits and vegetables.
"This is especially concerning for our younger population," says Lucy. "It can set people up for a lifetime of challenges—especially if we aren't focused on nutrient-rich, healthy diets in those first 1,000 days of life."
Often children don't show the effects of malnutrition until adulthood, leaving them susceptible to chronic illnesses, diabetes, and stress-related issues.
PeaceHealth is working to connect with underserved populations in their communities before they need professional treatment.
"Access to nutrient-rich food at a young age gives our children the best start for a lifetime of thriving, and potentially prevents [disease] down the road," says Lucy.
To educate people on the importance of nutrition, PeaceHealth is starting from the inside out. Caregivers at the hospital have the opportunity to take a six-month Certification in Integrative Nutrition from the Institute for Integrative Nutrition at no cost to the caregivers. At the end of the course, participants are certified nutrition and health coaches.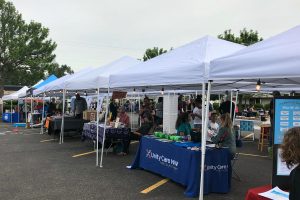 "They're bringing that knowledge to their homes and families. They'll also have the opportunity to share with their colleagues and those that we serve in our clinics and hospital," says Lucy.
Food deserts—neighborhoods where residents don't have easy access to fresh fruits and vegetables—have a significant impact on health and nutrition in those areas. People without easy access to transportation tend to fall back on convenience store snacks and fast food to fill the gap. The Birchwood/Alderwood area of Bellingham and the foothills of eastern Whatcom County are two examples of local food deserts.
PeaceHealth is partnering with these neighborhoods and working to bring new options to residents.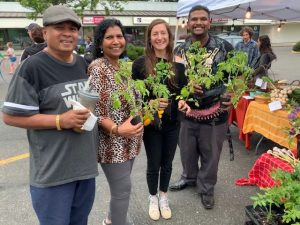 The Birchwood Neighborhood Association sponsors a Birchwood International Market on the last Friday of every month connecting neighbors and creating cultural harmony and togetherness through the monthly market. Residents can buy fresh produce from local vendors supported in part by PeaceHealth.
"We're impressed by the community resiliency and resourcefulness we're seeing in both Birchwood and in the Columbia Valley," says Lucy. "On a recent visit to the East Whatcom Regional Resource Center in Kendall, the walls were already up on their new Foothills Foodbank."
Last year the Bellingham Food Bank partnered with Unity Care NW, Sea Mar Community Health Centers, and PeaceHealth to distribute what they call Veggie RX: vegetable prescriptions to families with food insecurity and high blood sugar. The program gives patients $40 every month to use toward produce and a membership to the Community Food Co-op.
"We're hearing from doctors that patients have dropped their blood sugar levels in the first three to six months that they have access to those food vouchers," says Lucy.
Results this quick are amazing and illustrate the need for fresh convenience in every area of the county.
"Real partnerships between local groups like the food bank and health care providers are working hand in hand with patients," she says, "to no longer just educate—but to look at the barriers to improving health and addressing and filling those gaps."
Whatcom County has several non-profits that aim to help residents with food insecurity, but connecting residents with the programs they need can be a challenge.
"There's a lot of great stuff happening in our community. Sustainable Connections has incredible programs, like Eat Local First," says Lucy. "Common Threads Farm and the school districts are providing meals to youth even when they're out of school [in the summer]. PeaceHealth has been a proud sponsor for a variety of those programs."
PeaceHealth will continue to focus on helping local children thrive—especially in those critical early years—as well as supporting the entire family. It takes a village to raise a child, and with local supporters and community resources working together, everybody benefits.
Sponsored