Bellingham's Randall Ragsdale is a lover of interesting information and all things trivia. His World's Best Trivia events at both Kombucha Town's Culture Café and Twin Sisters Brewing Company are always well attended and each location offers its own unique vibe. The trivia lovers showing up for Ragsdale's trivia events are smart and love to have fun.

"This is a game that rewards someone for knowing things," says Ragsdale. "What the participants know matters."
When Culture Café manager Patrick Mullen posted on Facebook seeking a host for a single trivia event, a friend tagged Ragsdale. The referral stuck and eventually Ragsdale was hired. World's Best Trivia was born as a means to keep players interested through social media. The collaboration became the perfect job for Ragsdale.
"Randall was brought on the team to take over our Monday trivia night," says Mullen. "He aligned with our community values. And being a comedic talent, his influence not only steered the night into a more engaging, unique experience, but we're happy to say also made him a part of our family, as well."
The partnership began a journey that's expanded into successful charity ventures with NPR, a thoughtful, intelligent spokesman for local collaboration, and, Mullen says, their favorite night of the week.
Ragsdale came to Bellingham at the age of 19 and earned his bachelor of arts degree in communications from Western Washington University. He's now married with two kids, ages 10 and five, and is their primary caregiver. His part-time gig with World's Best Trivia works very well for Ragsdale and his family.
Greg Zimmerman, marketing director for Twin Sisters Brewing Company, wanted to bring trivia to the brewery and says Ragsdale has become an important part of the success of Trivia on Tuesdays.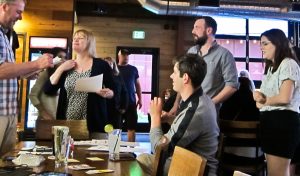 "I appreciated Ragsdale's professionalism even more than his great sense of humor," he says. "Ragsdale insisted that we trial run for a minimum of 10 weeks." Recurring weekly events take time to gain momentum, and Twin Sisters was willing to go along with his recommendation.
Zimmerman adds that Ragsdale has done a fantastic job of providing consistency and fun while remaining flexible to the needs of the restaurant and the players. "The amount of effort he dedicates to these trivia nights is obvious. His material is fresh, interesting, fair, and accessible to players of all levels. We couldn't be happier with the response from the community, and we love having Randall host Trivia on Tuesdays."
"I attend trivia nights because I love to answer questions, win money, and drink beer," says a regular trivia player named Jonny. Asked what he appreciated about Ragsdale, Jonny offered glowing commentary. "It's his spirit and his energy. He clearly loves what he's doing and compared to others, he stands out. His voice belongs on a microphone." Jonny's observation is accurate; Ragsdale has a rich, tuneful voice that one could listen to all day.
It costs just $2 to play World's Best Trivia and the pot is split 50/30/20 amongst the top teams. Ragsdale offers four rounds of 10 questions—each round with a specific theme—and points are tallied after each round. Doubling points, bonus questions and wagers make the game more competitive. The first place team gets the cash. Second and third place winners get gift cards. The team with the lowest score wins $1 worth of shiny new pennies in a keepsake Twin Sisters' taster glass dubbed the Least/Most prize.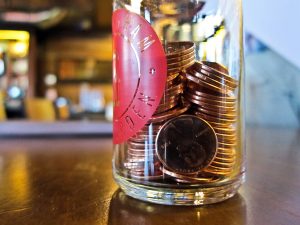 The bar staff gets in on the game, too. They can't win, but their participation provides another layer of competition with "Beat the Bar" stickers that offer rewards to players. Local teams are darn serious about their game, but they also take a lot of enjoyment in playing. Part of the fun is creating clever team names. My personal favorite is "Jeff Has to Work Tomorrow."
A lot of thought goes into advance preparation for an event, but once a theme is set, Ragsdale says it can take anywhere from two minutes to several hours to craft each question for every round. "Sometimes one nags at me or I have to throw away a round," he says. As conductor of World's Best Trivia, Ragsdale orchestrates the game environment. If heads are bopping or someone's face lights up during a round about music, he knows he's reaching his audience.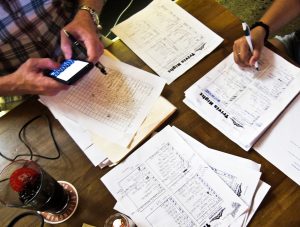 Last year Ragsdale served on the questions committee for the 23rd annual Trivia Bee for Whatcom Literacy Council. He describes himself as the "architectural editor" for creating the questions and also put together the visuals.
"Because of his rich experience running local trivia events, he had great ideas on how to craft questions, and whether or not they would be too easy or too hard," says Whatcom Literacy Council's executive director Katherine Freimund. "He helped determine the sets of questions for each of the four rounds so that they'd be comparably rigorous. He was easy to work with, and everyone on the team appreciated his insights and suggestions."
Custom games for private groups or businesses are available. Ragsdale is currently working on a Harry Potter trivia game for a 10-year-old's birthday party. His entire face lit up as he talked about it.
If you love trivia, drop by World's Best Trivia Monday nights at Culture Café or Tuesday nights at Twin Sisters Brewing Company. Bring your friends and plan on making many new ones as you explore the wonderful world of trivia.