Whatcom people of all ages are falling in love with the game of pickleball. It's a happy sport that is welcoming, promotes a sense of community and is good exercise, too. There's even a newly minted Pickleball Ambassador for Whatcom County.

Pickleball was invented in 1965 on Bainbridge Island by three guys who wanted to create a family game using a badminton court, ping pong paddles and a whiffle ball.
As in Whatcom County, its popularity is exploding across the country for a number of reasons. According to Dotti Berry, Birch Bay resident and Pickleball Ambassador of the USA Pickleball Association: "Everyday people tell me about the unparalleled fun and sense of community they experience through pickleball. I agree. When I travel, pickleball gives me the opportunity to meet locals and develop ongoing friendships."
Berry's job as Ambassador is a position created by the USA Pickleball Association to formally promote pickleball in Whatcom County. She's worked hard to encourage the sport through special events and expansion of the number of courts, as well as word of mouth and her own example as a devotee.
Berry owns EpicPicklers.com, a company that customizes paddles and offers a 90-second survey to help people find their perfect pickleball partner. (This is fun and helps you figure out how to communicate with your partner better.) Berry says a custom pickleball travel service is in the works.
Barbara Goebel and Maggi Kriger are president and secretary, respectively, of the year-old, nearly 200-members-strong Bellingham Pickleball Club. Kriger says the club's survey of pickleball players indicates that most people are attracted to the game for both the social connection and the chance to play indoors and out in a fun, competitive way.
Pickleball doesn't require a lot of equipment, so it's an economical way to get a lot of great exercise. But there's no doubt one big aspect that makes pickleball special is the sense of community that builds around the sport.
Volunteers have put in many hours to make the Cornwall Park Courts inviting for everyone. The club also spearheaded a fund to provide more fencing at the Cornwall Park courts, raising the money in just a few days. Introductory and intermediate classes have taken place, with more planned for the future. Check out the schedule, ratings worksheet and more information at the club's website.
Pickleball is generally played in doubles and the court isn't large, so you interact up close, face-to-face with your opponents. Expect a lot of laughter. Before you step onto the court, you might want to learn why you should "stay out of the kitchen." Volunteer hosts on duty at the Cornwall Park courts are there to introduce you to the sport and get you off on the right foot with players at your skill level. There's also a brochure on site to help you figure out your rating.
The Blaine-Birch Bay Park and Recreational District 2 has an excellent pickleball program, as well, with open courts almost every day, instructional classes and special events.
Heidi Holmes, Program Manager at the recreation center, and Dotti Berry worked together to bring two of the top ranked pros in the world, Tyson McGuffin and Matt Goebel (Barbara's son), to teach and play last February. They've teamed up with Players Pickleball, Subaru, and other sponsors to create an annual pickleball festival, Pickleball Palooza! on September 14th with live music, food trucks, a challenge ladder, open play and more. Details are still being worked out, but the information will be on the recreation center website.
Josh Bechtel, a Bellingham manufacturer of pickleball paddles, echoes the social aspect of the appeal. "The thing I love most about pickleball is that it's such a great community, not just locally, but globally—there's something inherently inclusive about the sport itself that carries over to the people who play it, or maybe it's the other way around," he says. "Manufacturing paddles right here in Bellingham lets us be right in the middle of the rapidly growing pickleball community in Whatcom County, and we feel pretty fortunate for that."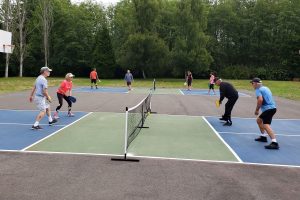 There is no dress code, but local apparel manufacturer Nuu-Muu has become a popular option for women, with their classic sleeveless shift with pockets.
The sport continues to expand, and many tennis courts are being retrofitted into pickleball courts. The November USA Pickleball National Championships will take place at Jimmy Buffet's Margaritaville in Naples, Florida, which has expanded to accommodate the popular sport.
So, are you ready to play? Here's a video to get you started. There are public courts in Fairhaven, Cornwall Park, Birch Bay, the downtown Bellingham YMCA, and many private locations. Listings can be found at both bellinghampickleball.org and USAPA.org.