At long last, the days of summer have arrived. Along with this shift in seasons comes extended days, warmer temperatures, and much-awaited vacations. For some, the ideal downtime is to take it easy and put their feet up, while others might dive headfirst into a detailed hobby or project to occupy their time.

If you're of the latter, then the Volunteer Center of Whatcom County has plenty of opportunities for you. Whether you're a student, a parent, or retired, the Volunteer Center has opportunities for everyone of varying skills and interests. Whether you can dedicate an hour of your time or an entire summer, there are several ways to give back during the longest days of the year.
The Volunteer Center, a program run by the Opportunity Council, serves as a link between organizations and volunteers. In addition to matching helpers with the right groups, the Volunteer Center also trains volunteer managers to ensure that both parties are getting the support they need.
Last year, the Volunteer Center matched over 1,900 volunteers with organizations. By using the comprehensive search tool available on the Volunteer Center website, potential volunteers can narrow down opportunities based on interest, location, lifestyle, and other key factors. Organizations list their available opportunities, and prospective volunteers can contact them.
"It's kind of like a match-making service," jokes Summer Starr, volunteer and event coordinator for the Volunteer Center.
Starr, who has connected with various volunteer centers from different counties, is thoroughly impressed by the level of involvement from Whatcom County.
"We have such an amazing community in terms of the level of volunteer engagement," says Starr. "In general, there's a sense of, 'this is a community, and in order for it to be a community, there needs to be that level of engagement and involvement.' I think a lot of people do it because they really believe in it."
With an influx of retirees visiting in the summer, in addition to students taking a break from school, there are several opportunities available during the busy summer season in Whatcom County.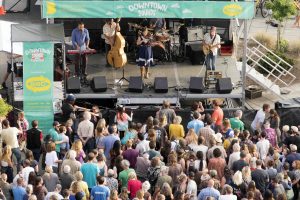 If preparing food is your passion, then Maple Alley Inn has the right job for you. Their community meal program serves healthy and sustainable breakfast on Tuesday morning and lunch on Wednesdays and Thursdays for the hungry of Whatcom County. They also have a community garden at Faith Lutheran Church, ripe for the summer harvest. From July through September, the Inn has a need for vegetable processors to wash, cut, and chop the harvested vegetables for blanching and freezing. No prior cooking experience is required, but volunteers will need nimble hands, the ability to stand and bend for extended periods of time, and a food handler's permit in addition to kitchen training.
For those longing to volunteer outdoors this summer and have some fun on the job, consider joining the set-up crew at the Downtown Bellingham Partnership's concert series, Downtown Sounds. Volunteers help lift tables, fencing, and other heavy supplies, rain or shine. In addition to getting access to great concerts, volunteers 21 and over receive tokens to the beer garden, and every volunteer receives a Downtown INSIDERS card that offers great deals at local restaurants and shops through the end of the year. Concerts are scheduled for July 10, 17, 24 and August 7th.
Do you love working with children? Then consider joining in on all the fun at Perch and Play on State Street. At the Skookum Kids 4th Annual Block party on July 14, volunteers can greet guests, run carnival booths, and assist with tear down. Anyone from ages 12-99 can volunteer, while kids can join in on the bouncy houses, dunk tank, music, craft activities, and loads more. A beer garden is provided for adults 21 and older, and volunteer servers must have their MAST certification.
Additionally, KCTS 9 is looking for line management and event breakdown for a meet-up with the costumed character Daniel Tiger on August 14th at the Mount Baker Theatre. Volunteers must be able to lift and carry up to 30 pounds and be able to stand for up to 4 hours. It's not only a wonderful opportunity to help a great organization, but a great way to help families have the best experience, as well.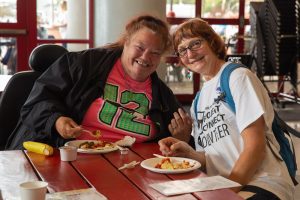 If you're looking to make meaningful and lasting connections, consider participating in this year's Project Homeless Connect. Hosted at Bellingham High School, the event provides goods and services to members of the community experiencing homelessness. There are openings for guest guides, set-up and tear-down crews, meal platers, and much more.
Although the summer is jam-packed with loads of events and volunteer opportunities, there are also long-term ways to get involved in the community, such as the Volunteer Center's Volunteer Chore Program. The program assists the elderly (60 and over) and adults with disabilities remain independent in their own homes. Volunteers assist with tasks such as grocery shopping, housekeeping, yard work, transportation to doctor appointments, mail and bill paying assistance, and minor home repairs. It's a great long-term experience for volunteers, and improves the quality of life for community members who are isolated not only in in need of resources, but relationships, in order to thrive.
Whether you want to volunteer for a day or commit to a year, the resources available through the Volunteer Center of Whatcom County can help you connect with the right organization. For more information, check out the Volunteer Center website.
The Volunteer Center of Whatcom County
360-734-3055
frontdesk@whatcomvolunteer.org