The Fourth of July is upon us and Whatcom County has planned a plethora of festivities. We've made a comprehensive list for you to check out everything Independence Day in the area.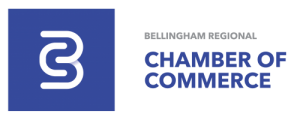 Haggen Fourth of July Celebration
Where: Zuanich Point Park
When: 2:00 p.m. to 10:30 p.m.
The Haggen Fourth of July Celebration is Bellingham's main event every year. Join in for their all-day festivities and picturesque views of the annual fireworks show over Bellingham Bay, the largest display in Whatcom County. The event is thrown by Haggen, the Bellingham Regional Chamber of Commerce and Industry and the Port of Bellingham.
"Haggen 4th of July Celebration is the quintessential community celebration. There's something for everyone," says Shelli Jones, Bellingham Regional Chamber of Commerce marketing coordinator.
Festivities include a kid zone, vendor booths, beer garden, interactive entertainment with the Bellingham Circus Guild and Heady Virtual Reality VR, and live music from Bellingham Youth Jazz Band, the Springman Family Band, Lemon Creek, and Full Metal Racket. As parking is limited at Squalicum Harbor, free parking is provided at Bellingham High School with a free passenger shuttle from 1:00 p.m. to 11:00 p.m.
Blaine's Old Fashioned Fourth of July Celebration
Where: Downtown Blaine
When: 8:00 a.m. to 10:15 p.m.
Experience everything red, white and blue at Blaine's spectacular Independence Day celebration. Come in the morning for a pancake breakfast at the Blaine Senior Center, and then stay downtown for arts and crafts, a street fair with more than 80 vendors, the Show n Shine Car Show with over 200 classic cars, plenty of good food, and an enormous parade on Peace Portal.
"It's Americana at its best, "says Carroll Solomon at the Blaine Visitor Information Center.
After the parade, grab a spot at Marine Park for a community picnic and catch the jazz concerts, or even a ride on the Plover Ferry. Later, come in early to find a good spot to watch the fireworks.
Blues, Brews, and BBQ at Hotel Bellwether
Where: Hotel Bellwether
When: 5:30 p.m. to 10:30 p.m.
Part of its ongoing Summer BBQ series, the Hotel Bellwether will celebrate the Fourth on their wonderful waterfront terrace. There will be barbecue and live music with the Chris Eger Band.
"The Hotel Bellwether and the Lighthouse Grill invite you to celebrate the Fourth of July with breathtaking island and sunset views over the bay," General Manager Jim Haupt says in a press release. "Pair it with a hometown local brew, Washington wine or a craft cocktail while watching the band in front row seats to the stunning firework display above the harbor at 10:30 p.m." Admission is $10.
Semiahmoo Resort, Golf and Spa
Where: Semiahmoo Resort, Golf and Spa
When: 5:30 p.m. to 8:30 p.m.
Semiahmoo will celebrate the Fourth with tons of family-friendly activities. Rrent kayaks and paddleboards from the Beach Activity Center, check out the resort's spa and health club, or try a barbecue lunch at Packers Kitchen + Bar on the water's edge. There's lawn games, face painting, live music, and great food. Semiahmoo is also continuing its Seaside BBQ series on the Fourth, the "ultimate beach barbecue experience." Later, you can watch fireworks over the water on the back pier. Be sure to come early for a good parking spot at $15 per vehicle and make reservations for the barbecue—they're filling up fast!
Independence Day Train Excursion at Lake Whatcom Railway
Where: Wickersham Station
When: 12:00 p.m. departure
Lake Whatcom Railway is running a special Independence Day train with a gorgeous trip to Mirror Lake. What better way to celebrate the Fourth than to ride a train that's been traveling America rails for over 100 years?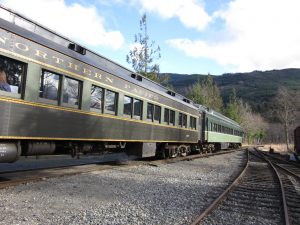 "It's a fun ride," says Bob Culp, one founder of the Lake Whatcom Railway. "[Independence Day] has become a day to celebrate patriotism and the history of the country and of America. That's what we try to do—an old-time train ride with historic equipment that used to run transcontinental and was involved in two world wars."
Arrive early and explore some of the station's old equipment, including their antique handcars and steam locomotives. Tickets are $20 for adults, $14 for kids ages 2 to 17, and children under two ride free. Proceeds go towards restoration and preservation of railway history.
Dinner Cruises with San Juan Cruises and Schooner Zodiac
Where: Bellingham Cruise Terminal
When: 7:30 p.m. (San Juan Cruises), 6:45 p.m. (Schooner Zodiac)
What could be better than fireworks over the water? Book a cruise around the bay with San Juan Cruises and Schooner Zodiac and take it all in off the shore.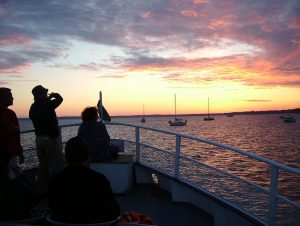 San Juan Cruises will serve Dungeness crab aboard four of their vessels on cruises around Chuckanut and Bellingham Bay. There are indoor and outdoor viewing areas with beverages stocked from Northwest breweries and vineyards.
"Getting out on a boat, with a delicious dinner and a full bar available, is a relaxing way to enjoy the 4th of July festivities, while enjoying a great view of the show," says Sean Berry, reservations and marketing manager of San Juan Cruises.
The Schooner Zodiac will also set sail, offering views of Lummi, Portage, and Eliza Islands along the Chuckanut Bay coastline, and a fire-off salute from the ship's cannon. Drinks are available, and dinner includes a hearty roast pork rib with salads, sides, beer, wine, and cocktails.
Both cruises return to Squalicum Harbor in time to catch the fireworks over Bellingham.
July 4th Truck Show and BBQ Block Party in Lynden
Where: Downtown Lynden, Overflow Taps
When: 10:30 a.m. to 4 p.m.
Barbecue and truck enthusiasts are invited to downtown Lynden for a truck show and barbecue on Front Street, with live music from the J.P. Falcon Band and DJ Sean Taylor. Barbecue is provided by J.T.'s Smokin' BBQ and a beer garden at Overflow Taps. There are activities for the whole family, including face painting and ice cream from the Sugar Shack Ice Cream Truck. Make sure to vote for your favorite truck!
Chuckanut Brewery Fourth of July BBQ
Where: Chuckanut Brewery and Kitchen
When: 5:00 p.m. to 10:00 p.m.
Chuckanut Brewery's Fourth of July BBQ will bring burgers, brats, smoked ribs, and all your favorite Chuckanut beers. Join in for a relaxed, casual barbecue, and stay to view the fireworks show from their patio.
"This is our first year for the barbecue, but we've always had people out on our patios for the July 4th fireworks since we opened," says owner Mari Kemper. "People love being down close to the water and sitting outside, even if it's raining or cool; there's the cover and propane patio heaters to keep everyone comfortable."
There will also be patio games including ping pong, giant Jenga, and cornhole.
Bellingham Bay Rolling Parade Band & Elizabeth Park Summer Concert Series
Where: Elizabeth Park
When: 12:00 p.m.
Come for some neighborhood fun! The Bellingham Rolling Parade band is leading its third walking-and-biking parade from Elizabeth Park around the Columbia neighborhood.
"Feel free to join us and decorate your bikes, trikes, strollers, wagons and sweet selves for an old-fashioned neighborhood party!" says organizer Beth McGinty.
Grab a picnic basket and cooler for a celebration at the park full of games (including a three-legged race, potato sack race, face paint, and more) and live music. Stick around for the Elizabeth Park Summer Concert Series blues from Brian Butler and the Pacific Northwest Bridge Band.
Bellingham Cider Company Fourth of July
Where: Bellingham Cider Company
When: 9:00 p.m. to 11:00 p.m.
Come celebrate the Fourth with the "fiercely local" Bellingham Cider Company. This year, they're hosting a special Fourth of July event on their patio with live music, a full menu, and "the best view of the fireworks in town." Make sure to reserve a table (space is limited!) at drink@bellinghamcider.com.