Summer is here and, unfortunately, wildfires are expected to be worse than ever. Experts are predicting that smoke may become an uninvited guest every summer for the foreseeable future.
Last year firefighters in British Columbia battled almost 600 wildfires that left smoke drifting over the border into Whatcom County for weeks. Washington blazes started in late April last year, surprising local authorities who weren't used to seeing fires so early in the year. Fast forward to 2019, when 50 fires were already blazing in Western Washington by the middle of March.
Smoky air can be a major hassle for the health of you and your family. People suffering from allergies and asthma are especially affected by the haze that has surrounded Whatcom County homes and businesses over the past few summers.
The good news is that there is a solution. The Air Scrubber by Aerus uses space age technology to clean the air in your home or office. It was created with NASA to keep air fresh and healthy for astronauts in shuttles and space stations. Just like Tang and Velcro—now it's available for everyone.
"People think there's nothing they can do, but there are things you can do in your home to help you breathe better," says Mary Gibb of Gary's Plumbing and Heating.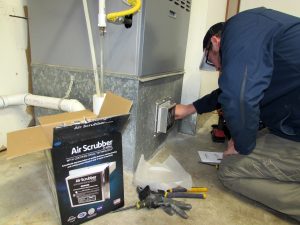 Not only does the Air Scrubber clean the air, it also rids surfaces of pollutants, mold, allergens, and Volatile Organic Compounds (VOCs).
"There are sometimes more pollutants in your home than there are outside," says Gibb. In outdoor spaces, the wind is continually cycling out contaminants while bringing in new fresh air. Homes don't have that luxury, where pollutants, pet dander, viruses, bacteria, and mold spores tend to linger.
Gary's technicians attach the unit directly to your furnace; even when your heat is off, the scrubber keeps running with the fan function turned on.
"The Air Scrubber can be good for the life of your furnace because it's less dirt and less dust in there ruining things," says Gibb. When the HVAC filter is clean, it allows the system to run better. The Air Scrubber works as a super filter keeping particles from entering the system and allowing it to run cleaner and more efficiently.
The system comes in several sizes available for any space. You have the option of a single-room system, or a duct-mounted system. Four unit sizes to choose from allow you to install the perfect device for your home or office depending on the square footage of the building.
"The Air Scrubber works through our whole basement and our main floor," says Gibb. "One of our dogs is older, and he has had accidents in the house. It has really made a difference in odor and air quality."
About one week after installation, clients start noticing results. Allergies are reduced, the air in the home feels fresher, surfaces are cleaner, and there's less dust.
Gary's is currently installing the Air Scrubber at a local preschool. Without proper cleaning, preschools can carry viruses, and dust can lead to asthma among young students.
One gentleman had the unit installed in his home in anticipation of the upcoming fire season. "I have terrible asthma," he says. "It takes me out of work and play. My health has been greatly impacted [because of the fires]." He's optimistic about tackling the upcoming fire season, fully prepared with the Air Scrubber.
"We have customers right now that are having us come in because they know it's going to be smoky this summer. They're being proactive," says Gibb. "The smoke bothers me too, so I'm really excited about it."
Both homes and businesses benefit from this technology: offices, senior centers, daycares, and even home workshops; woodshops harbor chemicals and dust.
"There are different sizes that are better for classrooms or waiting rooms or nursing homes," says Gibb.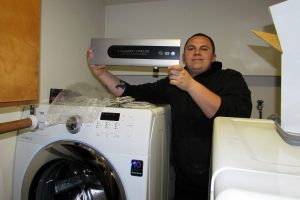 Another product created by NASA and the Aerus company is the Laundry Pro 2.0, which Gary's technicians install on your washing machine. It works with the cold cycle and utilizes hydrogen and oxygen oxidizers to clean your clothing without the use of soap. The company says the product makes colors brighter and whites whiter while keeping skin free and clear from harsh detergents and dyes.
The Laundry Pro system has been used in hospitals and hotels for several years and is only now available to the everyday consumer. Using only cold water and cutting out soap in your laundry reduces the number of plastic detergent bottles entering the garbage and recycling centers. It's better for the earth and your wallet.
Unfortunately, the smoke looks like it's here for at least another fire season. We can hope for the best next year, but until then, call Gary's Plumbing and Heating to protect you and those you love with fresh air.
Sponsored