Submitted by: Whatcom Women in Business
Whatcom Women in Business has awarded four $4,000 scholarships to women entering higher education including but not limited to technical or trade school, beauty school, community college or university.
Meet this year's recipients.

Aislinn Knight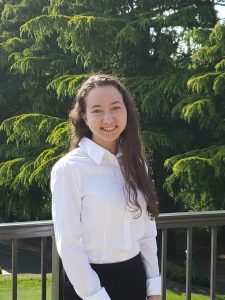 Aislinn Knight attended Squalicum High School, where she earned a 4.0 GPA and exhibited leadership skills through her participation in the High School Student Senate, Future Business Leaders of America, and as a mentor to incoming freshman. Aislinn plays a cello in the school orchestra and has had the honor of serving as tour manager for the last year. Outside of school, Aislinn has been dancing since she was four years old and volunteering at the Sunday School at her church. Aislinn will be attending the University of Southern California, where she plans to study biology and dance. She would ultimately like to pursue a degree in Physical Therapy. Congratulations Aislinn on your exceptional high school career! Whatcom Women in Business is honored to give you a scholarship for next year to help you achieve your goals.
Alivia Jelinski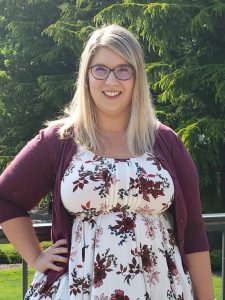 Alivia Jelinski has lived and worked in Whatcom County for most of her life, graduating from Bellingham High School in 2008 and the University of British Columbia in 2013. Alivia works fulltime as the Director of Facility Rentals and Business Development at the Northwest Washington Fair and Event Center. Alivia is heavily involved in the local community through various organizations and leadership opportunities. She is currently serving on the board of the Whatcom Dispute Resolution Center, serving on the advisory council for Whatcom Young Professionals, acting as an ambassador for the Bellingham Regional Chamber of Commerce, and volunteering with several local non-profit organizations, just to highlight some of her contributions to the community.
While continuing to work fulltime, Alivia is currently pursuing a Master of Business Administration with a concentration in marketing from Washington State University Global Campus. Congratulations Alivia on all of your success so far and we are honored to give you a scholarship for next year.
Heather Ludwig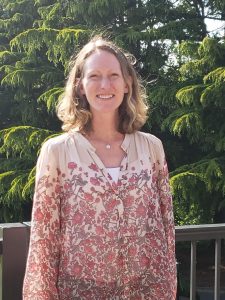 Heather Ludwig has lived and worked in Whatcom County as a Certified Therapeutic Recreation Specialist in the inpatient hospital setting for fourteen years. Among her accomplishments while working at St. Joseph Medical Center, Heather facilitated the Stroke Support Group in Bellingham for 8 years. Under her leadership membership grew from 2 to 85 members. She also spearheaded an adaptive art expo for people with brain injuries and partnered with Bellingham Parks and Recreation to host annual adaptive cycle expo. Heather worked in the Inpatient Physical Rehabilitation Unit at PeaceHealth St. Joseph Hospital for the past 7 years, but unfortunately the unit was closed in 2018. Heather decided to return to college for her master's degree, which she had been considering for some time. She is currently attending Western Washington University, where she has been accepted into the graduate program in Speech Language Pathology starting in the fall. Heather earned a 4.0 during the 2018/2019 school year at Western while raising her three-year-old son. Congratulations Heather on your achievements so far and we are honored to give you a scholarship this year.
Rosemary Hickman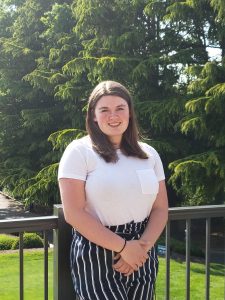 Rosemary Hickman attended Sehome High School, where she earned a 3.9 GPA. During High School, she exhibited leadership skills through her participation in Model UN (served as the Co-President), Environmental Club, Key Club, and especially in her role in forming a group called Peer Centered Outreach, which tries to bring awareness to topics such as anxiety, depression, substance abuse, and sexual violence. As part of Peer Centered Outreach, she was involved in a campaign to educate students about consent. Outside of school, Rosemary has been dancing for years and has become a leader at her dance studio. Rosemary will be attending Lewis and Clark College, where she plans to study either political science or psychology. Congratulations Rosemary on your fantastic high school career! Whatcom Women in Business is honored to give you a scholarship for next year to help you pursue your goals.
Finalists are selected based on their application, goals, past grades, community involvement and volunteerism, extra-curricular activities, work experience as well as financial need.
Selected scholarship recipients will be required to volunteer up to 20 hours with Whatcom Women in Business prior to September 1st. Applicants may only receive one scholarship. If an applicant does not receive a scholarship one year, they may apply again. Payments are sent directly to each school or university.
Whatcom Women in Business is comprised of business owners and managers developing and maintaining proactive role models within the organization and the community at large. Through teaching, learning, leadership and peer support, we strive to exemplify and promote the four areas we honor- leadership, professionalism, mentoring, and community.
For more information about scholarships and membership in Whatcom Women in Business, see www.wwib.org.