The long-anticipated wait for a brewery in Ferndale is over. FrinGe Brewing has arrived on the scene at the old police station, and the reception has been splendid. "We're packed in here," says co-owner Jeff Lazzari.
"Everybody's totally stoked that we're here: the city, the residents—it's fantastic," says Scott White, FrinGe co-owner and brewer.
White is originally from Seattle and Lazzari is from the Skagit Valley. Both men have lived in Bellingham for so long that they consider themselves locals.
"We love Bellingham, but they have fourteen-plus breweries and three cideries, so it's kind of oversaturated," says Lazzari. "Ferndale is growing and it has a great demographic for us. It checked all the boxes."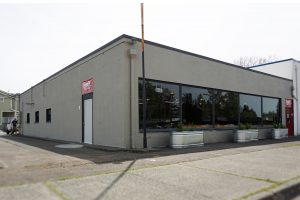 Both men agree they prefer starting out as one fish in one pond, rather than the numerous fishes in the other pond.
The City of Ferndale was very receptive to the brewery. "They opened the door for us," White says. Now Ferndale is hoping others will follow. They're working on revitalizing downtown, bringing in more nightlife and restaurants.
"This is Ferndale's brewery," says White. "We like the small-town feel; it's a great meeting place and community. And now people don't have to drive to Bellingham to sit down and have a food truck and a brewhouse."
The owners built picnic-style seating for patrons to push together, reminiscent of long brewpub tables in Germany. White hopes they can create the type of space where neighbors and strangers drink together.
White's Bellingham friends and associates have been surprised to learn more about Ferndale's population. "Everyone thinks it's farmers up here," he says. "They don't know that Ferndale has loads of young families—we see it every day."
White has been brewing since 1994. He started as a home brewer and soon learned that he loved it. He tinkered and tasted off and on for several years and eventually fell out of the hobby.
"About 10 years ago, a buddy of ours wanted to mix a beer," he recalls. "I hadn't made it in forever, so we started brewing beer, and at that moment I realized how much I enjoy it," says White.
He began to brew three to four batches a month and had so much beer he completely filled both his and Lazzari's garage.
"We never sold it, but people would stop by and fill up," he says. "I didn't care ,because that meant I could make more."
From there, he enrolled in Skagit Valley College's Craft Brewing Academy, a year-long certificate program. "They cram in a lot, and it's not an easy course," he says. "You've got to know your stuff and knuckle down." He loved the professors and recommends the program to anyone interested.
After completing the course, White interned at Menace Brewing in Bellingham and Sumerian Brewing in Woodinville for a year.
"I got done learning the ropes and decided I wanted to open up my own," he says. "I had a plan, and Ferndale was always enticing to me."
"There are certain aspects of opening up a brewery and a business that I'm not all that familiar with, but I knew [Lazzari] was," he says. He called his friend who immediately wanted in on the project.
"That was the founding of FrinGe Brewing LLC," says White. "We quit our jobs, and that was it."
Lazzari and White built the brewery's interior almost entirely by themselves. "When we got in here, it was just a big empty square; no electrical, plumbing, drains…nothing," says Lazzari. Smith Mechanical handled refrigerator and on-demand hot water heater installations.
The Masons next door own the building and had gutted it before the new renters arrived. The only homage to the old police station that remains is the drunk tank, which is now White and Lazzari's office. "A lot of people have also told us they remember the green tile in the restrooms from when it was the police station," says Lazzari.
Rebuilding the inside wasn't easy, the two had major plumbing issues and at one point had to paint the outside of the building in 30-degree weather.
Now the business is booming, and taps are rotating with tantalizing flavors coming and going all the time.
Five flagship brews with locally inspired labels like Pioneer Pale and Jam IPA will be staples in the rotation. The Jam IPA is bright with a mandarin finish. It's easy drinking without the heavy hops the West Coast brew is known for. (Jam was Ferndale's first moniker, bestowed because the town was located next to a log jam on the Nooksack.)
White collaborated with friends and Maniac Coffee co-owners Alexarc Mastema and Teri Bryant to create Manic Flowers, a coffee beer that tastes like cold coffee—not the thick, heavy stouts generally associated with coffee beers. At 9.3 percent alcohol, it'll wake you up and knock you out.
Seasonal and locally inspired beers will rotate, like raspberry wheat made from local raspberry growers. Collaborative beers and guest taps offer other local brew and cider options.
• An outdoor patio with seating for 45 is in the works, slated to open on Memorial Day.
• FrinGe Brewing is dog- and kid-friendly; leashed dogs are mandatory, leashed kids are optional.
e Brewing is dog- and kid-friendly; leashed dogs are mandatory, leashed kids are optional.
• Check the food truck calendar to find out what's for dinner.