Have you ever bought something online and realized, when it arrived, that it wasn't at all what you wanted? Or carefully, inconspicuously opened the plastic wrapping around a set of bed sheets in a store to feel if they were soft enough?
Shopping locally can eliminate the need to find a UPS drop box or break the rules at Target. It also offers economic and social benefits to consumers and the businesses they patronize. Specialty toy store Launching Success has been providing toys and educational materials to Whatcom County for 16 years, helping teachers and students find the best resources and giving back to the community through frequent donations.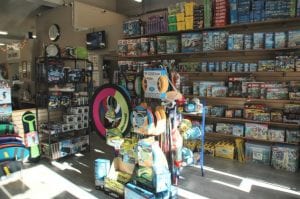 Actually visiting a store and getting to see products in person is one of the main benefits of shopping locally. For visitors to Launching Success, that means getting to interact with the toys and other products in person before buying them. Jen Zimmermann, co-owner of Launching Success with Kristen Ladiges, will open almost anything in her store so patrons can test it out.
"When you show somebody something, it's like it sells itself," Zimmermann says.
On the front counter at Launching Success sits a small item called a Boom Brick. It's hard to immediately tell what it is, which is why Zimmermann leaves it on display—so people can ask about it. The Boom Brick is a speaker that plays music off a smartphone or any music device without a cord or Bluetooth connection.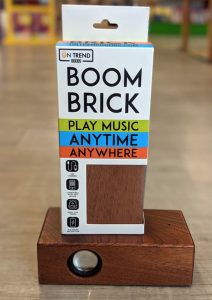 The design allows you to just place a phone on top of the device, and then the soundwaves get amplified through the little speaker into the room.
Zimmermann turns on Shallow by Lady Gaga and puts the volume up about halfway on her phone. The Boom Brick takes that volume and makes it louder.
"See?" she says. Stereo-quality sound pumps through the store.
It would be hard to get a clear idea of how this product works online or even in a larger, chain store where opening products up to show customers how they work is less common.
By shopping at local stores, people support the local economy directly and indirectly. The money spent goes to local employees' wages, which then gets recirculated in town. Local businesses are also, on average, more likely to donate products, services and time to local nonprofit organizations or events.
On average in cities in the United States, almost half—48 percent—of each purchase from a local retailer gets recirculated in the community through wages, purchases of supplies for the business, and charitable giving. In comparison, less than 14 percent of purchases from chain stores are recirculated in the local community, according to Civic Economics, a private research firm.
Studies also show shopping online results in less local reinvestment than shopping at a local store.
If asked, Zimmermann will donate to pretty much any organization that directly deals with children, she says.
"It's a cyclical effect," she says. "The dollars spent here go to support this community."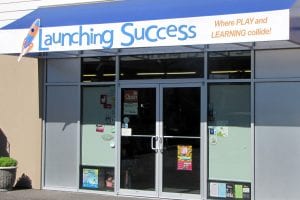 Local businesses also function as a resource center for the community. Launching Success works with parents who homeschool their children, as well as classroom teachers, to offer resources to facilitate better teaching. They also offer resources for children who have a harder time in school, selling a variety of small "fidget" items for those who learn better if they can keep their hands moving and specific skill-based games for kids who need a little extra practice.
Occupational, physical and behavioral therapists often refer their clients to Launching Success for resources to help the children with whom they work.
Launching Success also hosts birthday parties and offers classes and summer camps, peripheral benefits of being connected to a local business and having access to their knowledge.
Zimmermann's products fall into three general categories: resources for homeschool curriculums, quality toys, and teacher resources. She sells a huge variety of products within each of those categories, from puzzles to Harry Potter-themed board games to owl pellets for dissecting.
Because people know she sells such a diversity of items, customers often come in and ask for pretty obscure things, Zimmermann says, and she doesn't always have what they're looking for.
In those cases, Zimmermann is appreciative they checked locally first, instead of immediately turning to an online source like Amazon.
"We don't like to say the A-word in here very often," she jokes. "They probably will have that crazy, obscure thing that you need—and I thank you for coming and checking here first."
---
Sponsored