This is a story about a friendship that grew as two Bellingham photographers discovered a mutual interest in flying drones.
Robbie Hochreiter and David Veatch met through the Facebook group Seeing Bellingham. This large, dynamic group draws photography enthusiasts of all levels so they can share their love for the area.

Both Hochreiter and Veatch are licensed to fly recreational drones, classified as aircraft that have no human pilot on board. The droning noise inspired the name, and these very small aircraft were originally used by the military. The Federal Aviation Administration (FAA) issued its first commercial drone pilot license in 2006 and since then, commercial and hobby use of drones has risen dramatically.
The pilot controls the small, buzzing machine from the ground, using a device that looks a lot like part of a video game system. Drones have become a key tool for many photographers.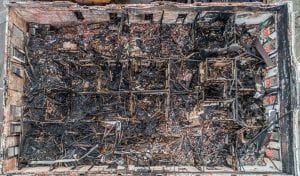 Even though drones are very small, they're regulated for safety and privacy issues at different user levels by the FAA. All drones must be registered, and commercial or professional use of drones requires certification.
The rules for recreational drone pilots include common sense issues such as not flying near other aircraft or over groups of people, public events, or stadiums during games and events. Drones should never be flown over or near emergency response efforts. All drone pilots are expected to observe no-fly zones within five miles of an airport and should not fly drones higher than 400 feet.
As with many other activities, there are some folks who don't follow the rules. "This can ruin the fun and value of this hobby for others," says Hochreiter.
Mounting a camera on a drone gives a birds-eye view and unique perspective that offers photographers both artistic and documenting potential—but learning to navigate a drone can be tricky and takes practice. "Landing," Hochreiter says, "is the hardest part."
Veatch, originally from Portland, Oregon, came to this area in 2003. He's a former electronic technician and, like Hochreiter, is a self-taught photographer. He especially enjoys taking images of landscapes.
After the iconic downtown business, Hohl Feed and Seed, was destroyed by fire, Veatch positioned his drone directly over the damaged building. The result was a fascinating, unparalleled documentation of the devastation. This type of image narrative becomes a vital part of a community's history. "It's important to Bellingham," Veatch says.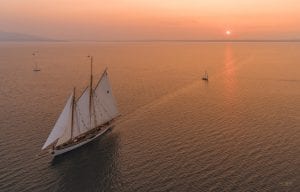 Veatch was also thrilled to capture an image of snow in Boulevard Park this past winter. "We don't get a lot of snow," he says, "so I'd been dying to get Taylor Dock covered in it."
Hochreiter, originally from Missoula, Montana, is a retired nurse who worked in regulation compliance investigations for the Department of Social and Human Services. She moved to Bellingham in 1996.
Hochreiter was intrigued when she noticed Veatch's drone photography and wanted to learn how to fly, too. The two have been perfecting their flying skills and taking photographs together ever since. Hochreiter loves taking photographs of nature and things of historical relevance.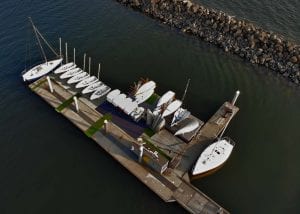 Veatch appreciates Hochreiter's personality and describes her as smart and interested in a lot of things. "She's goofy and very giving," he adds.
"Veatch is kind beyond measure," says Hochreiter. "He'd give you the coat off his back, or his last dollar, even if he needed it."
Once while practicing at Boulevard Park, Hochreiter's drone lost its signal and fell into Bellingham Bay, never to be seen again. "The drone has a return-to-home feature," she explains, "but it can't swim." Horrified at the loss of an expensive piece of equipment, Veatch offered to help her buy another.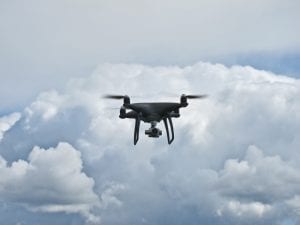 Hochreiter and Veatch enjoy their shared sense of curiosity and adventure as they learn something new. They each have their own creative perspectives and styles, but don't feel competitive.
"Being drone buddies this past year has helped us push each other to do something a little different," says Veatch. Hochreiter adds, "We get each other out of the house."
The two photographers have become a familiar presence at different locations around town. People who see them flying their drones are usually curious to learn more. Hochreiter and Veatch have been happy to help to dispel myths about drone photography and educate others about this fun hobby.