From schools of jellyfish to packs of wolves, slugs to giant spiders, the Procession of the Species can get a little wild.

The Procession of the Species parade is an annual Bellingham tradition celebrating community, creativity, and the natural world. No registration is needed, and participants can wear (and make!) animal costumes, play percussion instruments, and march together from the library through downtown. There are only three rules: no written or spoken slogans, no live animals, and no motorized vehicles.
This year's parade is on May 4 at 3:30 p.m. It starts at City Hall, winds through downtown, and ends at the Maritime Heritage Park, where there will then be mingling, music and dancing until 5:45 p.m.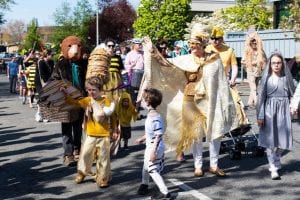 For parade coordinator Carol Oberton, the Procession is a pure, informal and non-commercial celebration. Oberton has worked with the parade for more than 16 years, making costumes and encouraging others to do the same.
"I think it gives people something to do that's fun and engaging and takes a while," Oberton says.
Though you can buy a costume, homemade is highly encouraged. Participants go all-out making unique and wild concepts, from duct-tape tiger stripes on an orange shirt to a 6-foot paper mâché spider.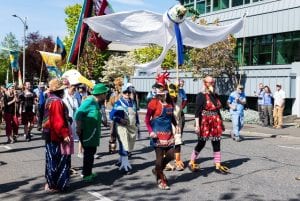 "People can see that, and they go, 'Oh yeah, that would have been a good idea! I'm going to do that next year!' That's one of the more common phrases I hear every year," Oberton says. "It's a bit of an inspiration."
The Procession originated in Olympia in 1995, where residents wanted to celebrate the 25th anniversary of Earth Day and support the Congressional renewal of the Endangered Species Act. The idea spread all over. Joy Monjure, former City Public Works Communication Coordinator, introduced it to Bellingham as part of the city's centennial celebration in 2003.
Procession of the Species is part of Start Here Community Arts (SHCA), under Allied Arts. SHCA works with Bellingham's Parks & Recreation Department and community volunteers to plan the Procession, and also organizes workshops for costume-making.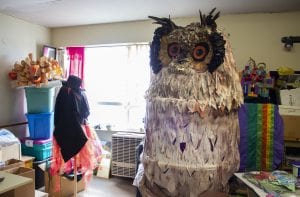 Oberton appreciates using anything to make something fun, which first attracted her to the parade. As the first Procession was being planned, a friend of Oberton's recommended her to Monjure. The first meeting involved 20 people from the city and Oberton, the only volunteer. She was hooked.
"The part I really enjoy is seeing [that it's] non-commercial, so you don't have to purchase anything to enjoy it yourself," she says. "And I really like to promote the idea that we're creative creatures, and we can make our own entertainment; we don't have to have it sold to us."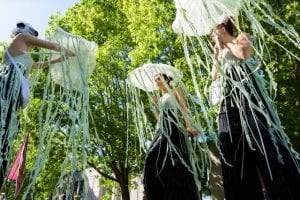 Oberton often sees jellyfish, lions, and a lot of Pacific Northwest animals, such as fish, salmon, and orcas.
It's a very informal affair. "You just show up," she says. "That's really my favorite part: to watch people getting into their things, dressing up their kids, putting their wings on, or tying a lot of stuff on their bikes."
Seeing other people's ideas is what Oberton likes the most, like banana slugs made of saran wrap or family collaborations, like inter-generational octopi (made by grandparents and their eight grandkids, each holding a tentacle) or a collection of toadstools (made by a woman and her three nieces).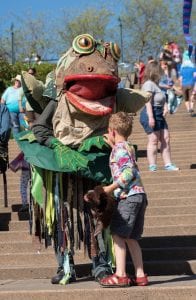 "One year there was a giant dung beetle with an enormous ball that he was pushing down the street," Oberton recalls. "There have been some great costumes."
For the first four years, the Procession had a community art studio. Six weeks before the parade, participants used the studio space to work on costumes.
"When we had the art studio, it was available for all kinds of people. There would be people coming out of the library, and they'd walk by with their six kids and they were like, 'What's going on?' So you get in the door and your kid wants to be a dragon," Oberton says. "Instantly, there were people helping each other, which is so rare to have happen; to have total strangers walk into a building, feel totally welcome to try anything, and have total strangers invite them."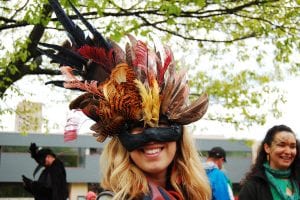 They later lost the studio, and support for the parade shrunk some over the years. It's been a bit of an orphan ever since, Oberton says, though SHCA receives a small angel fund grant from the Whatcom Community Foundation to keep things running.
Keeping up Bellingham tradition is important, though, especially when it comes to celebrating nature and community with pure, non-commercial fun.
The Procession of the Species takes place on May 4. Anyone looking to join can line up with the parade at City Hall at 3:30 p.m. Check out details about start times, location, and workshops on their website.