If you've ever driven down the Semiahmoo Spit in Blaine, you know that if offers a stunning view. As you come out of the trees along Semiahmoo Parkway and down the hill, the view opens up to a breathtaking sight surrounded by ocean, White Rock, and both Canadian and Washington mountain ranges.
At the end of the mile-long spit sits Semiahmoo Resort, a golfing resort, spa destination, and a fantastic getaway for both visitors and locals.
"It's absolutely spectacular," says Nicole Newton, Semiahmoo Resort general manager. "We talk about this all the time, no matter what kind of day you're having when you come to work, as soon as you come off that hill, it's just – we work at one of the most incredible places ever."
Between sandy beaches, gorgeous views, a passionate staff, and dozens of things to do, Semiahmoo prides itself on being the perfect spot for any occasion or gathering. Whether you're planning a family vacation, a get-together with friends, event, or a business retreat, everyone can find something to plan for the time of their life.
"We're a casual beach resort destination with really genuine, friendly staff who offer personalized service," says Newton. "We try to have a lot of fun with our guests."
Semiahmoo Resort features a spa and salon, a health club, and the award-winning Semiahmoo Golf & Country Club.
Semiahmoo is ideal for launching lifelong memories with family, especially outdoors. Parents and kids can take a beach walk on a trail along the spit and comb for shells. On summer weekends, kids can join the Semiahmoo Kids' Club, a two-hour kids' exploration with arts, crafts, and other unique activities.
There's lots of other things to do outside, too. Horseshoes, volleyball, paddle boarding, kayaking, bicycling, and swimming – there's even an oversized, outdoor chessboard. And by sunset, s'mores by a beach bonfire make a perfect way to end the day.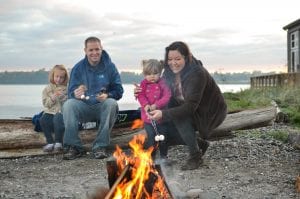 "It's a great casual place to just stay in one location and spend time with your family," Newton says.
You can rent paddle boards, kayaks, and bikes at the Beach Activity Center.
For those who prefer the indoors, families can also take advantage of Semiahmoo's in-house movie theater. You can catch a group movie Friday and Saturday on "Semiahmoovie" Nights, or families can rent the theater individually.
For social get-togethers, you've come to the right place. There's lots to do. The Semiahmoo Health Club, for example, is designed with health and well-being in mind. Take a fitness class, work on your cardio, lift weights, or give water aerobics a shot. Dozens of workout classes are offered, from Zumba to yoga. There's also pickleball, indoor and outdoor tennis courts, and a pool and hot tub. Day passes are available for locals.
Birdwatching is another great get-together idea. Semiahmoo hosts an outdoor tour with resort engineer Phil Calise every Saturday at 2:00 p.m. Calise is incredibly knowledgeable and talks in-depth about the nature and birding options that make Semiahmoo unique.
Did you know that Semiahmoo was a cannery before it was a resort? An Alaska Packers Association cannery ran here for almost 80 years, playing a large role in the development of the Semiahmoo region. Visit the Drayton Harbor Maritime Museum, housed in an original cannery building near the resort, for insightful history and exhibits. Admission is free, donations welcome.
For those that want to simply sit down to a delicious meal, check out Semiahmoo's two restaurants. Packers Kitchen + Bar has fantastic Northwest cuisine and a friendly, knowledgeable staff. Fish & chips, burgers, and woodfire pizza are always on the menu, and Packers features many local purveyors. The second eating spot, Great Blue Heron Grill, is at the Semiahmoo Golf & Country Club. A public restaurant on a private course, it offers salmon, salad, sandwiches, and more.
"I think the team does an outstanding job," Newton says of Semiahmoo's food. "We have a lot of people who have worked here for quite some time that have a love and passion for Semiahmoo as well as our guests. They're really passionate about the food we serve and the environment we're in."
Event and business retreat-planners can take note, as well. Semiahmoo hosts a myriad of events every year, from corporate gatherings, weddings, reunions, Easter egg hunts, Mother's Day brunches, Thanksgiving, Christmas, New Year's Eve, and more.
Those on business can use more than 35,000 square feet of versatile meeting and event space, featuring extensive audio and visual equipment.
After work, take a break out on the beach, grab a beer at Packers, or walk around and get out into nature, among eagles, herons, ducks, and even the occasional seal.
"It's not your normal city conference location," Newton says.
Whether you're a vacationer or a local, Semiahmoo's got you covered for business, events, family and more.
Sponsored