Whatcom County is filled with many excellent non-profit organizations, all working to raise awareness and money for important community causes. Four Points by Sheraton Bellingham, with a long history of community involvement, is working to further the cause of local non-profits through their new 'Give Back' program at B-Town Kitchen & Raw Bar.
Each month, B-Town pairs a selected beverage or appetizer with a local non-profit, and $1 from every purchase directly supports that group.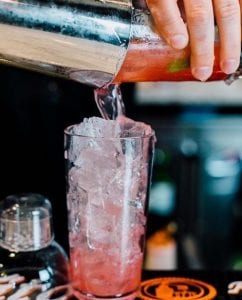 "We are thrilled to partner with so many local non-profit organizations," says John Burns, General Manager of Four Points by Sheraton Bellingham. "We host numerous events here on property, ranging from small board meetings to gala fundraisers for hundreds of guests. The 'Give Back' program is another way we're able to support the vital work done in Whatcom County and beyond."
Matt Lesinski, Marketing Manager at Four Points by Sheraton Bellingham, says the program was developed through collaborative brainstorming between Four Points' management and events teams, seeking to further support local non-profits. Being that Four Points is already host to many non-profit events, 'Give Back' seemed like a natural way to boost non-profit fundraising efforts.
"The more we can do to partner with non-profits around here, the better," says Lesinski. "Utilizing our infrastructure, resources, and services on property in a way that's beneficial for both us and the clients? That's a gift not many places have. Our events team, spearheaded by our Food & Beverage Manager, Leslie Spurrier, consistently looks for ways to further support our clients. In short, our team is amazing and works relentlessly to help our groups accomplish their goals."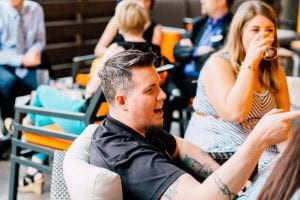 The 'Give Back' program kicked off in February with support of Lydia Place, which provides housing and resources for homeless families. The organization was voted "Best Non-Profit" in Bellingham Alive's 2018 Best of the Northwest issue.
Each non-profit works with Four Points' Food and Beverage Director to select the right beverage to help maximize donation potential. Lydia Place decided on the Gummi Bear Martini, a signature cocktail of B-Town's former iteration, Poppe's. In addition to being offered at B-Town throughout February, the cocktail was also served at Lydia Place's annual non-profit gala, "Hearts for Housing," held at Four Points by Sheraton. Lesinski says the drink was quite popular.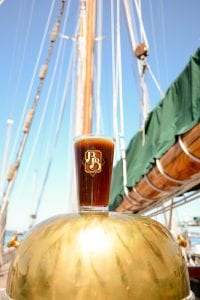 Interfaith Coalition, another great organization providing housing and resources to combat local poverty and homelessness, was featured in March. April's 'Give Back' promotion pairs Boundary Bay Brewery's popular Scotch Ale with Engedi Refuge, a program helping adult women who've been victims of prostitution and trafficking. The Lynden-based organization combines safe housing, trauma-focused therapy, case management and skills training into true healing.
In May, 'Give Back' will feature Northwest Youth Services, which works with runaway, at-risk and homeless youths. The organization opened their latest youth housing project, 22 North, last fall. Boys & Girls Clubs of Whatcom County will take the spotlight in June, while Whatcom Women in Business – which provides mentoring and support for businesswomen, will be featured in July.
In August, DVSAS – which provides domestic violence and sexual assault services – will be part of 'Give Back,' while the Whatcom Humane Society will be featured in September. October brings Blue Skies for Children to the forefront. The organization raises funds for homeless, low-income and foster children in Whatcom and Skagit Counties. November will focus on Whatcom Hospice. In December, the program will give to Skookum Kids, an organization providing support to children in foster care.
Lesinski says 'Give Back' is expected to raise thousands of dollars this year, and he and other Four Points by Sheraton employees couldn't be prouder of what it seeks to accomplish.
"It's vital for us to be engaged within the community and support those who are doing amazing work," Lesinski says. "Our team does quite a bit of outreach, and many are involved with these organizations personally. To bring them under this roof and get them taken care of in another way – both raising funds and awareness – are two key things I'm really excited about."
For more on the 'Give Back' program, or to help the cause, stop in to Four Points by Sheraton Bellingham and B-Town Kitchen and Raw Bar, located at 714 Lakeway Drive. B-Town is open Monday through Saturday from 11:00 a.m. to 11:00 p.m., and Sundays from 11:00 a.m. to 10:00 p.m.
Sponsored