Four swimmers from the Bellingham Bay Swim Team recently competed in the 2019 TYR International Junior Cup in St. Petersburg, Florida, with Gavin Jones and Isabella Cratsenberg bringing home hardware from the Sunshine State.

Taking place at the North Shore Aquatic Complex, the five-day event, which was held March 26-30, kicked off the International Swim Coaches Association championship series and featured 800 of the nation's top swimmers.
"ISACA Junior National Cup is about opportunities. Not just seeing swimmers that are not from your swimming region, but to get exposed to USA Swimming's best," says BBST head coach Wes Sinclair. "Not only did we get to compete against a very high level of swimmers, the kids were able to draw valuable insight into how other high-level athletes conduct themselves before, during and after each session."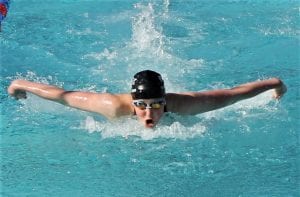 Preliminaries at the TYR International Junior Cup were in short course yards format and finals were set for long course meters to allow for Olympic Trial cut qualifications.
In addition to Jones and Cratsenberg, fellow BBST teammates Ellary Boyd and Korbin Vera also participated at the event. The four swimmers train nine times per week at the Arne Hannah Aquatic Center with an additional three dryland sessions at the gym with each athlete carrying a GPA of 3.8 or higher.
"Swimming outside, on the other side of the country, short course prelims and long course finals were all new experiences for the kids," says BBST dryland training coach Brad Jones. "It's important for them to get out of their comfort zone and adapt to different situations. The kids navigated all the different experiences well and learned lots of lessons along the way."
Gavin Jones, who attends Bellingham High School, medaled twice at the event. The 16-year-old Jones finished fourth in the championship finals in the 200 breaststroke, stopping the clock in 2 minutes, 27.26 seconds, and eighth in the 100 breaststroke with a time of 1:09.46.
He also made it to the consolation finals in the 200 Individual Medley, 400 IM and 50 breaststroke.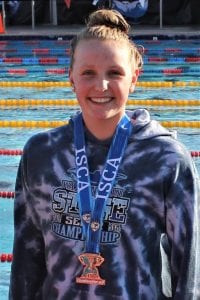 "Gavin has been a pillar of training consistency," Sinclair says about Jones, who has been a member of the BBST for eight years. "Because of his focus, he's capable of not only performing well twice per day, preliminaries and finals, but also bounce back from sub-par swims to swim lifetime best times in the final sessions."
Joining Jones on the podium was Cratsenberg, who finished seventh in the 200 IM. She also made the consolation finals in the 100 and 200 freestyle, finishing 15th in both events.
Boyd, a junior at Ferndale High School, qualified for the consolation finals in two events, finishing 14th in the 50 backstroke and 18th in the 50 freestyle.
"Every season presents its unique challenges for each swimmer," Sinclair says. "This is true for both Bella, as well as, Ellary. They achieved (their) best times more than once this season before this meet. They also experienced some breaks in their training, including, but not limited to some illnesses. Because of their commitment to their goals, they developed the necessary coping skills to persevere."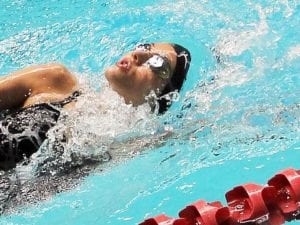 Rounding out the quartet of participants was Bellingham sophomore Vera, the newest member of the team. A recent transfer from Roseville, California, Vera placed 11th in the consolation finals in the 50 backstroke and 17th in the consolation finals in the 50 freestyle, as well as finished 28th in the bonus finals for the 100 backstroke.
"Korbin has been a great addition to our team and specifically our senior training group," says Sinclair. "As such a new member and recent transplant from California, he brings with him a variety of swimming experiences that some of our current swimmers may not have been exposed to. It has been a pleasure watching Korbin tackle the challenges of not only switching schools mid-year, but also join an entire new training group with BBST."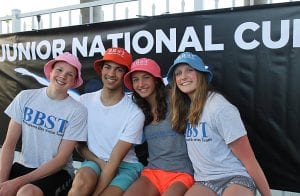 The Bellingham Bay Swim Team members qualified for the TYR International Junior Cup through their qualifying times in December at either the Husky Invite or Pacific Northwest Swimming Championships.
"There has been a solid foundation of coaching and competition here for a number of years," Sinclair says. "I think the future of BBST is very bright. We have a dedicated parent organization and inspired professional coaching staff leading swimmers of all ages to dream big and take the necessary steps to achieving those dreams."
"Bellingham is a small circle when it comes to swimming," says Brad Jones. "Meets like the TYR Junior Cup allow kids to get out of the bubble and see what else is out there and set big goals that will put them on the national scene. This meet left all the kids that went feeling hungrier for more big-time meets and national exposure."