Three years ago, Rob Hopson met Akane Matsumara while on a skiing and snowboarding trip in Japan. A year later, Matsumara moved to Glacier and now the couple owns and operates Yuki Yama, a Mount Baker Highway eatery focused on homemade Japanese cuisine. 

They opened Yuki Yama in August 2018, to the delight of many in the Mount Baker community. Everyone who samples Akane's cooking, loves it – and now Rob and Akane scramble to meet the demands for her delicious dishes.
What Makes Akane's Food So Delectable?
To answer that question, one must first understand Akane. She is a yoga instructor, massage therapist and studies energy therapy. She believes cooking is an expression of love. In accordance with the teachings of Masaru Emoto, she expresses love and gratitude to her ingredients and thinks about her sons while she cooks. Her boys are 22 and 24 years old now, but when they were school children, their bento boxes – created lovingly by Akane – were the envy of all.
"She's spiritual in everything she does and it goes right in to her food," says Rob. "What I've learned about Japanese culture is to enjoy the process. We're always in a hurry."
To that end, Akane refuses to skimp on ingredients, using mostly organic items and cooking with avocado oil. "Everyone says, 'I feel so good after I eat here,' says Rob. It's the avocado oil."
Every cooking choice is carefully made by Akane and she runs the kitchen – Rob says it wouldn't work any other way.
"She never used to write her recipes down," he says, "it was always done by taste. She had to be a mad scientist and convert everything she was used to doing at home into eight litres."
The pair make 200 gyozas a week and sell them down to the last. The couple searched all the way to Seattle for the best gyoza dough and when they couldn't find one without color #7 in it, Akane decided they'd make their own from scratch.
It takes them eight hours to make and roll enough gyozas to last the week; Akane makes the stuffing, while Rob rolls the dough. They use only potato starch in all their doughs, because it's lighter and better.
The duo is so dedicated to high standards for quality meals that making their yakisoba noodle dough is a three-day process – which means it's not always available on the menu, but is always worth the wait.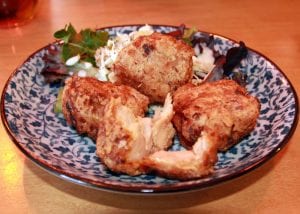 Yakisoba isn't the only rarity these two offer up. Karaage is a scrumptious fried chicken dish served only on Wednesday nights. Smaller rounds of chicken are marinated in soy, ginger and garlic, and then coated in potato starch before being fried in boiling avocado oil.
Wednesday nights are also the only time sushi appears on the Yuki Yama menu. Yuki Yama's sushi is lovingly prepared by Akane, but Rob proudly points out, "We are not a sushi restaurant." No, Yuki Yama is something much more.
Supply Over Demand
Many who enjoy Yuki Yama often wonder when Rob and Akane plan to expand, to generate more revenue.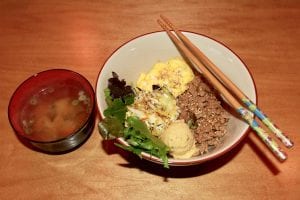 "We don't like to make money here," Rob jokes. "We're a small, local restaurant, not a franchise and we're never going to buy bags of [pre-made] food to make money."
Happy and successful just as things stand, the couple does not want to change their approach.
"Akane is the chef and no one else is going to be second chef," Rob says. "If Akane isn't having fun and gets burned out, we're not going to have this restaurant,"
After closing for nearly a month recently to ski tour Japan, and visit Akane's family, Rob and Akane returned and dished up 40 meals in four hours their first night back.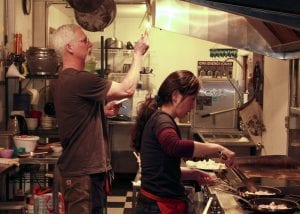 They're most known for their donburi or rice bowls, but Akane also makes a mean vegetarian teriyaki dish – with an even meaner hot sauce. Hot sauce is more American than Japanese, so when Akane finally decided to meet that demand, she did so with her usual passion. Rob jokes that it would be ironic if their end game was jars of Akane's hot sauce with her sweet face on the front.
The next time you're heading home from Mount Baker or craving some homemade love, travel east and see firsthand what everyone's raving about at Yuki Yama.
Yuki Yama Japanese Mountain Food
7471 Mount Baker Highway, Deming
Wednesday – Thursday: 4:00 p.m. – 8:00 p.m.
Friday – Saturday: 4:00 p.m. – 9:00 p.m.
Sunday – Tuesday: closed