Submitted by: DeWaard & Bode
DeWaard & Bode recently joined hundreds of other independently owned appliance and bedding dealers in Las Vegas to make great strides in the fight against child hunger. DeWaard & Bode, a Member of Nationwide Marketing Group, teamed with fellow retailers at the bi-annual PrimeTime buying show and convention, where members of their team joined efforts supporting No Child Hungry, the food distribution arm of respected charity My Neighbor's Children.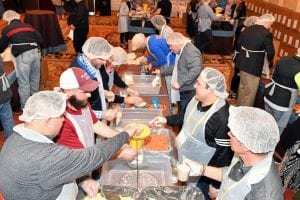 At the event, DeWaard & Bode was represented by Jordan Roorda, Kyle Kinder, Jacob Kopak and Jake Bassett. The show began with a meal-packing blitz, where over 87,000 meals for hungry children were packed in just 60 minutes. The effort continued across the following days of the convention, reaching a total of over 185,000 meals. Half the packaged meals were distributed locally in Las Vegas, with the remainder to be distributed in the coming months across the network of orphanages and areas of need as identified by No Child Hungry.
In addition to the meal-packing effort, those in attendance were also able to donate much needed mattresses for the orphanages in partnership with No Child Hungry. DeWaard & Bode's contribution to the mattress drive helped the effort reach a total of over 1,100 for the event.
DeWaard & Bode Marketing Director Jacob Bassett reflected on the efforts, saying, "At DeWaard & Bode, giving back to the community is one of our core values. We were honored to join other independent businesses to make such a large impact with the kids served by No Child Hungry. We support many local causes and were happy to be join a national effort as well."
This coming together of compassion and commerce at a trade show and convention was explained by Nationwide Marketing Group President Tom Hickman, who said, "Independent Businesses like DeWaard & Bode are not only the backbone of the American economy, they're the backbone of the American community as well. The giving hearts of independent business owners is incomparable, and as part of the largest association of dealers in the major appliance and bedding industry, each dealer's impact can be dramatically multiplied. In addition to all that DeWaard & Bode does locally in Whatcom, Skagit and the Island Counties, their participation in this effort with No Child Hungry really makes a difference."
William Lowry, President of No Child Hungry, added, "No Child Hungry is in the fight against hunger and believes it is winnable. However, it will only be possible when groups of caring people lock arms to join the fight. The folks at DeWaard & Bode are perfect examples. Their commitment and the deep level of care they extend to help change a child's world is wonderful and is backed by a hands-on and boots-on-the-ground effort. No Child Hungry is proud to work with DeWaard & Bode and their fellow independent retailers to bring change around the corner and around the world."
About Dewaard & Bode
On a frigid November day in 1946, what was then called Kredit & DeWaard opened for business, selling everything from household goods and toys to some of the first major appliances introduced to Whatcom County. In 1962, Kredit retired and Rube Bode joined his brother-in-law, Jake DeWaard, to form DeWaard & Bode. Over the years, the company focus shifted to solely selling and servicing major appliances, quickly becoming the leading appliance retailer and servicer and coining the name "The Appliance Giants."
Today, DeWaard & Bode is still family owned and operated on the same values that Jake and Rube stood by: honesty, integrity, and a commitment to serving our customers. Because of that promise, we confidently stand behind all the appliances we sell with our own complete service department.
Our outlet store located on Hannegan Road was opened in 1995 and contains our Service and Parts Department. You'll find great deals on ding and dent appliances here.
Our main store location on Meridian opened in 2005 and is our primary showroom of the latest models in appliances, mattresses and furniture. Our knowledgeable and friendly sales team will help you find the products that fit your needs at a price you can afford!
We are proudly serving Skagit County with our brand-new location in Burlington which opened in September of 2016.
DeWaard & Bode has proudly served Whatcom County for more than 70 years, and now Skagit County, with the best selection, service and pricing on brand name appliances, mattresses and furniture. Visit us at any of our locations and enjoy the DeWaard and Bode experience for yourself.
About No Child Hungry:  No Child Hungry is the feeding program of My Neighbor's Children. Through "meal packing events," food drives, and financial support, MNC and our partner International Children's Rescue Ministry are able to provide food for children here in the United States and Abroad. Learn more and join the fight at http://www.myneighborschildren.org/no-child-hungry/