After flooding or an earthquake, stricken communities are sometimes stranded. Destruction – such as washed out roads, blocked freeways, collapsed bridges and more – can cut off victims in need from the rest of the world, and they may have to wait days or weeks for help.

That's too long for Sky Terry, a Bellingham home health care nurse with a rescue plan that uses local pilots and seaplanes.
Terry, the Northwest Regional Emergency Services Director of the Emergency Volunteer Air Corps (EVAC), organizes general aviation pilots to help in major disasters. Under EVAC is the Disaster Airlift Response Plan (DARP), a volunteer resource using seaplanes to help provide supplies, resources and transportation. When roads and airports are destroyed, DARP uses lakes, rivers, and beaches.
DARPs are composed of DARTS – Disaster Airlift Response Teams. With Terry's help, Jefferson, Kitsap, and Clallam Counties each have DART programs in Washington state. He's in talks with Bellingham emergency management individuals to develop one here in Whatcom.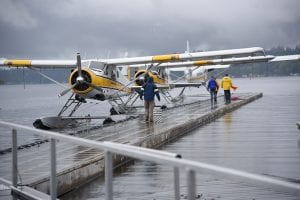 DARP's goal is to help disaster victims until national relief efforts can step in. Terry himself has been on that waiting end more than once. With five years in the army as a combat life saver, and 14 years of Search and Rescue between Snohomish and Pierce counties, saving lives is part of his core.
Terry has often been at the scene of car crashes and other accidents. "I've been on the side of the road where I've got lives in my hands, going, 'Help, please, someone get here soon,'" he says. "I just want people to have a fighting chance."
Terry initially developed the Emergency Seaplane Response Plan in preparation for the megaquake that threatens to hit the Pacific Northwest. He later merged his ideas with Paul Marshall and Rodney Pharis's DART network in California, and expanded the concept to Washington state.
When Hurricane Florence devastated the town of Maxton, North Carolina, Terry reached out.
"I believe [I was talking to] the wife of the fire chief for the town. And I'm talking to someone [whose] community had lost all hope," Terry recalls. "They were on the brink, they were going to fall apart. I've never talked to someone with such despair in my life."
Terry assured her help was coming and explained how the organizations could offer assistance.
"Her demeanor…everything changed, in an instant, in a heartbeat."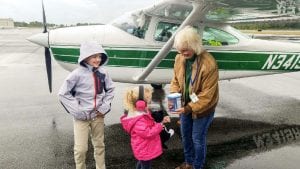 Terry connected Maxton to No Town Left Behind and Operation Airdrop and after a few hours, a plane arrived. Over the course of a week, over 6,000 pounds of food were delivered to the community.
"Maxton was a big one for me. I will never forget that phone call," Terry says tearfully. "To hear that voice, that person go from total despair to 'thank God someone's coming.' I was at the right place at the right time to help."
Terry realized that the scale of the impact these organizations can have is something no one agency can do on its own.
"We need to support each other, general aviation and standard disaster response resources," he says. "Together, we can catch everyone."
That collaboration starts with three drills planned for this year. Though the third is still in the works, Terry already has big plans for the first two, scheduled for April 27 and July 13.
The first drill, at Kenmore Air, is a cross-county HAM radio communication test and food drive with No Town Left Behind, the Washington Seaplane Pilots Organization, multiple DARTs from Clallam, Jefferson, Walla Walla, Kitsap, Mason, and Island Counties, plus several more.
The drill will move 2,000 pounds of food from Walla Walla over both air and ground transport to Mary's Place. This provides hands-on training for the seaplane pilot community and multiple ground support teams.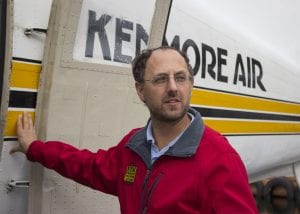 The second is another food drive focused on Washington DARTs. Each county will collect food, with the donations go to Jefferson County. Next year, it goes to Kitsap, Walla Walla, and on and on as more counties develop DARTs. Through the drills, the DARTs practice what they would do in a real emergency: moving supplies, resources and people.
"What we're developing is a yearly, multi-county communications transportation food drive, where the recipient county will get a massive boost to their food banks," Terry says.
Terry recently became the National Disaster Aviation Director for No Town Left Behind. He also won an EVAC award for exemplary achievement for his work in expanding general aviation and disaster response.