In 2007, I ran from class to class.
I was a sophomore at Blaine High School, but lunch and other classes were in the next-door middle school. Time management is tedious when you're 16, and though our schedules accommodated for far-apart classes, getting there demanded strategy. By sophomore year, I could plan routes, weave through crowds, and duck like clockwork from downpours under memorized awnings.
Once, I busted into band practice panicked and – not even looking – immediately wheezed out a 'Sorry-I'm-late!'
Mr. Gray stared. So did the rest of the class period before mine.
"You're actually early," he said.
Stories like these illustrate some of the reasons Blaine High School needed a remodel, which is nearing completion. With its own spacious cafeteria, updated classrooms, and dedicated high school spaces, it's almost a completely different school.
"It was severely outdated and was definitely time for some serious upgrades," says Vice Principal Wayne Vezzetti." It was run down, things were falling apart, [and] I can't imagine how much money was put in just to constantly fix things." He also stresses that he believes students will get a better education in an updated facility.
Before, the school was made of multiple "pod" buildings without hallways, and students went outside to get from class to class. Not necessarily a bad thing, but not exactly suited for Pacific Northwest weather. As a sophomore in the late '80s, Vezzetti remembers snow in the pod's inner courtyards, just before glass ceilings were installed.
"You'd get bombarded by a snowball when you walked into the courtyard."
One of the biggest reasons for the remodel was to have a bigger, more accommodating school with new technology. Amber Porter, Blaine School District's Executive Director of Finance and Operations, considers the old school "tired."
"[It] continued to get a beating every year from the amount of foot traffic," Porter says. "It feels like a modern building now."
The remodel also secures the school with a safer, more closed-off campus. Each entrance is monitored by camera.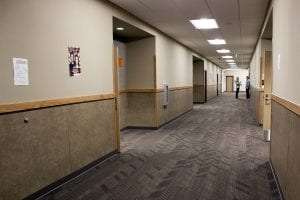 "I believe we had about 47 different ways to get into our [school] last year, and we're going to knock it down to three," Vezzetti says.
Dedicated high school space is another big factor. Students who had to travel to the middle school for band, art, lunch, etc. now have everything in one place.
Brian Smith, an art teacher who had class on the far end of the middle school campus for years, is ecstatic. His new classroom in the new building has is bigger and vastly improved.
"I feel really fortunate," he says. "I'm getting what I'm asking for in here for the kids." He's especially excited for his new pugmill, a machine that mixes clay, for his ceramic lessons.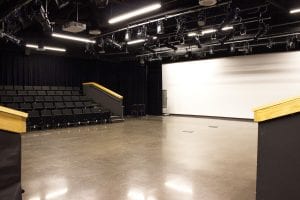 "I'm so much more relaxed this year on management," Smith says. "I always loved my job, but I am beside myself."
Jeff Worthy, an English teacher, looks forward to the remodel finishing, but has had a slightly more complicated time accommodating the move. The English teachers are in temporary classrooms during construction.
Worthy has 60 boxes of material (24 years' worth!) stacked against the wall in his temporary room, a small side-classroom for the new woodshop. Not exactly designed for an English teacher with classes of 32 students, who just barely fit. He's been willing to deal with it, though. Next year, he'll be in a new, modernized room with new tech and air conditioning.
"Plus, lots of book space! I can finally unpack then," Worthy says.
Despite the inconveniences, Worthy has no complaints. "When done, the school will be a sight to behold, and we'll have an excellent learning space for decades to come."
Though the graduating class of 2019 won't be around for the final product, they're looking forward to it, says senior Sydney Feenstra. She called the past two years "unpredictable." Loud drilling interrupted classes constantly, and sometimes heavy machinery drove by classroom windows.
"It might not be the prettiest scene to look at each day, but the result is going to be much more rewarding," she says.
Jevan Wilskey, another senior, feels the same. In the old building, walking around campus outside was cold and "terrible," he says. Now, they're all in one place.
"I'm super excited for the future of Blaine High School," he says. "The cafeteria is massive and having our own, as well as having our own band room, choir room, art room, and tech room, has made my feet less sore from walking an extra mile each day."
As detached spaces and people come together, Vezzetti has noticed the school's culture changing for the better. They have a new home now, and a bigger sense of community and family.
"The climate of our school is at an all-time high because of what we're going through. It's bringing kids closer together and it's bringing teachers together because they're not so disconnected," he says. "We don't have to use the middle school anymore. We can use our building, be proud of our building, and show it off to the community more."
The remodel is anticipated to be done by summer 2019. After, they'll do touch-up work and finish installations. They also hope to have new grandstands by fall.