Two community-focused local farms are growing with the support of the Community Food Co-op's Farm Fund, a program that works to strengthen local agriculture.. The Farm Fund alleviates some of the stress of farming, much less running your own business, by providing funds and resources for farms devoted to organic and sustainable farming.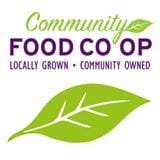 Growing Garden and Wanderwood Farm are dedicated to serving their community, and both have their own unique stories.
Growing Garden
Growing Garden is a longtime Whatcom staple under new ownership. The farm has been around since 1983 and focuses on culinary herbs, including their signature basil.
New owners Aurora Lindquist and Christopher Gonzales plan on keeping traditions in place. Brent Harrison, the original owner, recently retired. Lindquist and Gonzales worked as summer farmhands for Harrison for the past ten years, and eventually took a managerial position when his original change-of-hands fell through. They were reluctant at first, but fell in love with owning a farm. They bought the business from Harrison in 2018, who is now an occasional advisor.
Lindquist and Gonzales are committed to Whatcom County.
They applied for the Farm Fund last year at the encouragement of administrator Jean Rogers. They're using the funds to update facilities and build a greenhouse for their summer production. They're also working on a hot house.
"I've got nothing but good things to say about the Community Food Co-op," Lindquist says. "They are absolutely committed to family farms."
Lindquist and Gonzales love knowing where their food comes from and sharing that with other people.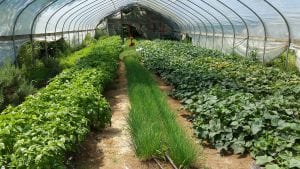 "It's pure magic to me," Lindquist says, "to be acquainted with these seeds that are so small, these perfect little capsules, and seeing the majestic plants that they can become."
One of her favorite farm memories comes from when they had an overabundance of spearmint. Gonzales got an idea, and they called Mallard Ice Cream. Mallard took all 20 pounds off their hands and made a mint ice cream, which turned into a tasty bonus for Growing Garden employees.
"The joy of several weeks after that, walking into Mallard and being able to buy cases of ice cream and distribute that to our employees, was one of the most satisfying times," Lindquist says. "It was really tasty."
Despite the hard labor and stress of managing paperwork and finances, Lindquist says farming is a rewarding job – she's especially proud of owning Growing Garden.
"I feel like it was a huge step in our lives to commit to do that. It's kind of like getting married, right?" she says. "You realize, I want to spend the rest of my life with this person and I'm willing to sign the papers and say I'm here for the long haul. It's like getting married to the farm!"
Wanderwood Farm
Wanderwood Farm grows certified-organic, sustainable food in Everson, producing a variety of vegetables, microgreens, herbs, flowers, berries, and melons. They also raise meat chickens.
Jointly operated by Colin Fischer and Jen Finch, Wanderwood Farm got its start on the foothills of Sumas Mountain in the winter of 2014. The duo worked for other farms for years before deciding they wanted to start their own business.
"We base our business decisions on what's sustainable for us, the land, and our surrounding farming community," says Finch. "We strive to grow high quality and tasty food to feed ourselves and others."
From harvesting pumpkins with their 8-week-old puppy to waking up to the "terrifying dinosaur screech" of barn owls in the middle of the night, farming has been an adventure.
"Watching seeds grow up into plants is magical," says Finch. "Every season has new potential, which motivates us to always be striving to learn from previous years."
Small-scale farms come with their own joys and challenges, though.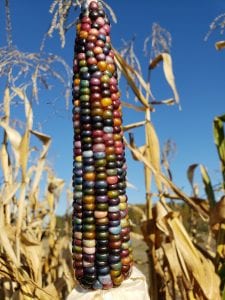 "One of the most satisfying aspects of small-scale farming is learning a variety of skill sets to become more self-reliant. With that independence comes the burden of many responsibilities that can, at times, feel relentless," Finch says. "The work never truly stops. Even in the 'off' season there's always a to-do list."
Finch and Fischer are saving to someday buy their own land and are determined to stay dedicated to organic farming.
The Farm Fund has helped immensely as they work toward this goal. Through the fund, they acquired and rebuilt a vintage walk-behind tractor, sending their production soaring. They also used their funds to fix their truck, doubling the amount of food and flowers they can move.
"They let us enter the realm of mechanical cultivation without having to change our small-scale, intensive farming methods. Without the help of the Co-op, it would have taken us considerably longer to make this happen," Finch says. "We're grateful that the Co-op supported us with the Farm Fund grant and feel lucky to live in a community where small farms are so valued."
Growing Garden's products can be found at both Community Food Co-op locations and five Haggen stores in Whatcom County. The Co-op carries their clamshell herbs, fennels, parsley, and arugula. They also sell produce to area delis, D'anna's Café Italiano, Mambo Italiano, Dandelion Organic Delivery, and more.
Wanderwood Farm goes to several markets in Bellingham and Seattle. They're found at the Bellingham Farmers Market (April through November), Barkley Market (June through September), Seattle's University District Farmers Market (January through March), and Seattle's Phinney Farmers Market (June through September). They also wholesale to the Community Food Co-op, Ciao Thyme, The Willows Inn, and Chuckanut Brewery.
Sponsored