Few coaches are more familiar with the Whatcom County high school basketball scene than Ken Crawford.

Before taking over the women's basketball program at Kirkland's Northwest University five seasons ago, Crawford spent the lion's share of his four decades of coaching here in Bellingham.
He had three stints – the first beginning in 1979 – as the boys' basketball coach at Bellingham High School, guiding the Red Raiders to a combined 250 wins. Between his second and third stops at the school, he started the men's basketball program at Whatcom Community College in 1996, coaching five seasons while serving part-time as the assistant superintendent of the Lynden School District.
So if anyone can talk to you about basketball talent in the area, it's Crawford.
"There's a lot of good basketball coming from up there," Crawford says.
There certainly is, but for whatever reason and despite his ties, Crawford had little success recruiting from Whatcom County during his first few seasons at Northwest University.
"I coached at Biola University (in Southern California) for six years and we had a couple players from the area that went down there," Crawford says, "but Northwest hadn't been able to get anybody from Whatcom. For me it was all about getting the first one."
Enter Sam Van Loo, a 6-foot-2 all-state post who guided Lynden Christian to the Class 1A state championship in 2018. She was more than thrilled to join Crawford at Northwest University.
"When Sam came to us, it opened the doors," says Crawford. "We just got some credibility with some of the players up there."
Soon after Van Loo made it official, Ellesse FitzGerald, a two-time all-state guard at Meridian High School, followed suit, doubling up the Eagles' roster with Whatcom County talent.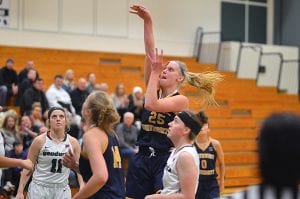 "I think they see themselves as the next core of Northwest University basketball players," Crawford says. "We graduate our senior post and senior guard [this year] and they see themselves as keeping the legacy going here – and I love that they think that way."
Van Loo and FitzGerald both recently completed their first season of college basketball, helping Northwest University to the quarterfinals of the Cascade Collegiate Conference tournament while establishing a strong foundation for the program for years to come.
Interestingly, Van Loo and FitzGerald had never played on the same team together before arriving at college.
Instead the two had always been rivals on the court, with the first showdown between the two standouts likely occurring when they were in third grade.
"Although it may have started before that," FitzGerald says. "We may have been playing against other since kindergarten. I know we played against each other in AAU as third graders, but we probably faced off in a few games before that."
Regardless of when the rivalry first began, one thing is for certain – as far as rivalries go, especially during their high school years, this one had been pretty one-sided.
FitzGerald went 0-for-7 against Lynden Christian during the three seasons Van Loo started for the Lyncs, with the most painful loss coming their junior years when Van Loo's squad knocked FitzGerald and the Trojans out of the state tournament.
"I could never beat her," FitzGerald admits. "I have an insane amount of respect for Sam. From the time I met her, to the time I finally got to play with her, I would always say, 'I just need a Sam. I just need a Sam on my team.' And now that I get to play with her, I couldn't be happier."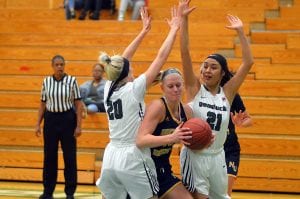 Despite their freshmen status, both played vital roles for the Eagles this year.
Van Loo was second on the team in both scoring (8.9 points per game) and rebounding (5.9 per game). In just her second collegiate game, she posted a double-double (10 points/10 rebounds) against the University of Providence, a performance that earned her CCC Player of the Week honors.
"It took me a few games to get into it," Van Loo says. "Obviously, at the college level, girls are a lot stronger. I had always been the tallest one and now I'm not. It's been a big physical and pace adjustment, but I think once we got the pace down, I settled in. It's a transition from high school, but the girls here and coach are super welcoming and it's a super environment to be in."
Van Loo closed out her freshman campaign by scoring 16 points and grabbing nine rebounds in Northwest University's season-ending loss to Corban University in the CCC Tournament.
"She's just fundamentally sound," Crawford says, "She always plays hard. If she makes a mistake, it doesn't get to her. You wish all the kids had her court IQ."
FitzGerald appeared in 30 games, making 13 starts and averaging 6.2 points a contest this year.
"Our starting point guard got a concussion and Ellesse stepped in and did great for us," Crawford says. "We're really excited about the fact that going into next year we'll have an experienced point guard. We think things are looking very good for us in the future."