It's time to dig out that leather jacket, because Mount Baker Theater is bringing old-school rock to Bellingham. From Don Felder and Neil Berg, to Laurel Canyon, the legends are coming – and they're ready to rock.
Don Felder: Formerly of the Eagles
March 22, 2019 at 7:30 p.m.
Obviously, you don't have to be Gen X to appreciate good rock, but if you are, get ready for a ripping evening with guitar master Don Felder. If you're not familiar, check out some YouTube videos of Felder's skills. He played with The Eagles for 27 years at sold-out venues across the world, and it shows.
Felder was inducted into the Rock and Roll Hall of Fame in 1998. Though he's also the author of a New York Times bestselling memoir about his 27 years with The Eagles, he's best known for that band's classic, "Hotel California," as well as "Victim of Love" and "Those Shoes." You'll also find his influence in songs like "One of These Nights" and "New Kid in Town."
Having played on the world's most iconic stages, Felder knows how to entertain and set the tone for a night of fantastic music. Felder knows how to rock but he also loves the experience of more intimate venues.
New York's Beacon Theater called this show, "The best show of the year … not to be missed!"
And with thundering riffs like only master guitarist Don Felder can deliver, they're spot on. This is one for the record books.
Neil Berg's 50 Years of Rock and Roll
May 4, 2019 7:30 p.m.
Do you know the history of rock? Where would you place the genesis? According to Neil Berg, it's in the 1940s. He takes his audiences there, then moves forward through time with stories, anecdotes and – of course – music. Berg promises to teach you more about the history of rock than you ever expected existed.
Berg has gathered some of Broadway's top rock-musical singers and a five-piece band to share the story that changed the world – the history of rock and roll.
Beginning with "Delta Blues" in 1932, the production moves through the burgeoning glory and heyday of rock right up to 1981 and Journey's "Don't Stop Believin'." Along the way, spend time with The Beatles, Led Zeppelin, Carole King, The Beach Boys, Stevie Wonder, Chuck Berry, Linda Ronstadt, Bruce Springsteen, Little Richard, Disco, Elvis Presley, Fleetwood Mac, Ray Charles, Buddy Holly, Motown, Aretha Franklin, Simon & Garfunkel, The Who, Janis Joplin, Woodstock, Elton John, Billy Joel, Aerosmith, Bob Dylan, The Eagles, New Wave, Frankie Valli, and more.
Berg is a Broadway composer and writer. He even wrote the score for the 2013 movie "Once Upon a Time in Brooklyn."
"I actually had parallel careers," Berg notes. "Composer and writer, and touring with bands."
His credits include the score of hit off-Broadway musical "The Prince and the Pauper," along with "Grumpy Old Men: The Musical," "The Twelve" and "Tim and Scrooge."
This all-star production is a musically astonishing feat and a guide through history with hilarious anecdotes and stories that illuminate and enlighten.
Live from Laurel Canyon— Songs and Stories of American Folk Rock
May 12, 2019 at 3:00 p.m.
Between 1965 and 1975 some of America's most influential artists lived in Lauren Canyon, California. This musical community birthed a number of legends like Buffalo Springfield, Jackson Browne, The Doors, The Byrds, Carole King, The Mamas and The Papas, James Taylor, America, Linda Ronstadt, Joni Mitchell, and The Eagles.
This 90-minute retrospective moves fluidly between the popular music of Laurel Canyon residents, interweaving stories so that every guest leaves enlightened.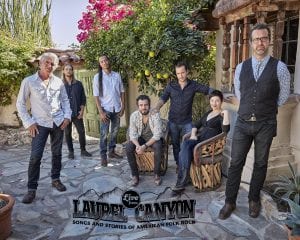 "'Live from Laurel Canyon' was one of the most successful concerts ever presented at Desert Mountain," said J. Baird, Director of Events at Desert Mountain Golf, Inc. in Scottsdale, Arizona. "Brian Chartrand, Khani Cole and the musicians overwhelmed the sold-out crowd. The positive member response in the days that followed is a true testament to this amazing show and production."
Take an inside look at this nexus of musical history. Like poets to Haight-Ashbury, Laurel Canyon was an epicenter for a musical earthquake that's still throwing off aftershocks.
Tickets to these shows and many more can be found at the Mount Baker Theater website.
Sponsored