During one of the many winter storms this season, Randi Axelsson, Director of Sales & Marketing at Solstice Senior Living, had a tree fall in her backyard that completely demolished her back deck.
Luckily, she had just made the acquaintance of Torrey Willett, one of Bellingham's newest residents and owner of JDog Junk Removal and Hauling. "I called him to come out and haul away all of the debris from the damage," says Axelsson. During the clean-up, Willett and Axelson got to talking about work and a new resident at Solstice.
"I told him about Jack Dukes, a fellow veteran who needed help moving his furniture over to Solstice," says Axelsson. Dukes had recently lost his wife and found himself alone, without family. He wanted to move to a place where meals would be prepared for him – he was tired of eating canned soup – needed rides to his doctor appointments, and wanted to be around others engaged in the vibrant activities offered at Solstice Senior Living.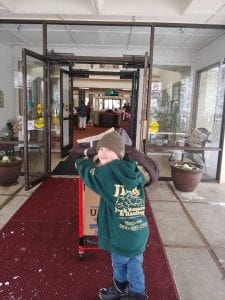 Dukes was planning on paying someone to help him move, but Willett called that evening "and told me that he wanted to volunteer his time and labor to help," says Axelsson.
A few days later, in the middle of the snow, Willett showed up to move. His seven-year-old was off school for a snow day, so he came along to lend a hand.
Dukes is a Korean War veteran and when he joined the Air Force many years ago, scored highly on initial tests. He was awarded the opportunity for a special mission and sent to a language school in Monterey California where he spent one year learning Russian.
"When I graduated, they sent me to Berlin to keep an eye on the Russians," says Dukes. While there, "I wrote a Russian-English dictionary, phraseology for which I got a letter of commendation. They also adopted my techniques throughout the English community, and pretty soon they had my stuff in German and Russian."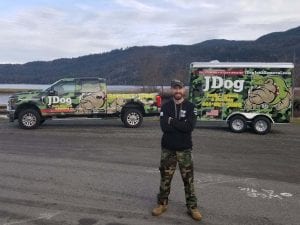 After living in Germany for three years, Dukes spoke fluent German, which he says he learned from the women. "They were very happy with the GIs in Germany, they just loved us," he says with a smile. "They were sweet, warm, wonderful people. I married one of them."
After the war, Dukes became a lapidary, working with stones and rocks that he finds in various ways. He enjoyed scuba diving in Minnesota, where he would find thomsonite, a rare stone that can sometimes be found under Lake Superior. He polishes them up and creates jewelry and belt buckles with his finds.
Now he's is in the process of selling his home and is a new resident of Solstice Senior Living with his Jack Russell Terrier named Maxi. "It's going to be a lot easier for him and he won't be alone anymore," says Willett of Duke's move.
Willett himself recently retired from the Navy and moved with his wife and son to Bellingham to be closer to family in Alberta. His wife transferred to work for customs, and he bought into the junk removal business.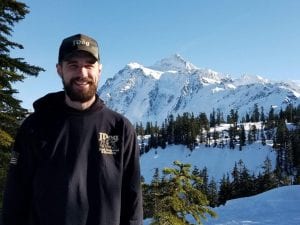 Willett decided to start a JDog franchise because "it was something I could do that's different every day, I could be outside, stay active and, at the same time, help people solve problems."
But most of all, he believed in the company's mission. "They put a focus on hiring veterans. I thought that would be a good thing not just for myself, but I could hire other veterans."
Willett is right about every day being different. In just under a month of being in business, he's already demolished a hot tub, cleared out a foreclosed property, brought new appliances to people's homes, moved a variety of furniture, and cleared out an art studio.
Recently, Uptown Art moved locations and used Willett's service to donate 360 painted canvases to a middle school. "We kept them out of a landfill and at the same time repurposed the canvases for an all-school project," says Willett.
"We try to donate or recycle as much as we can," he says. "It's a win-win because it keeps stuff out of the landfill and it cuts back on our dump fees." Willett uses materials removed on the job to give back all over the community, utilizing the RE Store among others.
"We take appliances to Appliance Depot, where they teach people how to fix them, and then sell them for a discount – so they're keeping people employed and teaching a trade," Willett says. "We've also gotten perfectly good furniture that we've taken to donation centers."
The JDog franchise company was founded with a "goal to help lower the veteran unemployment rate, so that's what I'm trying to do, too." Willett has already hired his first part-time employee, an Army veteran.
If you have a garage you can't move through, a basement to clean out, stuff left over from an estate sale, or yard waste to clear, consider contacting Torrey Willett at JDog Junk Removal and Hauling.
Sponsored