LaserPoint Awards & Promotional Solutions has been in business at the same Whatcom County location for over 20 years. Owners Randy and Kathy Cross have lived here since 1990, starting LaserPoint in 1997. They were innovative from the start.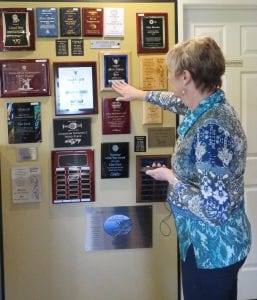 "It just took off," Kathy says of their early beginnings. They were doing something new and companies loved the simplicity. There were no extra charges, compared to other engravers. "If you went to an awards shop and said, 'I want a plaque,' they'd start by asking what you want on it, because you're charged for the plaque, and then so much per letter," Kathy says. "If you had a logo, that was kind of a big deal, because there's a setup fee of $50 or so. But for a laser, we don't care how much text is on it."
LaserPoint started out ahead of the pack in innovation, thanks to laser technology. And they've remained there because of an innovative mindset. They recently purchased a new laser that allows them to engrave on virtually any surface. Previously, they had to coat the metal with a product so the engraving would bond to the metal. Now, with their new fiber laser, they can work directly on the metal. This is ideal for tools, watches, plates and similar products.
They're also zeroing in on laser engraved bricks for event organizers and companies, so watch for that product soon.
"We engrave a lot of things," Kathy says. "Guys will bring in knives or watches." One recent customer had a very special Bible laser engraved on the cover. One-offs are no problem.
LaserPoint Does More than Engraving
It's easy to think of LaserPoint as an engraver; after all, that's what they've done for so long. But if we do, we're missing half of the story, as they also offer a wide array of promotional products. And in today's digital world, the best-performing advertising money might be spent on tangible, physical products.
As a recent Forbes article citing data from the Advertising Specialty Institute points out, people hold onto promotional products for eight months on average – a whole lot longer than traditional advertisements hang around.
Eighty-five percent of consumers favorably remember a business that gave them a t-shirt or hat. Washingtonians are 200 percent more likely to have favorable opinions of promotional products than advertising.
We also love bags and totes, given our penchant for reusable grocery bags. This is great for businesses since the average promotional bag generates 5,700 impressions in its lifetime.
And the lifetime usefulness of the product doesn't end with the consumer it's given to. In the United States, 63 percent of consumers give their promotional products to someone else when they're finished with them.
"To stand out in marketing today, one of the best things you can do is opt for carefully considered, thoughtfully crafted promotional products that provide real value to consumers," Kathy explains.
A Community-First Company
Randy and Kathy love working with individuals and businesses who want to reward others. Seeing people receive awards really touches the couple. "About a month ago, a very good friend of mine and retired border patrol agent gave me a call," Randy says. "He said, 'I have a friend up here in Blaine and he's a retired Navy SEAL. I think we need to make a plaque for him.'"
They worked out the details and put together a plaque they felt would honor Mike Bailey. "He was the first Navy SEAL to have a German shepherd in combat," Randy says.
Randy and his friend gave the plaque to Mike and a couple days later, Randy got a phone call asking if his friend could come out with Mike for a tour of the laser shop and property.
The next time Mike came out, he brought Randy a thank you card and a rare Navy trident pin. Randy tears up as he tells the story. "That's a lesson," he says. "It's better to give than to receive. And think of others more highly than yourself. It was such an honor to meet him and such an honor to have him come and be interested in what I do. It just absolutely crushed me with joy when he did that with the trident pin."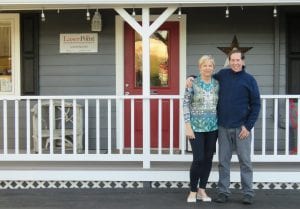 "Randy is really good at helping people," Kathy says.
They both are; friendly and amiable, ready to help with design (a service for which they don't charge). Rushing is no problem, and they absolutely never add on fees for the little extras.
And visiting their shop is an absolute joy.
Randy and Kathy live on a five-acre property in a modest home next to the shop and showroom just off Kelly Road. There are a dozen bird feeders adorning the trees and various songbirds flutter around. The lovely pastoral view includes a small pond and an array of fields. It's a pleasure to visit, both for the scenery and to interact with Randy and Kathy, who clearly love what they do.
Sponsored