As if participating at the Mat Classic wasn't daunting enough, this year's edition of the high school state wrestling championships at the Tacoma Dome was the largest in the event's storied 31-year history.

The recent flurry of snow storms resulted in the cancellation of regional tournaments around the state, leading to an oversized 32-man bracket. The sheer scope of it would be enough to intimidate even the most battle-tested wrestlers.
Blaine coach Tom Hinz and his staff, however, found the perfect way to keep senior Aidan Button loose as he made his trek toward the championship finals.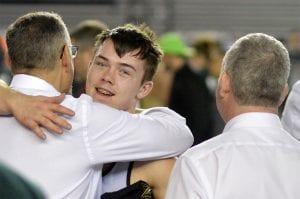 "We just kept giving him a bad time about his unicorn underwear that were showing through his (white) singlet," a smiling Hinz admitted. "You have to keep it fresh and get a smile on their face so they can go out there and do their thing."
The tactic proved to be a successful one. Button capped his high school career by finishing second in the 152-pound weight division in the 2A classification at Mat Classic XXXI on February 16.
Button was one of two local wrestlers to finish second at the 2A state tournament as Lynden senior Pablo Martinez was the runner-up in the 113-pound division.
A total of 14 wrestlers from Whatcom County took home medals from the two-day tournament, which featured nearly 2,500 participants.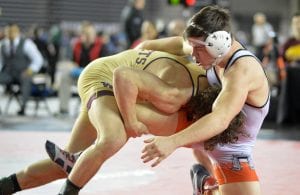 Button's runner-up performance helped the Borderites finish 11th overall as a team in the 2A standings. Mount Baker finished 10th in the 1A ranks with a trio of Mountaineers placing.
After posting a 58-second pin in the opening round and an 8-2 victory in the second round, Button won a dramatic 2-1 triple overtime quarterfinal matchup against Cheney sophomore Jackson Showalter to advance to the semifinals where he knocked off R.A. Long senior Owen Enriquez, who was last year's 152-pound state runner-up, 12-2.
"He's been an absolute pleasure. He's been a coach's dream. He does everything you ask him to do," Hinz said about Button. "He works harder than anyone in the room. He does more in the offseason than anyone else. He just goes out there to have fun and it shows on his face."
Button hoped to become the first Blaine wrestler to win the 152-pound state title since 2001 when Steven Burden accomplished the feat. But this dream came to an end in the championship round after he was pinned by White River junior Weston Lyverby (1:38).
"It's a great way to end it," Hinz said. "When Aidan was little, he would get beat a lot and he's worked his way to second place in the 32-man bracket at the state tournament in an extremely tough weight class. He just had a great tournament."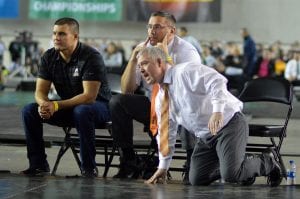 The Borderites also received a seventh-place finish from senior Jacob Westfall, who pinned Washington's Kobe Andrews (2:01) in the placing round.
Lynden High School's Pablo Martinez, who finished seventh at 120 pounds last year, punched his ticket to the 113-pound championship finals after beating Prosser's Reyden Huizar, who entered the state tournament ranked second in state at 113, in a three overtime semifinal match (4-3).
Like Button, Martinez also saw his season come to an end at the hands of a White River wrestler as he lost in the finals, 11-2, to Nate Belcourt.
The Lions also got an eighth-place finish from Payton Scott in the 182-pound weight class.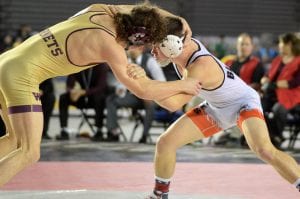 Bellingham received eighth-place medals from Elijah Marquez (132 pounds) and Butch Mullins (285), while Sehome senior Andy Waters notched an eighth place at 160.
Mount Baker senior heavyweight Braeden Shannon placed the highest among the local 1A wrestlers, taking home the third-place medal. Shannon, who finished fifth in the division last year, was pushed to the consolation bracket after losing to Cascade's Hunter Reinhart in the quarterfinals.Shannon rallied, failing to lose again and winning his next four matches by pin. Shannon needed just 22 seconds to pin Warden's Tommy Pruneda and pinned eventual eighth-place finisher Alejandro Hernandez of Elma (3:00) before besting Jacob Newsom of Colville (2:25) in the placing round.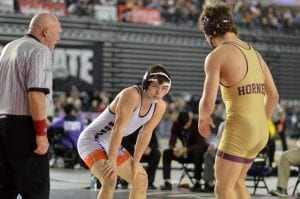 The Mountaineers also received a fifth from Skyler Isaacson (152) and a seventh from Cody Saulsbury (220).
Mount Baker also had a pair of wrestlers place in the girls' state tournament with Ebonney Bowhay (125) finishing fourth and Shelby Sears (190) collecting eighth.
Additional local state placers in the girls' tournament included Ferndale's Alex Brulotte, who finished third at 170, and Lynden's Hailie Holestine, who was seventh at 130.