The Embody Love Movement educates women on critical media literacy and teaches them to reclaim their bodies through empowering activities. It was founded by Dr. Melody Moore, a clinical psychologist, in Dallas, Texas. Moore works with young women on negative body image, depression and eating disorders. "I wanted to prevent other girls from having to suffer from low self-esteem, negative body image and a sense of worthlessness," she said in Muse magazine.

ELM was founded to create community for those women and girls in recovery, prevent relapse, and as an inspiration to women and girls everywhere. In adult workshops, participants are asked to engage in process activities where they can explore internalized beliefs about beauty and self-worth and are given the tools to unpack those negative beliefs and turn them around to create space for digging deeper into their true life's purpose.
I was fortunate to sit down with five facilitators of the Embody Love Movement here in Whatcom County.
Minta Allred
In Whatcom County, the ELM has proliferated due to one powerhouse woman: Minta Allred. When talking to Minta, her passion shines through. It's contagious. Having been a model in Los Angeles, she knows firsthand how photos are photoshopped and edited so much that one won't even recognize themselves. Even the most beautiful women are still not good enough for magazines.
With that logic, who really has a chance at feeling beautiful with these impossible standards? Social media poses the same threats to young girls. Minta knew that it was imperative that every woman should have a chance to take this workshop.
Upon her return to Orcas Island, Minta started running workshops at 3 Oms Yoga and training other women in the Pacific Northwest. "The movement has grown in Whatcom and San Juan County and draws women from as far as Eugene, Oregon, and Seattle," she states.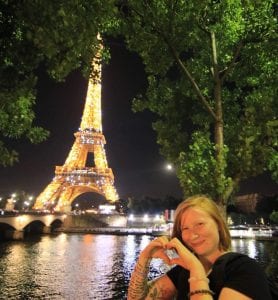 Minta's ELM offspring facilitators are Zoe Kromer, Beth Rusk, Liz Clift and Kestrel Garcia. All four of these new facilitators struggled with negative body image and a sense of low self-esteem.
Zoe Komer
Zoe Kromer, a WWU student, has attended over 20 workshops and is especially passionate about facilitating workshops for young girls ages 7-11, teens ages 12-18 and college students.
This training recalibrated what she felt she was meant to do in this world. Coming from the ballet world, Zoe was tired of getting the message that she was never enough or too much, and she spent too much time and energy on her body and appearance. Even though she felt she was body positive, she wanted to dig deeper into why she still didn't feel like she was enough and she didn't want other girls to go through the same thing.
Kestrel Garcia
Kestrel Garcia had amazing parents that showed her how to be body positive, but the pressure of the surrounding media and society pushed down on her. As a result, she started commenting on her weight when she was in second grade and developed an eating disorder by the time she was 13-years-old.
Even by being vigilant and pushing back on those messages, it can be very difficult not to succumb to feeling less-than and ridiculing your body. Kestrel's mission is to stop these messages as early as possible.
Beth Rusk
Beth Rusk grew up with a father who believed boys were better than girls, and she embraced what she calls a "tomboy" attitude. After attending an ELM training, she realized she grew up wanting to act like a boy in order to measure up and gain her father's respect.
Beth says that with every workshop, she peels back another layer of that message where she might be judging and comparing herself to other women. She went from being angry to being proactive and more loving toward herself, especially as a mother she wants her daughter to have a model of self-love.
Liz Clift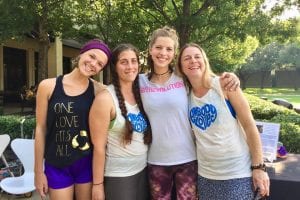 Liz Clift recently moved here from Boulder, Colorado to take on the workshops while Minta is on maternity leave. She felt like she was given a "mean girl" script she had to follow, and couldn't be friends with other women. Like many women, she also developed an eating disorder in high school.
To recover, she started reading "The Beauty Myth" by Naomi Wolf, among other literature about women. She eventually taught college English where her students would use critical visual analysis of advertising to push back on the rhetoric of violence against women. Liz is also training with the new ELM curriculum coming out in spring 2019 that discusses social justice issues so she can push back on the ways media affects all marginalized populations.
So where do these facilitators see Embody Love going in Whatcom County? They want to keep building the consistent momentum that Minta started. Liz would like to see ELM partner with more communities in the county and expand these workshops beyond the yoga community. Bellingham High School already has a club where teens run the workshops.
As a participant and now trainer myself, I can't get enough. Like Beth, with every workshop, I find another place I thought I resolved, but hidden beneath the surface is more messy body stuff that has prevented me from pursuing powerful work in my business and relationships.
Most, if not all, women have been touched by the power of oppressive images. Critically pushing back and attending workshops like ELM is a great place to start and keep coming back to. Want to know more and be a part of the movement? Check out upcoming workshops in Whatcom County.