Laurel Saville has been exploring human behavior in her work as an author, writing instructor and corporate communications consultant for many years now. Originally from California, she also lived in various locations on the east coast. After she moved to Vashon Island near Seattle, Laurel began working with dogs, with a focus on helping humans communicate more effectively with them. Now she lives in Bellingham, and offers her services part-time as a dog trainer.

Laurel's interest in dog training first led her to volunteer and foster rescue dogs. She concentrated on training to help make them easier to adopt. Her reputation captured the attention of a local veterinarian, who frequently recommended her to his clients. That vet finally asked, "Could you print some business cards and make it official?"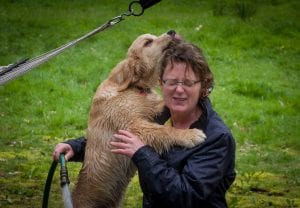 The dog training industry isn't regulated, but Laurel chose to become certified as a professional dog trainer through the Certification Council for Professional Dog Trainers (CCPDT). Those who earn certification seek to bring professionalism and standards to the field. They mentor each other and invest in a life-time of learning. Once she earned her certification in the field, Laurel felt more comfortable promoting her services as a trainer.
The CCPDT certification attests to Laurel's knowledge of dogs, behavior and learning theory, and is validated by hours of hands-on training, continuing education and a pledge to follow certain ethical standards. She has a certificate in Applied Animal Behavior from University of Washington, and has taken specialized courses in dog aggression and advanced learning theory. With her volunteer services at dog rescues, she has a wide range of knowledge and experience to share.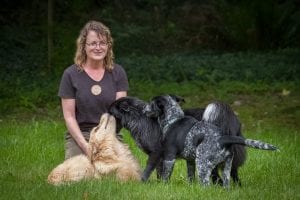 The bond between dog and human is evolutionary. When the relationship is solid between the owner and the animal, it's a beautiful thing. A dog that misbehaves is usually just being a dog, trying to communicate with the human. Many owners don't "speak dog" and find they can't get their dog to perform or behave as expected. Some want their dogs to be submissive and obedient – to do as they're told. An owner who uses an aggressive or dominant style of communicating might be sending a dog a mixed message.
Some dogs may be very obedient, but not necessarily happy. Laurel observed that a secure, comfortable, confident dog will play and be full of life. When dogs are content and happy, you can see it in their eyes.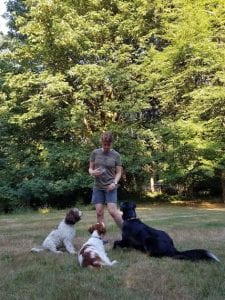 Sometimes a small bit of behavior modification using a rewards-based system is all it takes. Laurel wants humans and dogs to have the most satisfying relationship possible. The experience of having a dog should be mutually fun and rewarding.
Laurel has many stories to illustrate some key elements of her work.
Dogs have big teeth and strong jaws, but rarely use them. Laurel once had a scary moment when she arrived as a dog was having a meltdown. It jumped toward her with its mouth wide open.
"I could see the dog's tonsils," she recalled. Luckily, the dog didn't bite her. Laurel recognized that the dog was probably overwhelmed and was simply trying to communicate that she was "invading" its personal space. She described the situation as being similar to children who bite their nails. The real issue is the nervousness behind the nail biting. Just as it's vital to figure out what fear prompts the nail biting, it's important to try to determine why a dog feels the need to behave aggressively.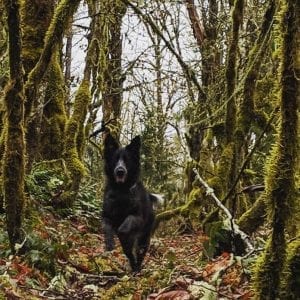 Sometimes a single session of training can be enough to alter bad behavior.
Once, Laurel was working with a client who had a nervous dog and four children. The woman looked up at one point and said, "Well, not only have I never seen my dog this calm, but two of my kids are asleep as well."
In other situations, the trainer may never know the outcome of the work they did, or they may only learn about it later. A woman Laurel assisted with a dog adoption later had a life shift when a boyfriend entered the picture. Integration became a problem with the dog, and common techniques were not working. Laurel sent a few suggestions in an e-mail, but never heard back from her client.
Much later, Laurel saw the woman at a coffee shop. The woman burst into tears and said, "I can't thank you enough, Laurel. You changed everything for me and for my dog."
A relationship with a pet shouldn't be a struggle. When a human has an "aha moment" during a training session, Laurel feels she's been a success. Dogs are pretty straightforward. The training of humans is the most rewarding.
Call, text or email to set up a private lesson or learn about Laurel's latest classes: 206-595-5670 (cell) and 360-676-2608 (land).