For years and years, I've hoped and dreamed to become a successful journalist. This world is full of stories to tell. Entering high school as a lost freshman with no idea of who I am or how to get around was terrifying; however, the only thing that I was 100 percent sure of, is my future and where I want to be.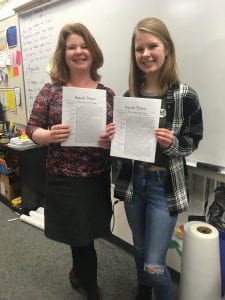 I was surprised to find out that Squalicum lacked a school newspaper. In all the movies and TV shows I watched as a young child, there were a set of student stereotypes. I always knew the school newspaper was where I was meant to be. This presented a dilemma.
At first, I accepted that I would need to find writing experience in other ways, which is how I ended up interning for WhatcomTalk. But I was still so interested in the entire writing process. This continuous thought ran through my head for the majority of my freshman year until I decided to start a school newspaper on my own.
At first, I put the idea in the back of my mind. There were so many concerns circling my brain. How would I go about starting my own newspaper? Why would anybody join my newspaper? What's the process? Is it even worth my time and effort? For quite some time, the idea remained at the back of my head.
Sophomore year began, and I decided that I needed to step up and get more involved within my school. So I decided to bring the idea up to my freshman year English teacher, and personal role model, Natylee Nelson.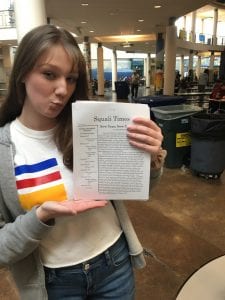 She loved the idea and completely supported me in starting the newspaper. However, she was too busy to be my advisor. So I decided to talk to another English teacher at Squalicum who had advised the school newspaper at a previous high school. She told me that it was incredibly time consuming, as well as a very large commitment, and she wasn't interested in doing it again. I understood, but the apparent difficulty of this activity, decreased my interest.
I gave up on my hunt for an advisor until I heard that another English teacher, Danielle Campbell, had always wanted to have a school newspaper. After quite some time, I decided to finally approach her.
On the last day of my Sophomore year, I asked Campbell if she had any interest in beginning a newspaper. She was over the moon with joy and told me she would love to. This was only the beginning of my journey as I emailed Campbell back and forth over the summer to discuss how this would happen and where to begin.
When the school year finally begun, we met frequently to start planning out how the Squalicum newspaper would begin, as well as the paperwork involved. Around the beginning of November, Campbell collected club paperwork from our Athletic and Activities Director for me to fill out. I needed quite a few signatures from potential club members which was slightly stressful. I knew the moment I started telling people about it, and finished the paperwork, it would really be coming true.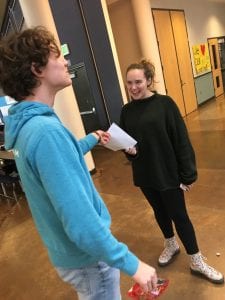 After I finally received the signatures and completed all the forms, I turned it into our AD to have the club approved. As I completed the paperwork for the club, I worried about the time commitment. With all of the classes I'm taking currently, as well as other extra curriculars and sports, I grew anxious about how I was going to accomplish this on my own.
So I decided to approach one of my good friends, Daisy Baier. I knew that she was very skilled in English, specifically editing, which is why I trusted her enough to experience this process with me.
As soon as the newspaper was approved, the AD, Daisy and I presented it to the Squalicum House of Representatives, as well as the Senate. It was then confirmed as an official club.
Since then, we've had countless meetings about the process and future of our newspaper. With the help of articles written by our own student body, Daisy and I finally finished editing the final product, which led to the first issue of Squali Times released on January 11.
As we passed copies of the newspaper to students and staff, my heart was full of appreciation for the journey it took to get here in the first place, as well as how hard all of the members worked to achieve our work of art. This experience has taught me to never give up, as well as to believe in my abilities to create something special with the ideas in my mind. I had many doubts when starting this newspaper, but now that our first issue is complete with more to come, all I feel is excitement and energy. This is only the start of my journalism career, as well as a new legacy at Squalicum High School.