The Chrysalis Inn & Spa has long topped the list of romantic Whatcom County destinations. Picture a beautiful, softly illuminated table overlooking the bay, adorned with three- to five-courses of tasty decadence. Imagine retreating to a stately room or a pampering spa experience, highlighted by the sound of a trickling pond. There's no better Valentine's gift than a Chrysalis escape. Many couples have wed or become engaged there. Romance thrives at the Chrysalis, warming itself by the fire.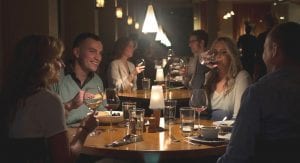 Aeyre Johnson and Andrew Forrest will be married in front of that fireplace on February 16. They'll exchange vows overlooking the bay, surrounded by a small contingent of close friends and family.
The couple met through friends shortly after Andrew moved to the area from Kansas. They had their first date in Boulevard Park, just up the South Bay Trail from the Chrysalis, which sits atop Taylor Dock. Andrew later proposed on another trail alongside Lake Whatcom. On that hike, Aeyre stopped to show Andrew the spot where her brother once climbed on a log and was stung by three bees. Then, "I pointed across the lake at Camp Firwood because I'd gone there when I was younger," she recalls. "And when I turned back around, he was down on one knee."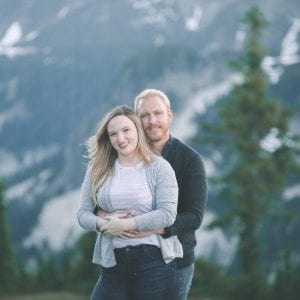 He was actually kneeling because he'd dropped the ring. But of course, she said yes. The couple has been engaged for over a year now.
Andrew's family stayed at the Chrysalis when they came to visit, and loved it. Both families enjoy the food there, so it was a natural fit for their wedding, made all the more special by its proximity to the site of their first date.
Aeyre is a preschool assistant at Love to Learn and Andrew is an event coordinator and digital marketer with Priority One Nutritional Supplements Inc.  in Ferndale.
Andrew gave Aerye a gift certificate for a Chrysalis manicure two years ago on their first Valentine's Day together. Aeyre never got around to using it, but fortunately, it never expires. She plans to use that gift in preparation for the wedding.
When asked about expanding their pre-wedding spa services, Andrew looks at Aeyre and says with a laugh, "I was hoping you'd give me a really long back massage up in our room." Aeyre points out that the spa has couples massages, and they should treat themselves.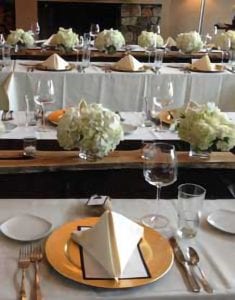 They already are, with Keenan's at the Pier, the hotel's award-winning restaurant, catering their wedding. "It's going to be fabulous," says Aeyre.
Their menu includes a cocktail hour with appetizers, crab stuffed mushrooms, and an artichoke dip that Aeyre particularly loves. They'll enjoy a salad course followed by plated dinners of filet mignon, fresh salmon, lamb chops and, for the vegans among them, stuffed squash. For dessert, they've chosen crème brûlée and chocolate torte.
Whether it's a wedding, engagement, Valentine's Day, or just because, the Chrysalis is the place for love. They're currently offering an array of couples' packages. Their Valentine's dinner includes a fixed menu of either three or five courses served from 4:00 to 10:00 p.m. on Valentine's Day. The cost ranges from $65-$90. Reserve soon, as this event sells out fast.
The Chrysalis also offers a gift certificate special from February 1 to February 14. For every $150 gift certificate (which never expires), patrons receive a $25 bonus coupon (one-year expiration), which can be used concurrently with the gift certificate or anywhere in the hotel, restaurant or spa.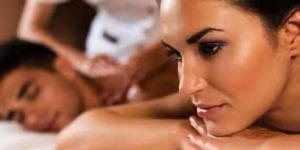 The spa is featuring an array of specials, including a complimentary hand treatment for every 60-minute pedicure, or half price on a scalp treatment when added to your massage. Their packaged services are designed to complement one another and create a peaceful escape.
The relaxing steam room is open to spa clients and hotel guests. As it's a busy time for both the spa and hotel, patrons are encouraged to book early.
Aeyre and Andrew will remain in Bellingham after the wedding and, rather than one large honeymoon, are planning day trips to Seattle and British Columbia; "a mini-moon," Aeyre calls it. And they'll surely return to the Chrysalis, celebrating many romantic occasions to come.